The fear of the Securities and Exchange Commission (SEC) has dragged altcoins to their deepest lows of 2023, with some dipping below their FTX crash point. Following a terrifying Saturday morning, the altcoins appear to show signs of mild recovery. But are the current prices a wise buying opportunity? What price levels await investors this week? We take a closer look at potential scenarios through current predictions and detailed chart analyses. 
Dogecoin (DOGE) Analysis
Bears pulled Dogecoin down to under $0.06 on June 10th, but bulls bought this dip and closed the price above the support. An interesting note here is the possibility of Dogecoin evading the wrath of the SEC due to its relatively decentralized structure.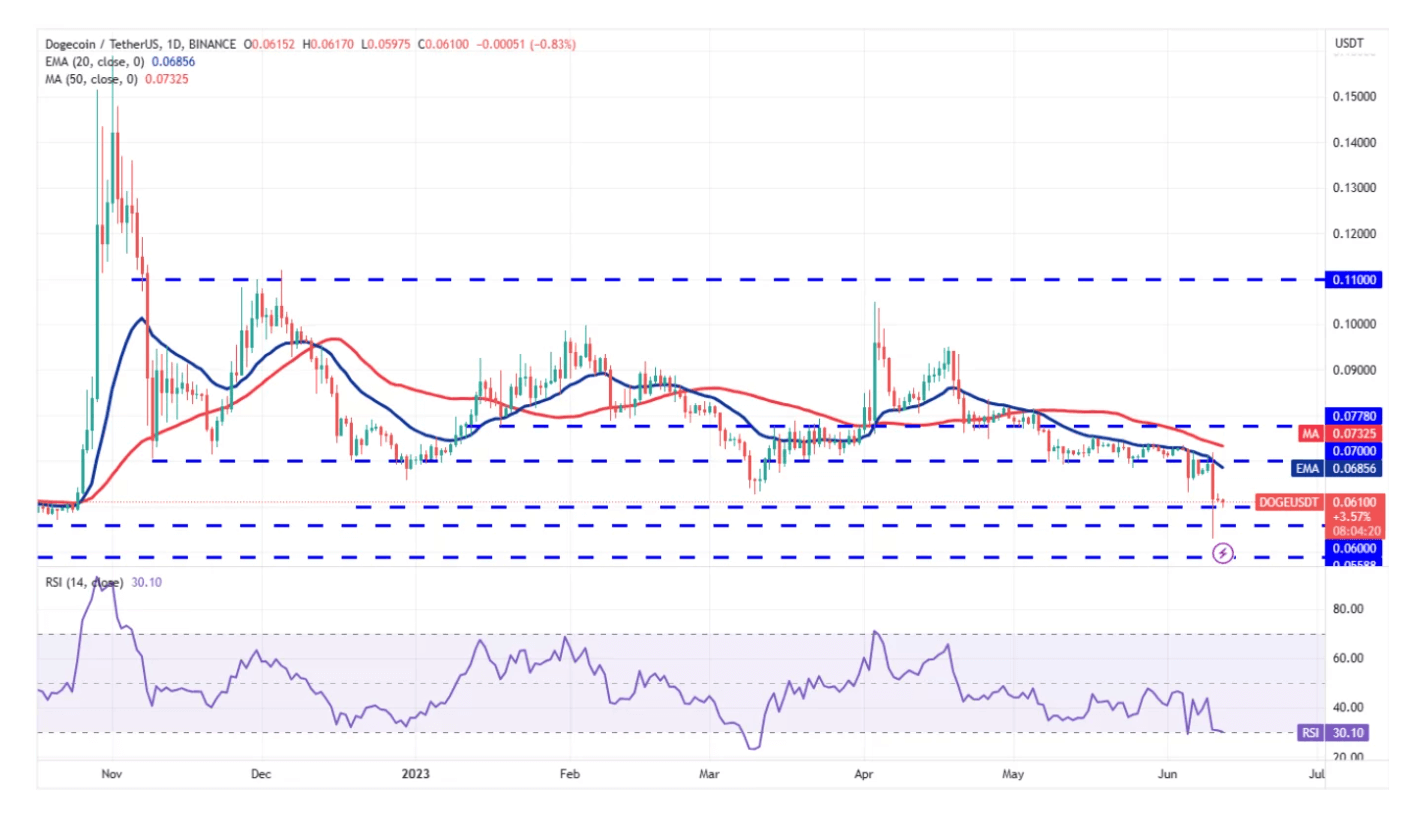 The bears will fight hard to keep the price under $0.06. Closings under this region could target $0.05. Bulls are expected to guard the $0.06 to $0.05 region with all their strength as a break below could trigger a panic sell-off. To gain strength, the buyers will need to pull the price above $0.07. 
Solana (SOL) Analysis
On June 10th, Solana slipped below the strong support at $15.28, but the long tail on the candlestick shows aggressive buying at lower levels. We targeted this level hours after the Binance case on Monday. Even though it was temporary, we saw the price visit this level.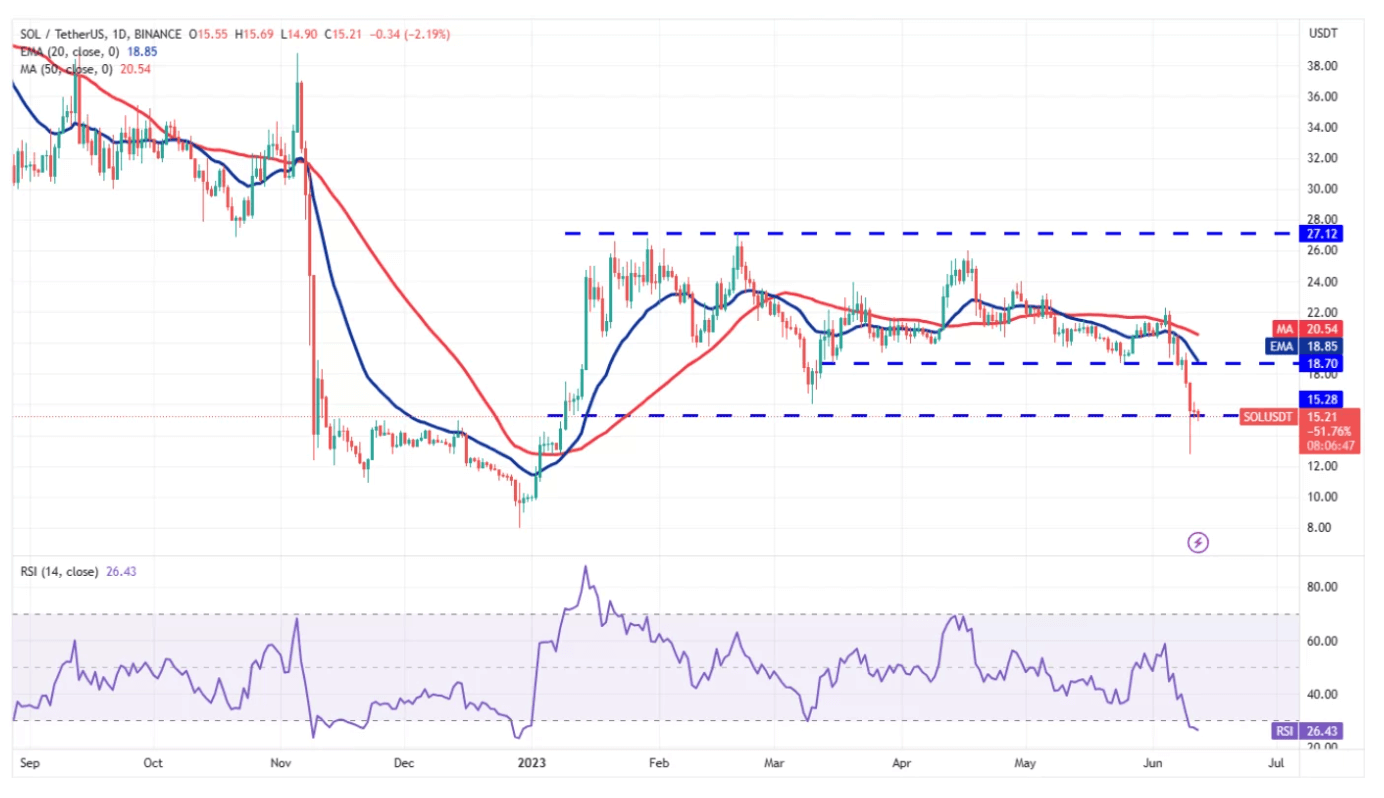 Buyers tried to initiate a recovery, but the Doji candlestick pattern on June 11th indicates that the bears aren't ready to give up their advantages easily. They are trying to pull the price back below the $15.28 support. If they succeed, the price could drop to the next support at $12.69. Contrarily, if there is a move upwards from here, we could see a recovery to the 20-day EMA at $18.85 and $16.18. 
Polygon (MATIC) Coin Analysis
One of the altcoins claimed to be a security was Polygon. The SEC made a smart move during this case. Instead of filing lawsuits against each altcoin, they included them in the security class in lawsuits against exchanges, leading platforms within its jurisdiction to make delisting decisions. This was a much more cost-effective move. 
Polygon lost its critical support at $0.69 on June 10th, and there was an SEC Chair in support of the bears. A minor consolation for the buyers is the sharp recovery from the strong support near $0.50, as seen from the long tail on the day's candlestick. The MATIC/USDT pair will attempt a bounce and likely encounter strong selling at the $0.69 breakout level. If the price turns down from this level, it will show that the bears are trying to turn the $0.69 into resistance. This could lead to a retest of $0.50.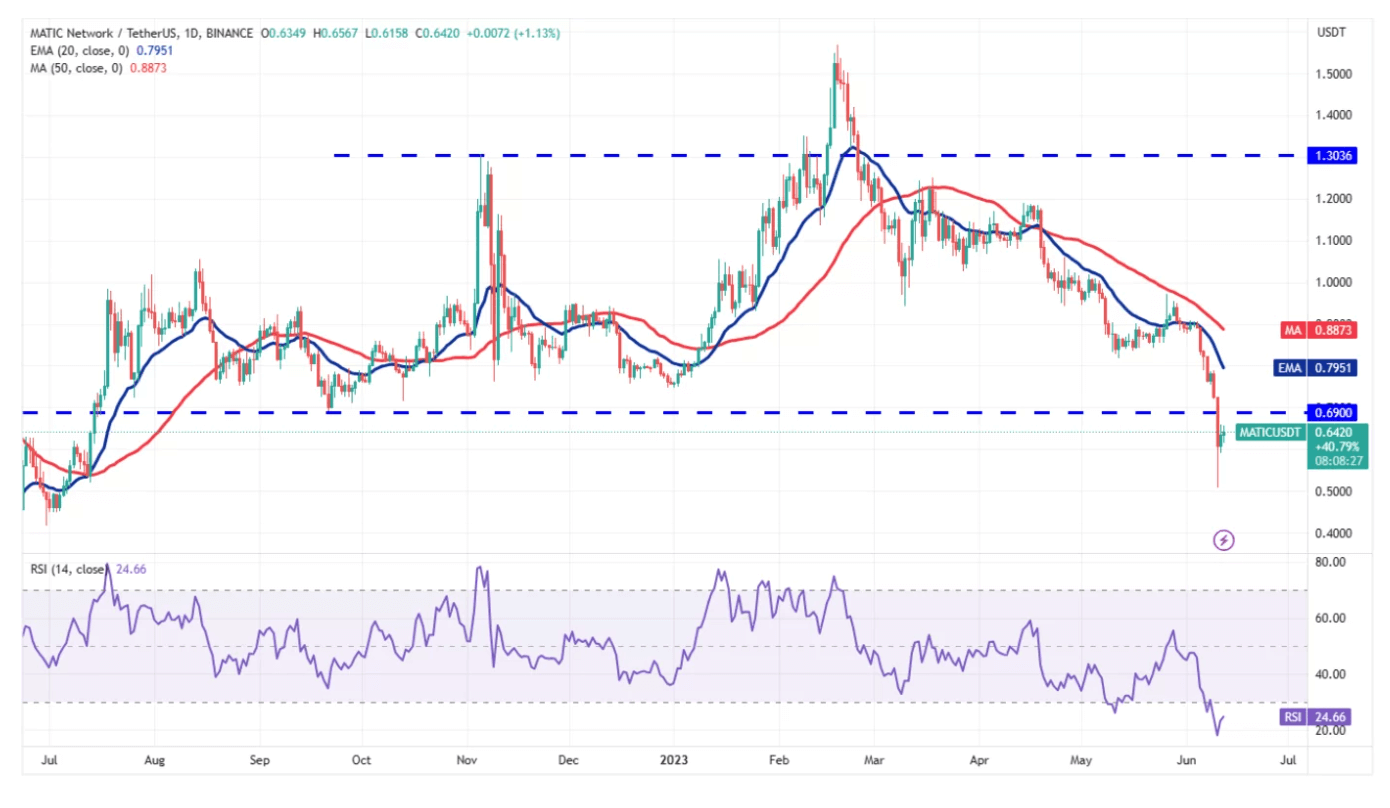 For a real rally, the bulls need closures above $0.79.