Cryptocurrency gossip spreads fast in the market, and the more people who hear it, the more believers it accumulates. The truthfulness of these rumors doesn't necessarily matter: in light of recent events, any claim seems "believable."  
Binance's CEO Refutes Claims
Changpeng 'CZ' Zhao, the CEO of Binance, the world's largest cryptocurrency exchange by volume, has taken a stand against speculation that the exchange has sold Bitcoin. He responded to these rumors on social media. The day's hottest crypto gossip was that Binance had sold BTC to keep the BNB price above $220. Large liquidations would begin below this price, leading to massive losses for BNB Coin. This risk made the rumors particularly believable to investors. 
However, CZ of Binance stated, "We have not sold BTC or BNB. In fact, our FTT Tokens are still intact."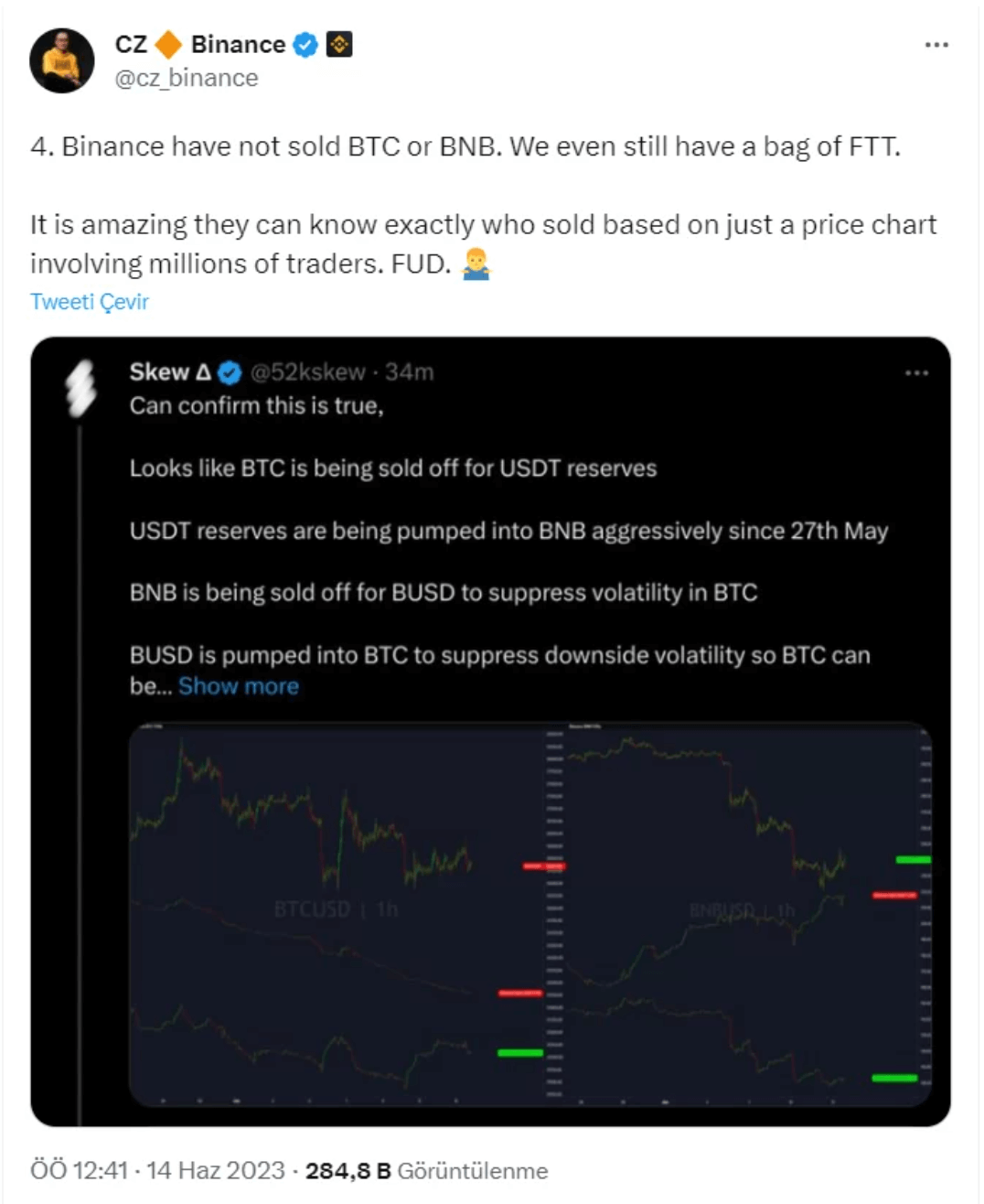 Binance had previously announced that they would not sell FTT during the FTX crash to avoid negatively impacting the market, even at the risk of loss. 
Crypto's Fitting Accusations
After the indictments by the SEC and CFTC, we might hear louder rumors on social media related to Binance and others. Many speculators may deliberately spread these lies to influence investors. Even though claims backed by on-chain data sometimes arise from justified suspicions, it is always beneficial for investors to remain skeptical. We may also witness a transformation of rumors into more comprehensive "hoaxes" in the new era. 
Such allegations can sometimes emerge from rival companies or speculators' greed. We've seen how claims of MT GOX asset sales triggered massive sell-offs in the market. It can be argued that the negative atmosphere continuing today is also fueled by rumors about Binance. 
On the other hand, Binance's US branch has quickly started its legal fight. After the SEC requested freezing of assets, Binance US objected. In the early minutes of the day, the Judge invited the parties to reconcile and did not permit freezing of assets. 
While the macroeconomic front is relaxing, cryptocurrencies have once again started grappling with their own issues. This situation could cause the negative atmosphere to intensify with the expected interest rate hikes in July.