Binance, one of the world's largest cryptocurrency exchanges by volume, announced progress on integrating Bitcoin Lightning Network (LN) for faster deposit and withdrawal transactions. The exchange's decision to adopt LN started after it experienced technical difficulties following a massive Bitcoin withdrawal on May 8. CEO Changpeng Zhao (CZ) commented on the development, stating, "we continue to build." 
Binance's Integration of Bitcoin Lightning Network
Binance recently acknowledged the ongoing work on the integration of Bitcoin LN into the exchange, stating, "Some attentive users recently noticed our new LN nodes. Yes, that's us! There are still technical tasks to be accomplished. We will inform when LN is fully integrated."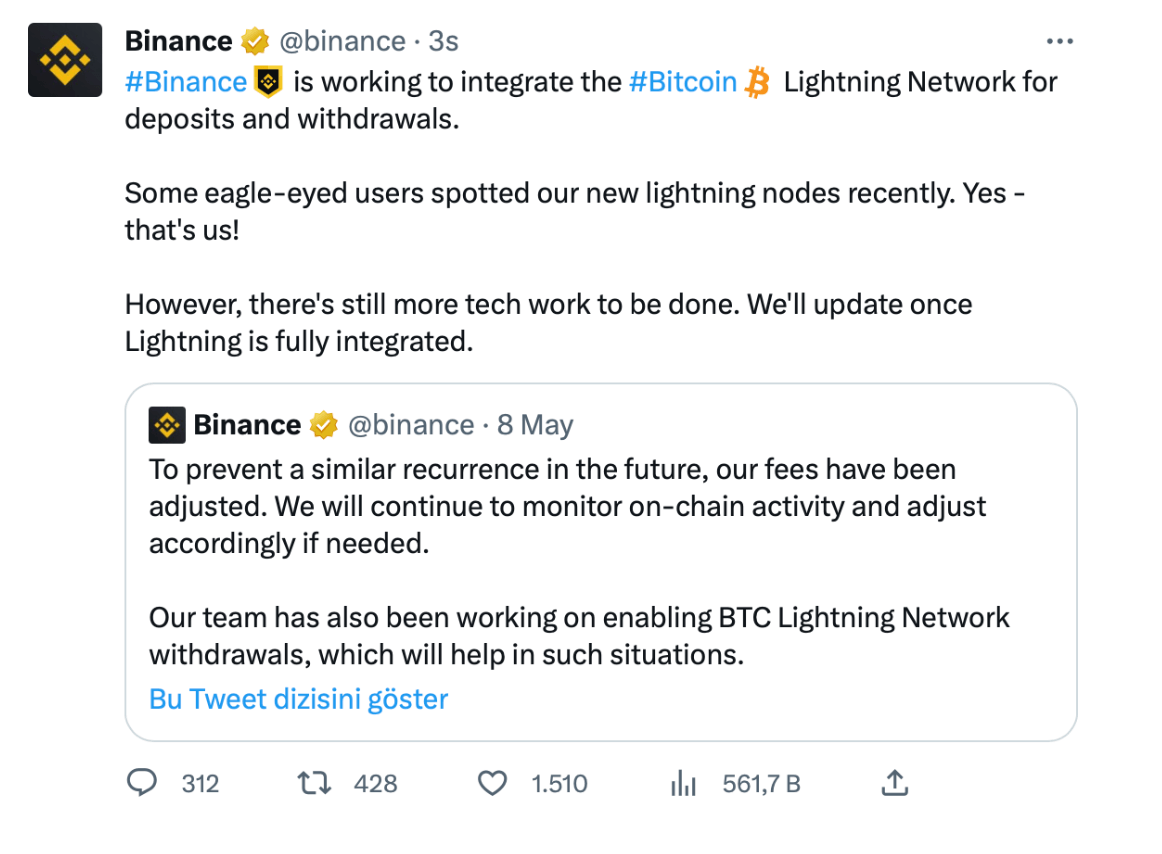 By leveraging LN, Binance aims to make Bitcoin deposit and withdrawal transactions faster and more scalable, thereby providing a smoother user experience. The giant cryptocurrency exchange is expected to complete the LN integration shortly. 
CZ, commenting on Binance's statement via a tweet from his personal Twitter account, expressed the exchange's ongoing commitment to growth, stating, "Slowly, but we continue to build." 
The integration of LN will allow users to benefit from lower transaction fees and faster transaction times, enhancing the overall usage efficiency and user comfort of the network. LN's off-chain capabilities will also serve a role in eliminating concerns about network congestion and transaction delays by increasing Bitcoin's scalability. 
LN Process Began with the Problem on May 8
Binance was forced to temporarily suspend Bitcoin withdrawals on May 8, citing an increase in pending transactions as it was unable to offer miners sufficient rewards to record the transactions on the Blockchain. During that period, CZ noted that transaction fees on the Bitcoin network had reached levels unseen since July 2021 and approximately the highest in the last three years, which could signal a bull market. 
Swiftly taking action to resolve the problem, Binance ensured that pending Bitcoin withdrawals were included in mining pools by swapping them for higher transaction fees and were ultimately confirmed on the Blockchain. The crypto exchange later reported that work had begun on integrating Bitcoin LN to prevent similar problems in the future.