Circle Boosts Confidence with Strategic Addition Amid Crypto Skepticism: Ex-CFTC Chair Joins Team
In Brief
High-profile lawsuits against Binance and Coinbase, asset freeze on BinanceUS, and bad claims around USDT have crypto investors wary. 

---

USDC issuer, Circle, responds by adding prominent figure, Heath Tarbert, to its team. 

---

Tarbert's presence could boost trust and regulatory expertise amid USDT issues and ongoing lawsuits. 
Crypto investors are currently feeling anxious due to lawsuits launched against Binance and Coinbase, an asset freeze on BinanceUS, and negative rumors surrounding Tether (USDT). With question marks over who to trust in the crypto sector, USD Coin (USDC) issuer Circle made a tactical move by adding Heath Tarbert, a well-established name in the U.S., to its team. 
Tarbert in USDC Team
Tarbert, former chairman of the U.S. Commodity Futures Trading Commission (CFTC) and a veteran of several key U.S. institutions such as the Treasury, the White House, the Justice Department, and the Supreme Court, left his position at Citadel Securities to join Circle. Circle's CEO, Jeremy Allaire, underlined Tarbert's significant experience and emphasized that his expertise and leadership will be crucial for Circle's growth. As accusations of insufficiency continue against USDT and as lawsuits pile up, this move by Circle could replenish trust.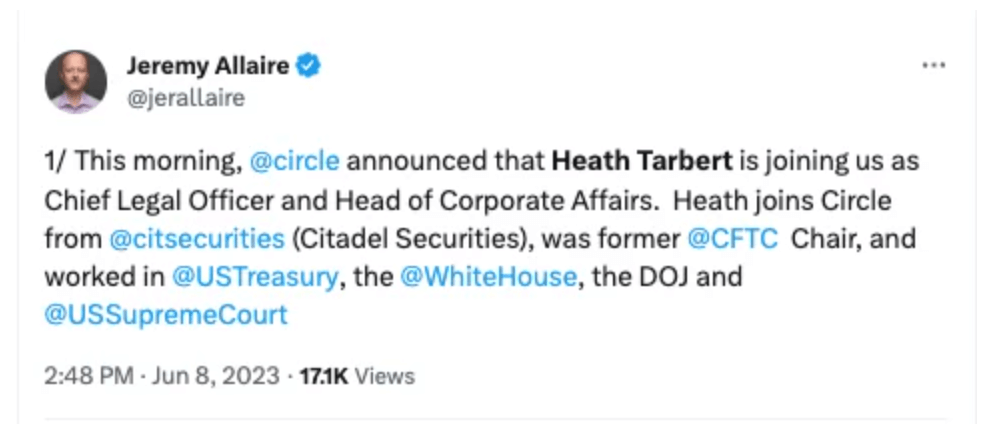 Currently, there is ambiguity in the U.S. about the regulation of cryptocurrencies, and both the SEC and the CFTC are making efforts in this regard. The appointment of Tarbert, who possesses substantial lobbying and regulation experience, is hardly coincidental at this critical juncture. 
USDC and USDT Competition
USDC, the 5th largest cryptocurrency by total market value, boasts a total value of $28 billion. Its competitor, Tether (USDT), with a value of $83 billion, is certainly a tough contender to surpass. USDT's 24-hour trading volume is also more than five times that of USDC. However, regulatory uncertainties could potentially tilt in favor of USDC.