Crypto analyst and trader, Benjamin Cowen, has issued a distressing warning that a severe correction in the altcoin market is imminent. Here is the analyst's anticipated downturn for the altcoin market. 
Keeping an Eye on BTC.D Chart
Benjamin Cowen, a crypto analyst and trader, stated that history suggests a significant downfall for altcoins. According to Cowen, Bitcoin's dominance chart (BTC.D) currently looks incredibly strong, and historical data shows that BTC will continue to rise as the halving event, scheduled for next year, approaches. 
The BTC.D, a dominance index that tracks Bitcoin's share of the total value of the crypto market, shows the proportion of the market that Bitcoin owns. A rising BTC.D chart indicates that the largest cryptocurrency is taking a larger share of the crypto market compared to altcoins. 
Cowen, warning the altcoin market via BTC.D, stated: 
I fundamentally believe that dominance is extremely bullish, and if dominance is bullish, that's not good for altcoins in Bitcoin trading pairs and if dominance begins to rise before the halving, it will not be a good thing for altcoins in USD pairs as well. History tells us this. This does not mean it has to happen, but history is telling us this.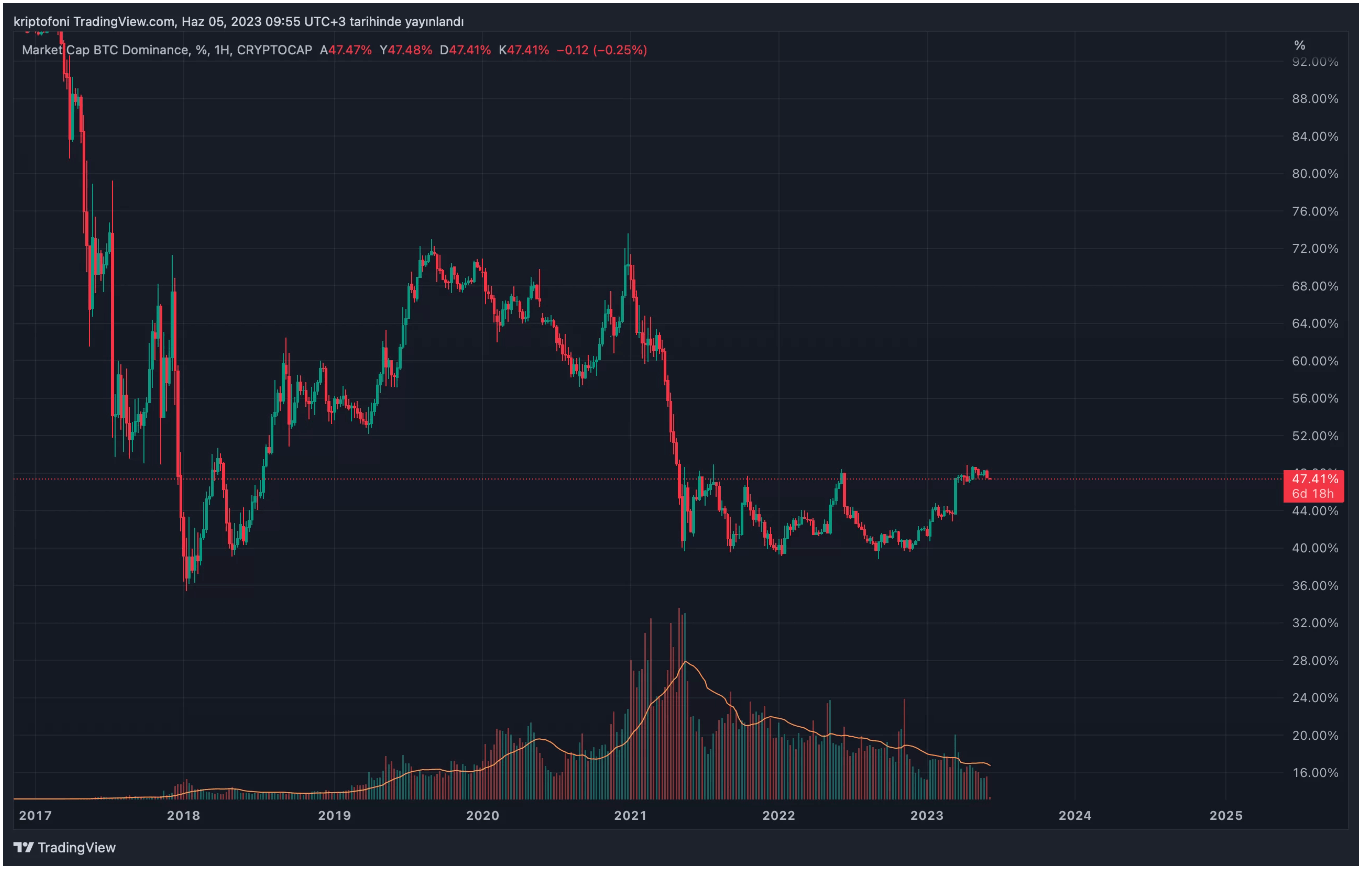 The analyst mentioned that Bitcoin's dominance level rising above 49% could signal risk aversion, and even if the price falls, BTC's dominance level might increase. "If we manage to hold the level, we can rise again, but if this happens, then what I'm saying is not to look too closely at the price, just to see when it consistently breaks 49% dominance, and that will be a signal for me to avoid risk. You can see it breaking 49% dominance even in a Bitcoin downtrend. So don't forget the dominance rally in May-June 2022. What was happening in the market at that time? Bitcoin was falling in price, but dominance was increasing," he said. 
"Capital Will Return from Altcoins to Bitcoin"
Cowen expressed his belief that, although the process might take some time, capital will likely return from altcoins to Bitcoin, stating: 
You could see capital returning from altcoins to Bitcoin. It's clear as day… It's happening. It's just a very slow process… The altcoin market will likely revert to Bitcoin for quite some time, and during this time, it will be beneficial to don your hat of BTC maximalism until the altcoin market gets wrecked in Bitcoin trading pairs. When the dominance chart rises significantly above its highest level, then investing in the altcoin market might make more sense.