The first four months were favorable, but May was challenging for cryptocurrencies. Volatility in Bitcoin's price hit rock bottom. We witnessed it fall to its lowest level of volatility in the last three years, indicating that a significant price movement is imminent. A large number of experts expect this movement to occur in June.
Bitcoin and Ethereum: Economist's Commentary
Economist and crypto trader Alex Krüger has shared his predictions for Bitcoin (BTC) and Ethereum for the remainder of the year. While many altcoins have regressed to January levels, Bitcoin has remained relatively stable. Krüger states that the Federal Reserve is nearing the end of its process of raising interest rates to control inflation and predicts a possible change in December.
According to Krüger, the markets will await this move from the Fed and likely start a rally as early as August.
The Fed has executed 20 x 25bps (basis points) interest rate hikes in the fastest and most aggressive interest rate cycle in history. This suggests that at least 90% of the Fed increases are now behind us. That's the only important thing for me, and it eases long-term holding. This has been my view throughout the year. My fundamental perspective predicts a pivot in December and a bull market that shifts gears to highlight this in early August. Why? The economy is cooling, and inflation is falling. Forced to over-increase due to past mistakes, the Fed is likely to pivot when data reverses.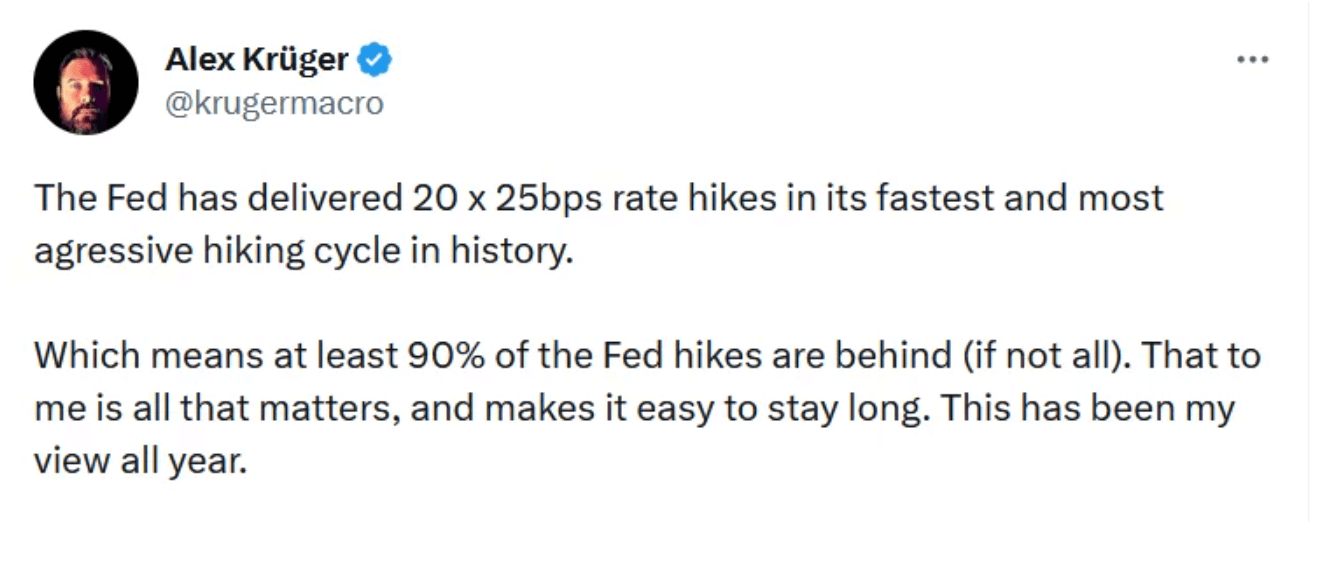 2023 Cryptocurrency Predictions
We're almost halfway through the year, and Alex talks about an accelerating upswing for the remainder. Today, Fed members' comments suggested that interest rates might remain constant in June. Is what he said possible given the current inflation situation? Krüger believes that, even if inflation proves to be more sticky and the Fed does not raise interest rates in December, the markets will close 2023 at a higher level than today.
If core inflation remains sticky, there will be no pivot in 2023, but regardless of what the Fed does (and the artificial intelligence revolution), with at least 90% completed by the end of the year, an upward bet is still a good one.
Alex also emphasized that he holds serious long positions in both BTC and ETH.