The cryptocurrency market is gradually compensating for the effects of the Binance and Coinbase lawsuits and reverting to its old state. Bitcoin (BTC), the leading cryptocurrency, is struggling to stay above $26,000, and altcoins are striving to follow suit. However, Ethereum (ETH), the second-largest cryptocurrency by market value, experienced a remarkable and terrifying situation a few hours ago. 
What Does the Huge ETH Transfer Mean?
According to information shared by Whale Alert, an unknown crypto wallet address sent 80,000 ETH worth $140 million to the Kraken crypto exchange. The transfer raised eyebrows as it came directly from a private wallet address. The wallet owner, by choosing Kraken over Coinbase, affected by the lawsuits, could have been securing their investment.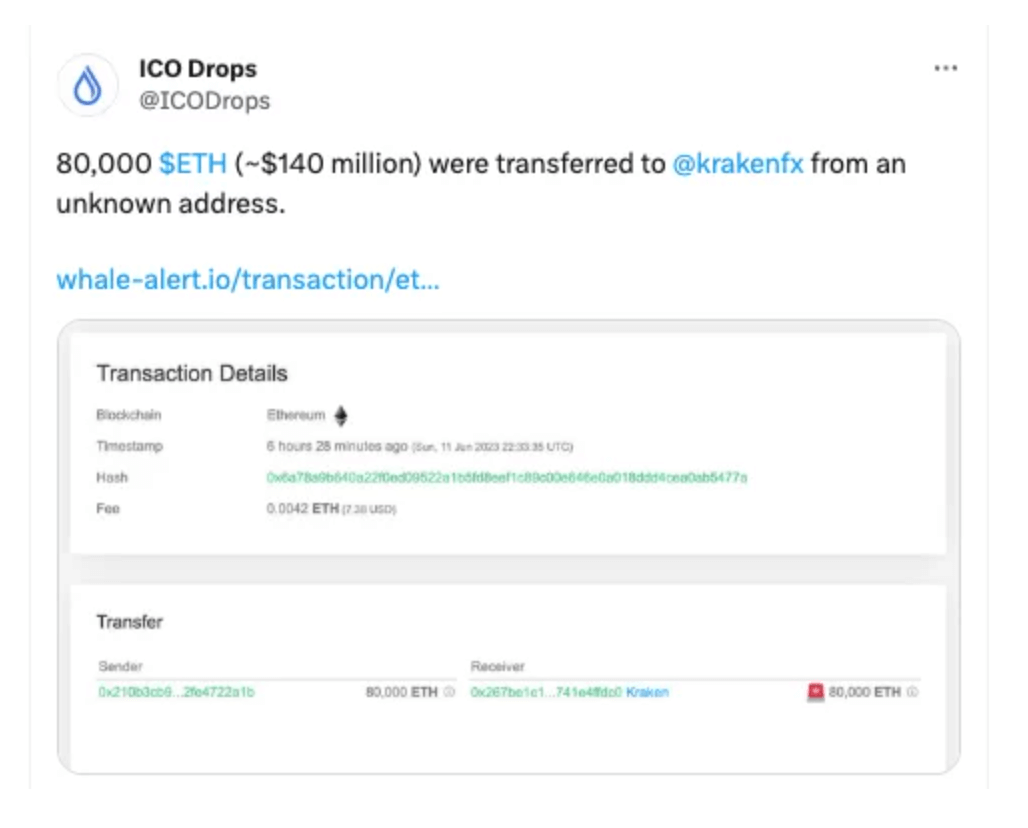 Upon analyzing the wallet, it was observed that the user made numerous transfers, a significant portion of which originated from the Binance crypto exchange. Approximately 30 days ago, this wallet began making substantial transfers from Binance and then appeared to invest in talked-about meme tokens such as BOB, BEN, and PSYOPS. 
It is also noteworthy that the user interacted with Disperse.App, a tool commonly used by users controlling many accounts. 
Transferred $870 Million Worth of ETH
The last six ETH transfers of this unknown Ethereum whale were made exclusively to Kraken. The total of these recent transfers equates to 500,000 ETH, corresponding to over $870 million at current prices. 

The reasoning behind the Ethereum whale's specific choice of Kraken or the sudden move of funds from a decentralized application to a centralized exchange is unknown. Possibilities include cashing out ETH into USD or realizing profits. While this unknown whale doesn't seem to have engaged in suspicious activities like using a mixer, the use of Disperse.App can raise doubts. 
During times of uncertainty in the crypto sector, it is known that a significant portion of the funds sent to centralized exchanges are used to mitigate risk. Although the chance is slim, it could be considered that this investor is preparing for a storm. If that's the case, we might witness serious volatility in ETH prices in the coming week.