Cryptocurrency investors are currently witnessing a swift rise, even though it might seem unconvincing at first glance, with Bitcoin hitting $27,000. The king of cryptocurrencies turned its course upwards following the defiance of Coinbase's CEO against the SEC. So, who benefited most from this rise? What's behind the price movement that surprised the SEC? 
Bitcoin Is Rising, Beware SEC
The price, which approached the level of $25,300 today, now hovers around the $27,000 mark. Strong buyer demand in Binance futures underpinned the rise. Subsequent short liquidations fueled the ascent. However, investors remain cautious as similar movements preceded larger drops in the past. If Bitcoin starts closing above $27,200, hope could increase. 
On the other hand, the influence of the SEC on the market lasted only one day with the ongoing rise as of the preparation time of this article. The price returned to its pre-chaos level. This could indicate that investors no longer care about the SEC.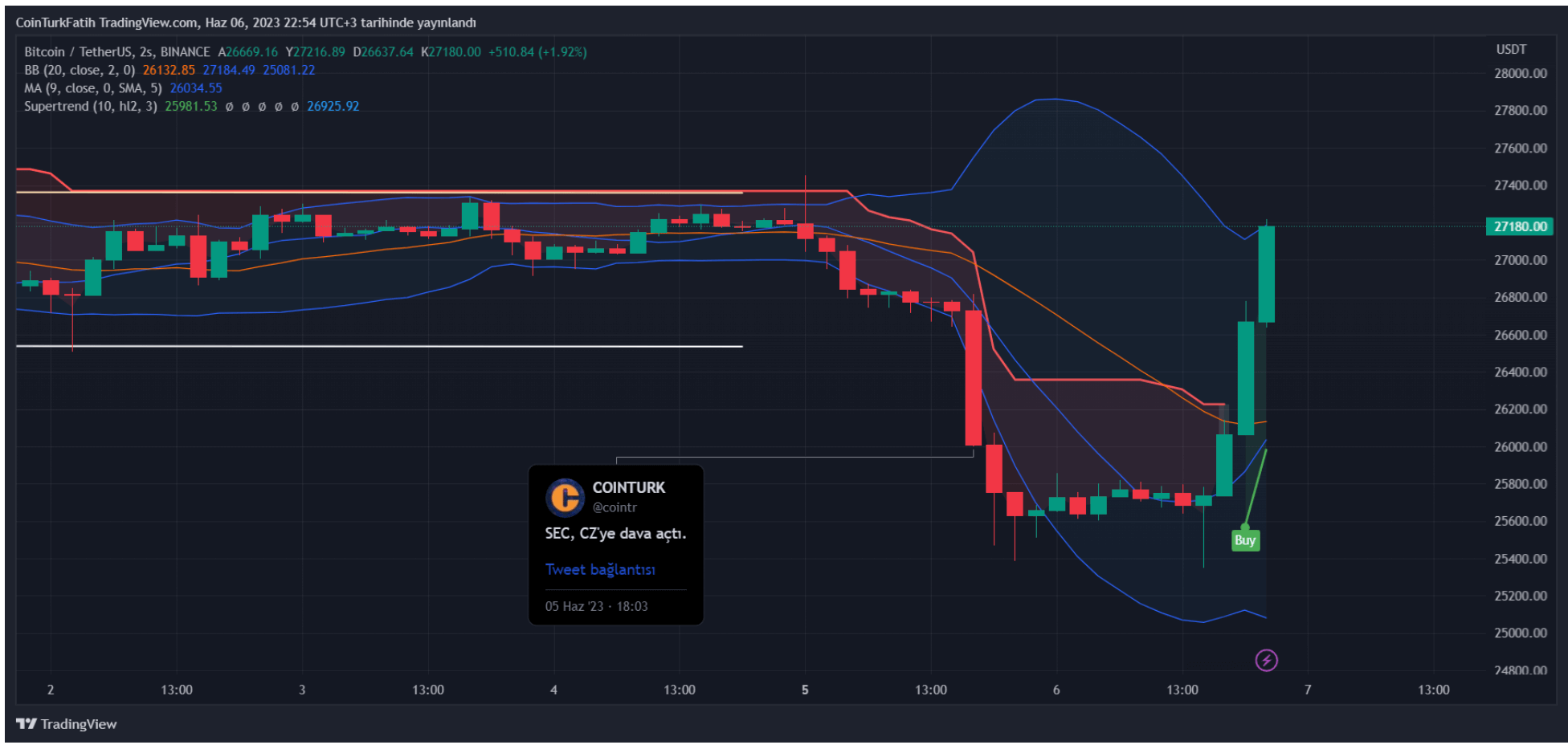 The current state of the price led to an increase in jokes about Gensler on social media. Bitcoin is trading at $27,133 as of 23:00. 
Increased Interest in Decentralized Exchanges
Transaction volumes on the Uniswap v3 decentralized exchange (DEX) on Ethereum increased by 87% in the last 24 hours, following the SEC's lawsuit against Binance for offering unregistered securities. Following the news, the volume on Curve, a DEX for stablecoins, rose by 167% to $120 million. The Curve DEX allows users to swap stable coins. PancakeSwap v3, a DEX on the BNB Chain, gained 269% in 24 hours, reaching $215 million. 
The increased interest in decentralized exchanges may return to normal now that the price is beginning to recover. However, DeFi altcoins could continue to attract interest during this period. Yesterday's drop led to a 5% increase in the DYDX price. Although the increase may seem weak, it is significant considering the average 10% loss in altcoin value.