Investors' reaction to the latest lawsuit by the SEC involving Binance, the world's largest crypto exchange, and its CEO Chanpeng Zhao, led to a 5% drop in the global crypto market on Monday. However, amidst ongoing turbulence in the crypto market, whales strategically focused on a select few altcoins.
Large institutional investors have begun to strategically bet against the negative sentiments surrounding the broader crypto industry. The recent contraction across the sector offers an opportunity to buy the dip, and here are the leading altcoins that have caught investors' attention in the past few days.
Crypto Whales and XRP
Ripple's (XRP) recorded a 17% price increase before the industry-wide pullback on Monday, earning it a spot on the top ten performing altcoins list. Crypto whales re-affirming their faith in XRP was vital for the ongoing bull rally.
Between May 30 and June 6, XRP whales holding between one million to ten million coins seemed to have doubled their bullish expectations. The chart below demonstrates how they added around 100 million coins, worth roughly $53 million.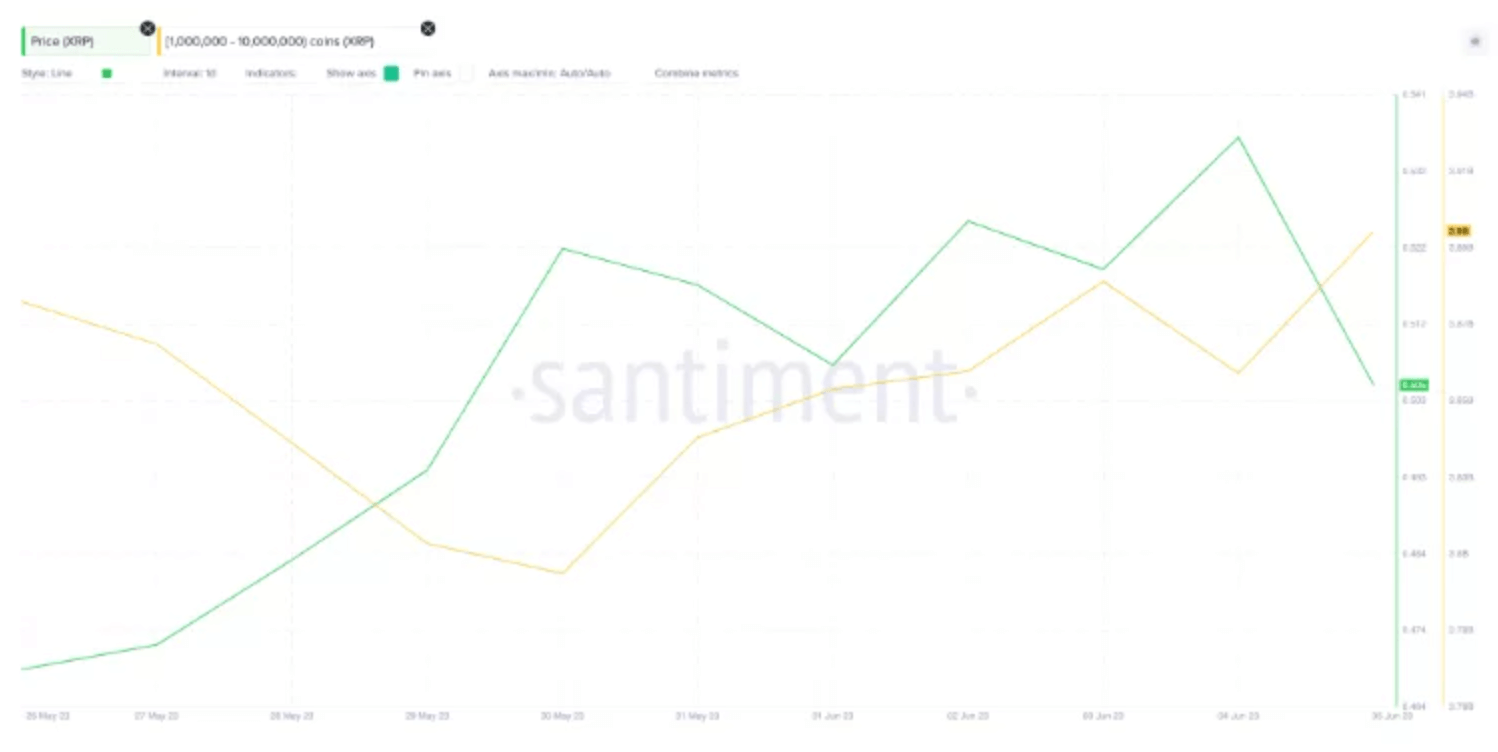 Remarkably, the SEC removed the coin issued by Ripple from the list of crypto currencies labelled as securities in its lawsuit against Binance. Crypto whales seem to interpret this as a potential victory greenlight in Ripple's much-publicized SEC case.
LidoDAO Ethereum DeFi Staking Time
ETH staked in smart contracts reached an all-time high in May 2023. This is due to investors adopting the passive income opportunities offered by Ethereum's new proof of stake status.
However, LidoDAO (LDO), a leading liquidity staking derivatives protocol, also benefited from this DeFi staking boom in recent weeks. On-chain data suggests crypto whales are beginning to take bullish positions on the native LDO token.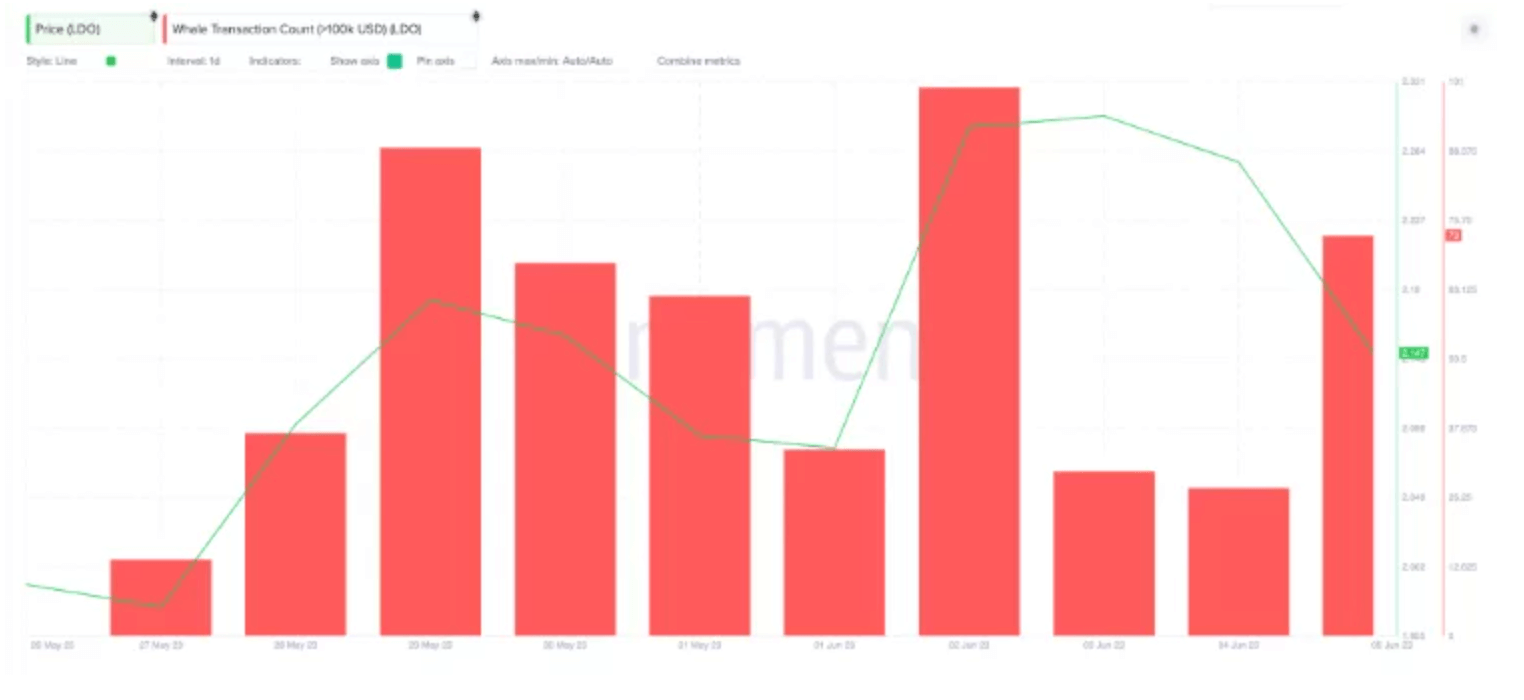 Over the past two weeks, crypto whales increased their transactions on LDO. The chart below shows that major transactions involving LDO have more than doubled since the end of May. On May 27, only 14 whale transactions were recorded on LidoDAO. Meanwhile, this figure rose to 73 transactions by the close on June 6.
The global crypto market value grew by 53% in the first quarter of 2023. However, since then, the bull rally has relatively cooled off. Crypto whales are now turning to passive income opportunities offered by DeFi staking protocols like LidoDAO. If this trend continues, LDO holders can expect further price increases in June 2023.
Big Investors Keep an Eye on Optimism
Optimism (OP) is another notable altcoin that has attracted the attention of strategic whale investors in recent weeks. Between May 30 and June 7, crypto whales with a balance of 100,000 to 10 million OP added another 100 million tokens to their assets.
The new investment made by crypto whales is worth approximately $150 million at the current market price of $1.50. Considering speculations surrounding Optimism's successful Layer 2 network upgrade, if whales continue to buy in June 2023, OP could enter a prolonged rally.
As regulators put pressure on leading exchanges, institutional investors appear to be shifting their capital towards Bitcoin and a handful of altcoins. Strategic investors will closely monitor these altcoins while navigating turbulent market conditions.