As investors wonder what will happen in the cryptocurrency market, cryptocurrency analyst DonAlt, who has expertly managed the cryptocurrency rally since the beginning of the year, warned investors that a major correction in Bitcoin (BTC) is coming.
Target Levels in Bitcoin
In a new strategy session, anonymous cryptocurrency analyst DonAlt pointed out that Bitcoin broke out of a symmetrical triangle pattern to the downside on its daily price chart. According to the analyst, the downside breakout of the symmetrical triangle pattern suggests that the largest cryptocurrency may enter a long correction period.
The price chart shared by the analyst points to two target levels for Bitcoin; $ 23,600 levels and $ 22,000 levels.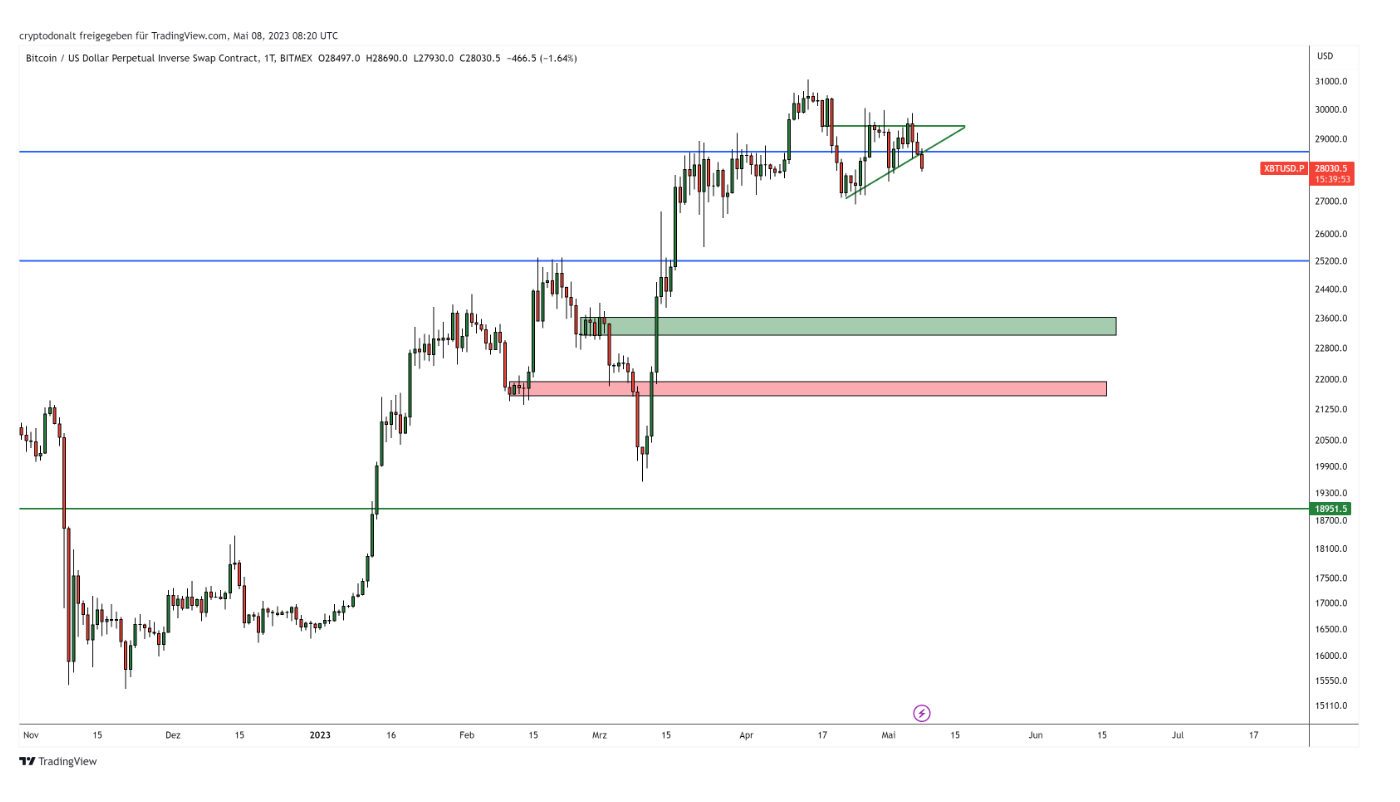 DonAlt noted that the correction could offer BTC bulls the opportunity to buy at lower prices, given that Bitcoin has risen by nearly 100 percent since its November 2022 bottom:
I think in general we will have a little more time. The markets in general are going to cool down. Whether it's through prices going down, whether it's through prices moving sideways and high volatility like we're experiencing, but it's going to happen and the markets are going to cool.
"Bitcoin Fails to Show Strength"
The cryptocurrency analyst also pointed out that Bitcoin is still struggling to maintain its uptrend despite favorable macro conditions, saying, "The S&P 500 showed strength. Gold strengthened and showed strength. There was FUD (fear, uncertainty and doubt) in banking. There was weakness in the US dollar and BTC could not rise. So why?" he said.
Bitcoin, the world's largest cryptocurrency by market capitalization, is trading at $ 27,623, down 1.23 percent in the last 24 hours at the time of this article. Data shows that BTC has lost 1.75 percent of its value in the last 7 days.