While most of the cryptocurrency market, including Bitcoin (BTC), is under selling pressure, the prominent altcoin Litecoin (LTC) initiated an upward move. LTC is currently trading at $95.22, up 4.41% in the last 24 hours. Not only its price but also on-chain metrics of the altcoin show significant increases. 
Litecoin Block Reward Halving Fast Approaching
The long-awaited block reward halving event for Litecoin is fast approaching, triggering upward movements. With only two months left for the LTC block reward halving, on-chain transaction volumes and whale activity on the Litecoin Blockchain are increasing. On-chain data provider Santiment noted in its recent Litecoin analysis: 
Litecoin's market value increased by 6.5% in the last 24 hours because there's a little more than two months left for the block reward halving. This increase was supported by the highest transaction volume on the chain in the last two years and the highest whale activity since January.
The increase in LTC20 transactions on the Litecoin Blockchain also provided significant support for the rise in network activity. Especially, whale activity is expected to remain high for the next two months as the block reward halving approaches. After the halving, the reward for miners per block will drop from 12.5 LTC to 6.25 LTC. 
Number of Wallet Addresses on the Network Exceeds 8.5 Million
Data from IntoTheBlock shows that Litecoin had a strong May, and the number of LTC wallet addresses has exceeded 8.5 million. Litecoin is one of the most used cryptocurrencies for payments, hence the total number of wallet addresses for LTC easily surpasses other major cryptos like Cardano (ADA), Dogecoin (DOGE), and Polygon (MATIC).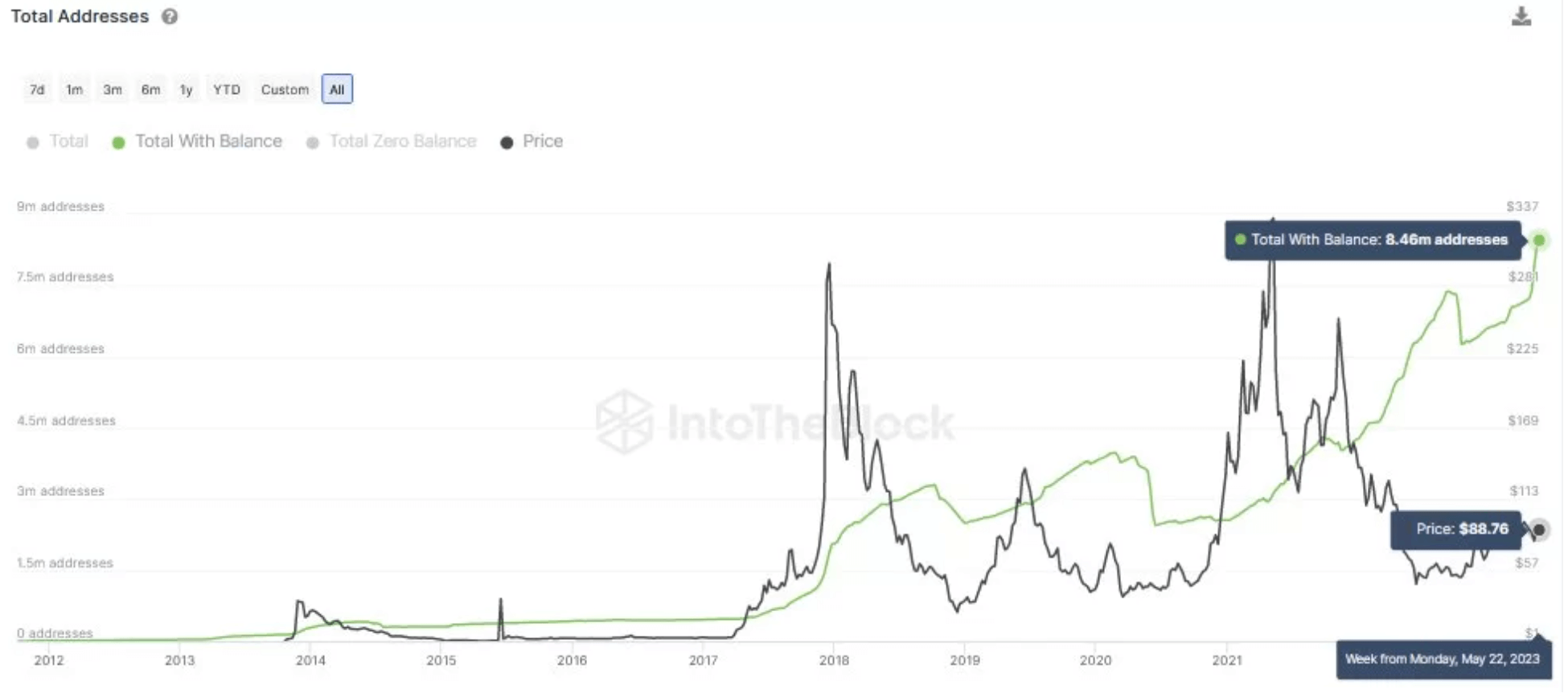 Continued growth in on-chain volume for Litecoin will be a strong sign that major investors are looking to jump into LTC investments before the block reward halving. Santiment made the following statement regarding the upcoming halving event for Litecoin: "The Litecoin block reward halving, which will occur on August 10, will be a significant event for the network. Most experts expect this event to have a positive impact on the popular altcoin's price, and we agree with this view." 
Finally, futures and derivative contracts for Litecoin have also been attracting a lot of interest recently. According to data from crypto data platform Glassnode, Litecoin futures volumes have surpassed $472 million.