Even though the cryptocurrency sector is experiencing a sharp overall downturn, Bitcoin (BTC) seems to be gradually recovering. Nevertheless, this steady rise in BTC prices hasn't fully revived the NFT market that stirred up storms just a year ago. For that to happen, it's absolutely necessary for altcoins to gain some momentum as well. However, it's not the end of the road for NFTs in this unfavorable situation, as some collections have achieved significant popularity and pricing, among which Reddit's NFT collection appears to be one.
Reddit's NFT Collections
Reddit, a blockchain-friendly social media platform, is making waves with its own NFT collection. Launched around July 2022, this collection quickly became a favorite among the community and brought significant attention to the Polygon (MATIC) network.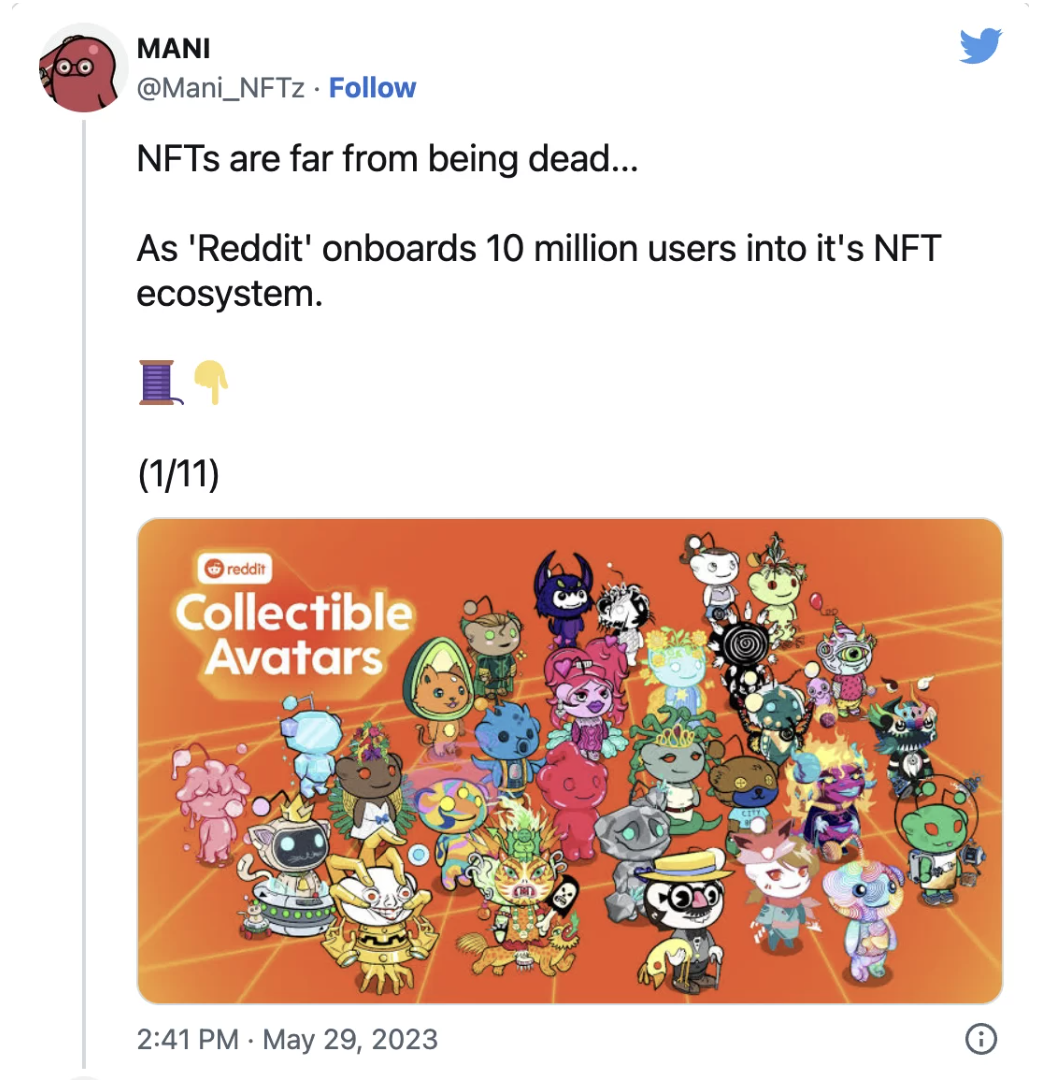 Looking at the on-chain data shared by MANI, it's estimated that about 10 million unique Reddit accounts own NFTs and are dedicated to the collection. This indicates that sales have reached a total of $38.5 million. In fact, three distinct collections named The Senses, Poieeeyee, and Foustlings made the most sales among Reddit NFT collections, each individually exceeding $1 million in sales. According to DuneAnalytics data, The Senses was the most successful of them all.
Rabbids: Bringing Serious Returns
Reddit distributed some of these NFTs for free for a while. Even though it made 303,033 sales, Reddit notably distributed the Rabbids NFT collection for free following a partnership with Ubisoft. This collection, featuring iconic alien rabbit characters, achieved significant success.
Rabbids, to which Ubisoft holds commercial rights, dates back to the early 2000s and now possesses substantial volume on the Polygon network. Reddit, with its 1.66 billion users and a growth rate of 39% last year, is undoubtedly one of the world's largest and most active social media platforms. The fact that the platform has experienced and enthusiastic communities regarding cryptocurrencies and blockchain changes the game. This unique position of Reddit makes the platform even more special.
Recently, NFT collections based on the Bitcoin network, such as Ordinals, have also made serious waves. These collections are certainly moving to the advantage of a general NFT rally and raising expectations.