Crypto analyst Dave the Wave, known for his numerous predictions over the past few years and followed widely, has shared his current views on Litecoin (LTC) and Bitcoin (BTC) with investors. 
Litecoin Forecast!
Crypto analyst known as Dave the Wave stated on Twitter that the popular altcoin LTC may be preparing for a breakout from a triangle pattern, and simultaneously, Bitcoin is rising from a significant support level. He gave these statements in his comments: 
LTC is threatening to go on a run… As they say, 'Don't marry a token.' This allows you to diversify a bit, protect your portfolios, profit a little from volatility, and also stay long on your main BTC investment.
Dave the Wave, focusing on Bitcoin, the leading cryptocurrency, claimed that BTC is still on track for a scenario he called back in February this year. According to the analyst, the most likely scenario shows Bitcoin transitioning into a five-wave rise, concluding at approximately $150,000 by the end of 2024 or the start of 2025. The senior analyst stated: 
Four months later, the BTC impulse wave scenario is still on track…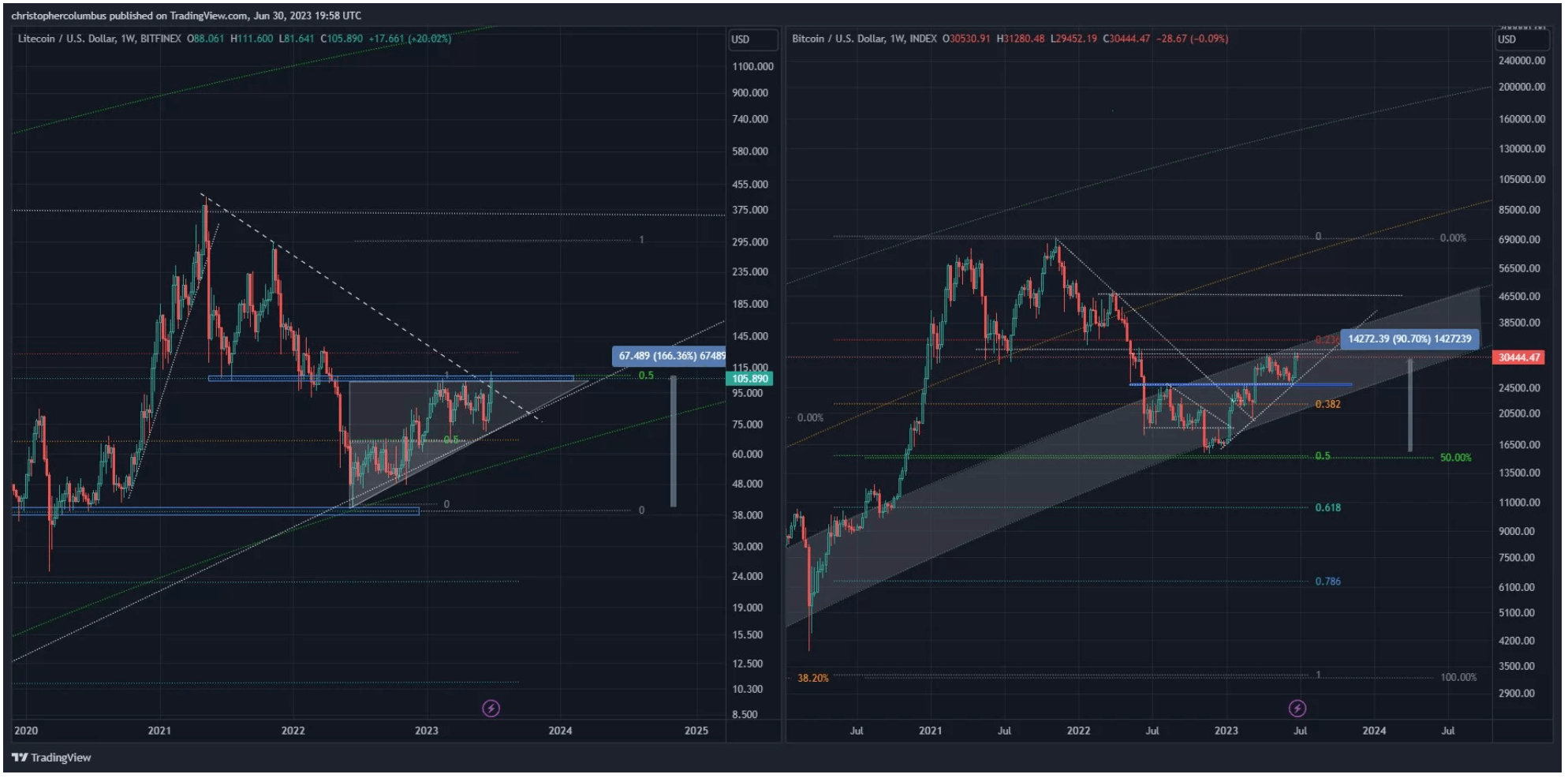 Rise Scenario for BTC!
Furthermore, earlier this month, Dave the Wave noted that, based on a combination of the logarithmic growth curve model and Fibonacci levels, big gains are now on the table for Bitcoin. He made these statements on the matter: 
With a consensus forming that BTC is at the bottom, the question increasingly being asked is what the next peak could be. A proportionate response within the LGC (logarithmic growth curve) parameters… it's been working since 2018.