The anonymous host of the cryptocurrency-focused YouTube channel, InvestAnswers, expects major price increases for the leading cryptocurrency Bitcoin (BTC) and the top altcoin Ethereum (ETH). The analyst revealed his price expectations for both cryptocurrencies in a recent video. 
Option Market Players Excessively Bullish on Bitcoin
He indicated that it wouldn't surprise him if Bitcoin reaches $42,000 by April 2024. This prediction is based on the position-taking behaviour of players in the options market. According to the analyst, the demand for Bitcoin call options is higher than that of put options, signifying a potential rally. 
While call options are contracts that grant the owner the right to buy an underlying asset at a specified price on or before a certain date, put options provide the owner the right to sell an underlying asset at a specified price on or before a certain date. 
The analyst stated, "A considerable movement at the $45,000 level can be seen on December 29, 2023. One thing I want to draw your attention to is the call-to-put ratio at 0.39. There are far more purchases than sales. This means extreme bullishness. As I've said many times and will say again; I won't be surprised if we see $42,000 by the halving of the block reward, that is, April 2024. According to the chart below, we could reach $45,000 by Christmas if players in the options market are right."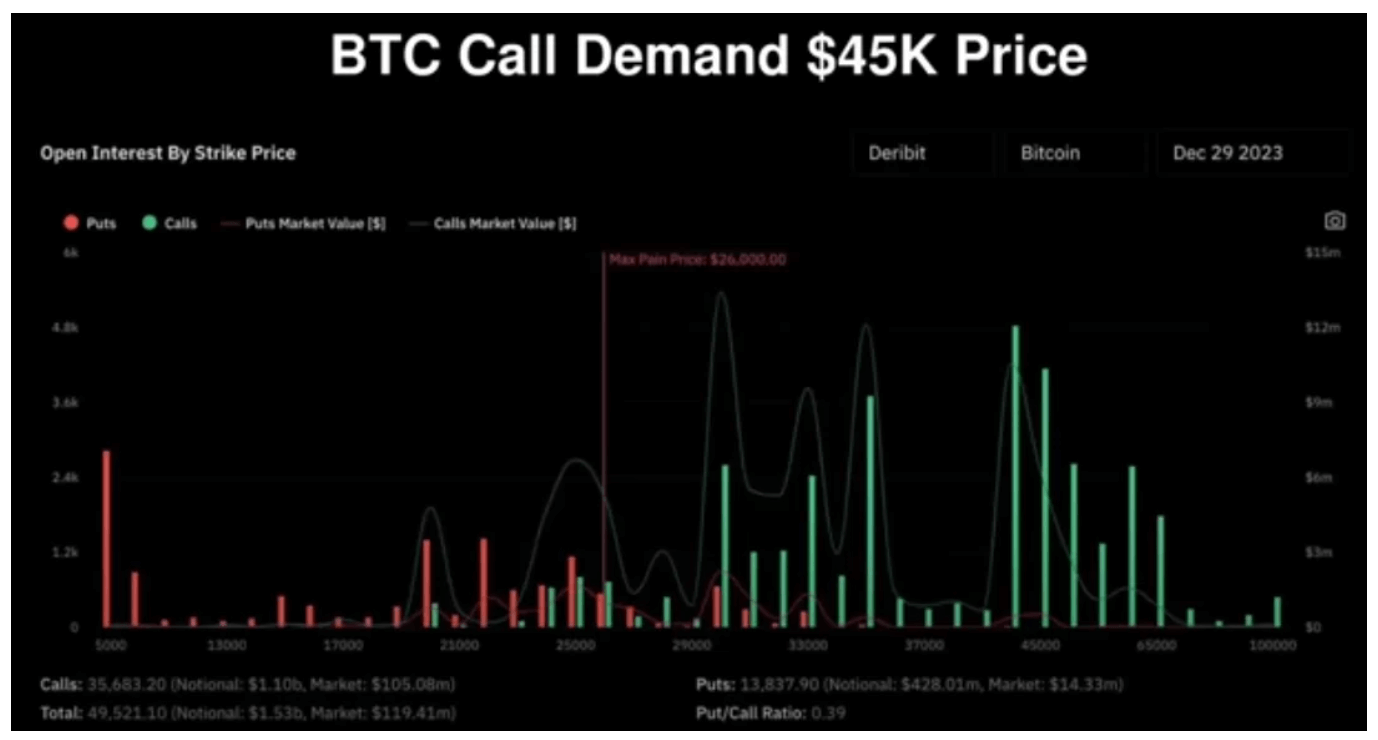 Option Market Players Extremely Bullish on Ethereum like Bitcoin
After discussing Bitcoin, the anonymous crypto analyst turned his attention to Ethereum, stating that the top altcoin by market value also indicated an extreme bull signal based on its call-to-put ratio. 
"For ETH, there's a significant amount of buying interest at $2,500 on the same date as Bitcoin, December 29, 2023. Ethereum's call-to-put ratio is at 0.21, indicating extreme bullishness. Almost no one, practically no one is buying Ethereum put options. Everyone is expecting the price to exceed $2,000, average $2,500, by Christmas. Some are even positioning for $6,500. In both cases, things will move quickly, but we don't know exactly when. However, it's certain that the next five months and the following year will be extremely fun. So, we are going to have an absolute joy for the next year and a half," he concluded.