The adverse performance of the cryptocurrency markets has caused the Non-Fungible Token (NFT) sector to significantly contract. The decreased volumes have led many collection investors to suffer vast losses, with some collections disappearing entirely. Due to the removal of copyright fees and commissions (competition among marketplaces), numerous projects have reached a point of potential discontinuation.
However, a different tale is unfolding for the Ringers NFT Collection. At the time of writing, Ringers #879, an NFT designed by Dmitri Cherniak, received a $5 million bid at the globally renowned Sotheby's auction house. After a long period, this auction seems to be making significant noise. The above-average bids will likely make headlines tomorrow, and you are learning about it several hours in advance right now.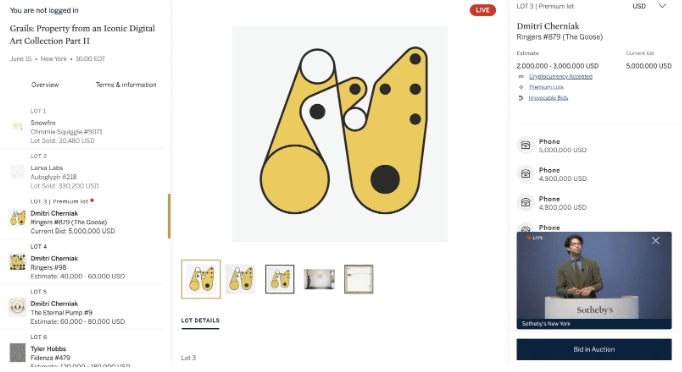 If this auction generates the anticipated excitement in mainstream media, we may witness an environment where NFT collections begin to regain demand. This could positively affect network activity, earnings, and indirectly, cryptocurrencies. Moreover, NFTs currently don't have to battle with the SEC. These types of art pieces appreciate based on the efforts of the designer and increasing investor demand, not just bringing profits to investors.
Update: The piece titled "The Goose" sold for $6.5 million, marking the second-highest productive art sale of all time.
Dmitri Cherniak, who uses automation as an artistic medium, creates artworks that evoke a range of emotions similar to those in traditional mediums. Born in Toronto and currently residing in New York, Cherniak studied Computer Science and Physiology at McGill University. Here, he began creating art using algorithms and code. As a software engineer, Cherniak discovered that the creativity needed to automate complex engineering solutions was often unrecognized. This insight inspired him to channel his creative energy into automating visual systems.
Productive art shifts artistic expression from producing a single, static piece to designing a dynamic, autonomous system. Inspired in part by the form research in Armin Hofmann's Graphic Design Manual published in 1965, Cherniak began a project to create algorithmic art based on ropes and pegs, hoping it would look organic or even man-made.
The thousand-piece Ringers project was launched on Art Blocks, a platform aimed at initiating code-based generative art, in January 2021. The modest elegance of the relatively broad collection demonstrates both the possibilities within an algorithm – simple parts or complex, colorful or not – and the unique beauty of a single Ringer, where each piece is inseparably connected to the others.
The sold collection was minted on the Ethereum network according to the ERC-721 standard.