The Litecoin (LTC) price has been falling since mid-February but may be trading in a short-term bullish pattern. While this pattern may have made the first bounce, it is likely that the long-term trend is still bearish.
Litecoin Price Stuck at Resistance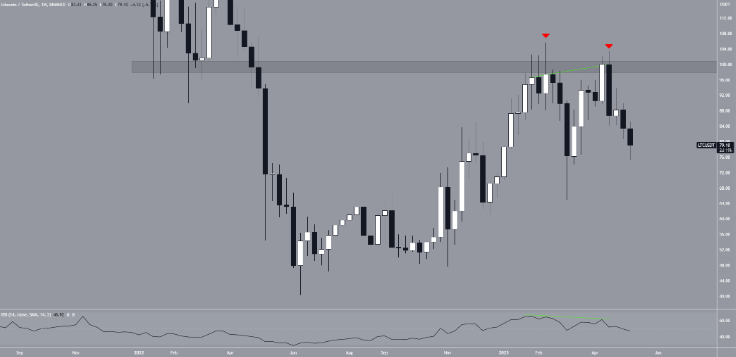 The price of LTC has been on the rise since June 2022. It reached an annual peak of $105.80 in February 2023. However, it failed to break through the long-term horizontal resistance level at an average price of $100 and was rejected twice (red icons). The rejections at these levels resulted in a double top, a bearish pattern that brought about a significant decline. The price started falling shortly after the formation of the pattern.
Moreover, the weekly Relative Strength Index (RSI) is showing a bearish trend. The RSI can be seen as a momentum indicator used by traders to assess whether a market is overbought or oversold and to determine whether to accumulate or sell an asset.
Readings above 50 and an upward trend indicate that bulls still have an advantage, while readings below 50 may signal the opposite. During the double top, a bearish divergence occurred between the Litecoin price and the RSI, which means that the increase in momentum was not accompanied by a price increase. Since the RSI is currently at 50, a break below the line could confirm that the trend is bearish.
Can LTC Price Reverse the Downtrend?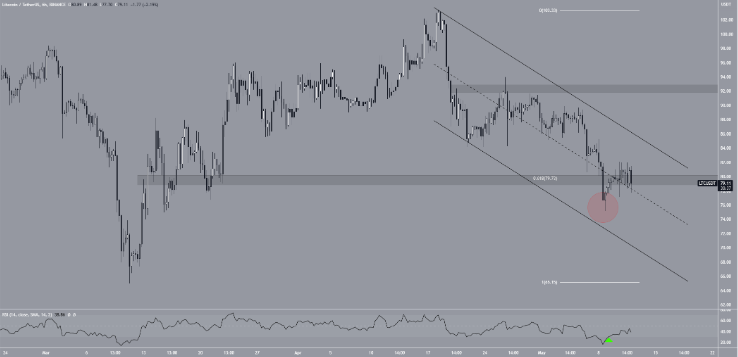 Technical analysis on the short-term six-hour timeframe shows a more bullish bias in the LTC price forecast. Hence, it could allow for the possibility of the price making a bounce, at least in the short term. There are three main reasons for this.
First, the price is trading within a descending parallel channel. These channels can often contain corrective structures. So a breakout in the channel can be seen as the most likely scenario. The fact that the price is trading at the top of the channel may be increasing the likelihood of an eventual breakout.
Then, Litecoin price reclaimed the $79 support area after breaking below it earlier (red circle). Upside moves usually follow these breakouts because they occur when sellers are unable to pull the price down.
The $79 support may have been formed by a horizontal support area and the 0.618 Fib retracement support level. This area can be seen as a very important support area. Finally, the six-hour RSI is rising. While the indicator is above 50, a move upwards and out of the oversold zone could be a bullish sign.
Disclaimer The information contained in this article does not constitute investment advice. Traders should be aware that cryptocurrencies carry risks due to their high volatility and should conduct their own research.