As lawsuits against Binance and Coinbase are engaging the crypto markets, on-chain data reveals a Bitcoin (BTC) whale, inactive for just over a decade, is stirring. What does the awakening of this long-dormant whale imply? 
1,432 BTC Put Into Motion!
Blockchain monitor Lookonchain announced that a cryptocurrency address, inactive since April 2013, has moved 1,432 Bitcoins after lying dormant. The crypto company stated in their release: 
A BTC whale that's been sleeping for 10.2 years has transferred all 1,432.93 BTC (valued approximately at $37.8 million) to a new address 'bc1psv' just five minutes ago. The whale acquired 1,432.92 BTC on April 9, 2013, when the price was $195.4.
At the time of writing, with Bitcoin trading at $26,447, the hitherto dormant tokens gained a value of 13,435% over a decade. 
Throughout the decade and two months that the wallet lay idle, minuscule amounts of Bitcoin were sent to the address, a potential indication of dusting attacks. Dusting attacks are typically attempts to identify the owner of the address and are often conducted by malicious actors intending to execute phishing attacks, blackmail, and other cybercrimes.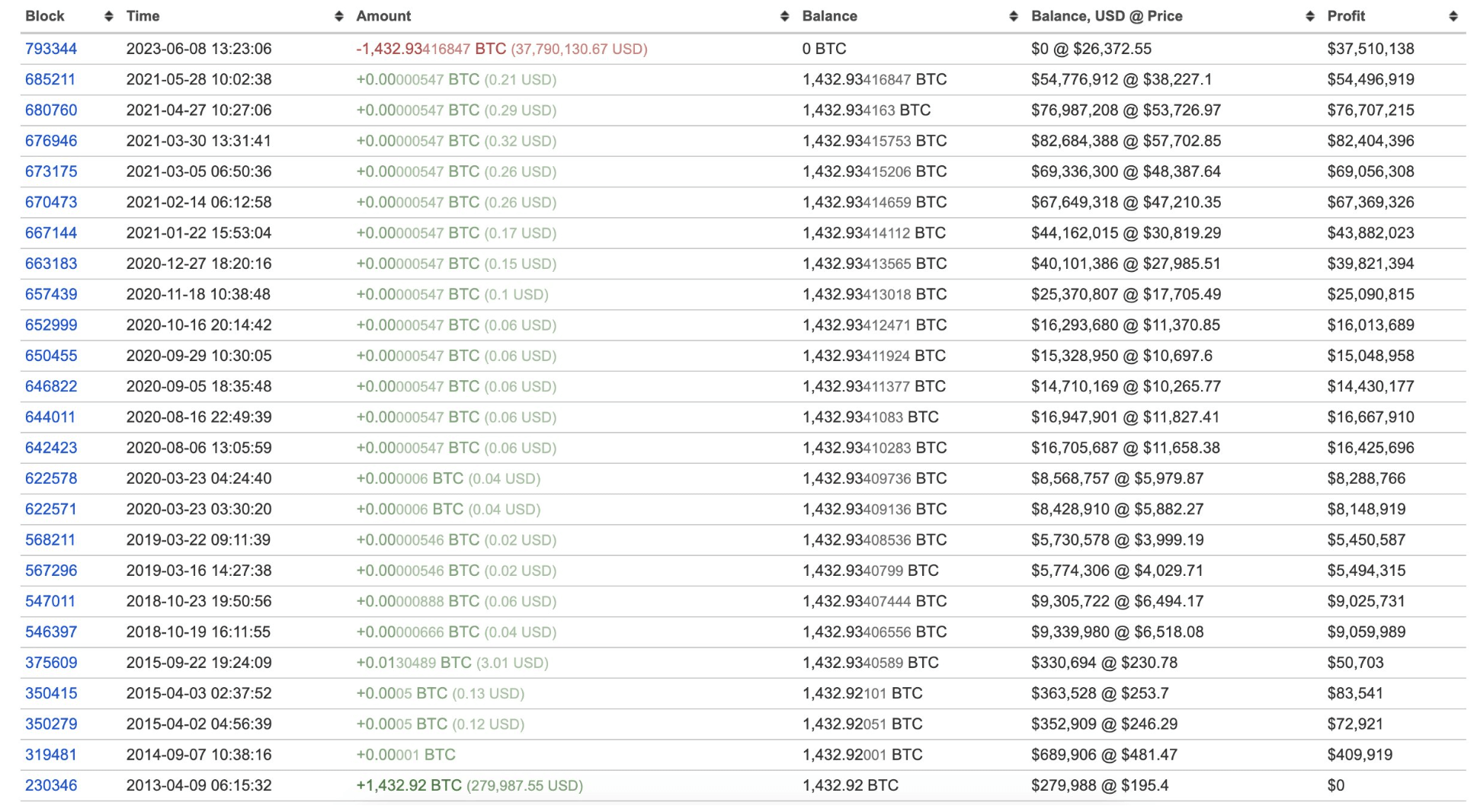 Claims Regarding Satoshi!
Legitimate entities like academic researchers and law enforcement agencies might also conduct dusting attacks for non-malicious reasons. Dormant wallets attract attention and interest due to the possibility of being owned or associated with Satoshi Nakamoto, the creator of Bitcoin whose online trace cooled off in December 2010. 
According to blockchain researcher Sergio Lerner, it's believed that Satoshi's wallet(s) may contain a vast fortune, possibly over a million Bitcoins. Speculations are rife about the giant whale's future moves. Meanwhile, allegations against Binance and Coinbase continue to perpetuate uncertainty in the crypto markets.