After Chainlink (LINK) price lost the critical 7% support level on May 1, investors took their selling to a frenzy level. However, on-chain data suggests that bullish-minded traders may have their eyes set on a bullish LINK price forecast.
Chainlink looks poised for a price rebound as social media sentiment has fluctuated wildly in recent weeks. But will this be enough to move the price for investors to demand more?
The Latest Status for Chainlink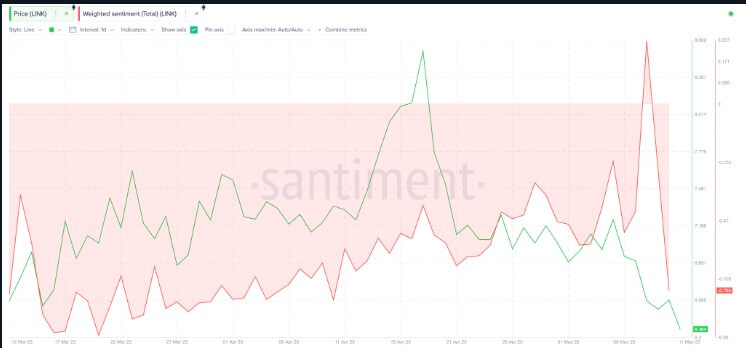 Social media sentiment surrounding Chainlink returned to positive for the first time on May 8th after following a negative trend since March. This can be attributed to the recent partnership announcements that came with the announcement of Chainlink price feeds being integrated into Prime Protocol and MakerDao-powered SparkProtocol.
As the news spread on social media, the weighted sentiment spiked to positive numbers, reaching 0.25 on May 8. Although it has since dropped to -0.75 on May 10, investors can interpret this sharp fluctuation as a premise for a positive LINK price forecast.
Weighted Sentiment, which evaluates the ratio of positive mentions to negative mentions, suggests that most LINK participants are currently pessimistic. However, when Weighted Sentiment rises to positive numbers as seen above, it often attracts the attention of strategic investors looking to buy at the perfect inflection point.
Increase in LINK Market Demand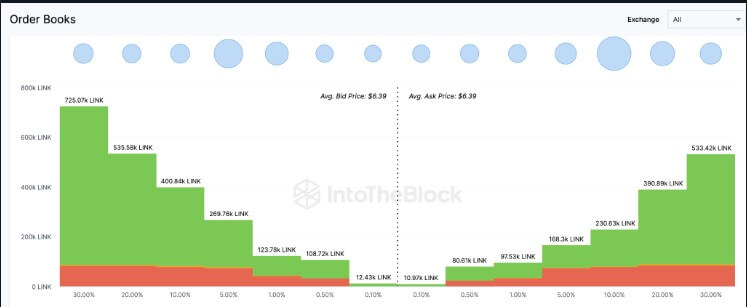 Moreover, the recent surge in social sentiment seems to have translated into increased demand for LINK. In particular, the total buy and sell requests of the exchanges presented above, as well as LINK buy orders, now exceed the market supply.
Currently, investors have placed limit orders to buy 2.17 million LINK tokens. However, Chainlink investors have only placed 1.5 million tokens at current prices, confirming the bullish trend.
With the current excess market demand of 670.00 LINK, prices are likely to rise as buyers compete to fill their orders. In a nutshell, if social sentiment is on the rise, demand for LINK could increase even more. As a result, the bullish price prediction for Chainlink will most likely be confirmed.
LINK Price Prediction
IntoTheBlock's In Out of Money Around Price data suggests Chainlink's next bull rally could reach $8. But first it needs to break through key resistance levels.
Important groups of buyers can be seen at $6.52, $6.86 and $7.39. These groups represent a total of 142 addresses holding 536 million LINKs. This is equivalent to $3.4 billion. If all these levels of previous buyers are reached, the situation could push the price higher. If this happens, the positive LINK price forecast of $8 could come true.
Still, the bears could invalidate the positive outlook if LINK unexpectedly drops below $6.35. However, as seen below, bullish support from the 23,000 addresses that bought 24 million Chainlinks at a minimum price of $6.35 will likely prevent a decline.
But if this support level fails to hold, Chainlink's bullish price forecast could be effectively invalidated, triggering a decline towards $5.60.