The cryptocurrency industry is currently experiencing the meme token hype and meme tokens such as PEPE, LADYS or BOB have gained serious popularity. However, the most popular recent trend in the industry is definitely metaverse and artificial intelligence tokens. The popularity of metaverse tokens, which came with ChatGPT but stayed in the industry for a long time before the short-lived artificial intelligence fad, may now resume.
Apple Could Revive the Metaverse
Although Apple is widely associated with the cryptocurrency industry, it has not made a direct entry into the sector, a development that many investors are still waiting for in the next bull season. Nevertheless, a new product from Apple could indirectly change things in the cryptocurrency industry. Apple may officially launch its long-awaited augmented reality-focused device in the coming weeks. Many experts believe that this will breathe new life into the metaverse industry.
The tokens of leading metaverse projects such as Decentraland and Sandbox experienced a significant price increase in January, mainly due to the announcement that Apple was entering the augmented reality industry. The famous independent developer Udi Wertheimer actually touched on this and tweeted an important tweet.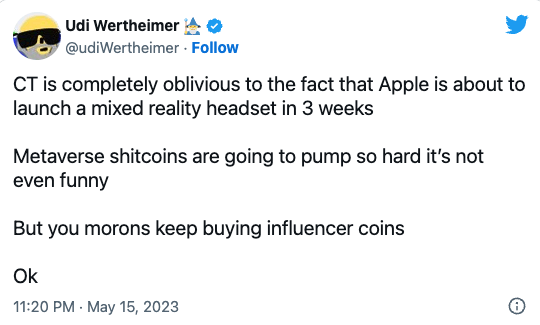 After harshly criticizing investors who buy "influencer coins", that is, coins promoted by celebrities, Udi drew attention to Apple's augmented reality product that will arrive in 3 weeks. Reminding that metaverse-oriented projects will achieve a serious rise in this way, Udi may have a share of truth.
Apple Can Change Everything
Leading analyst Josh Gilbert said that the new product will take the whole market by storm and that it is important to remember that Apple usually releases high-quality products. Gilbert emphasized that:
When Apple does it, it usually gets it right.
We are still in the very early stages of the metaverse, and with advanced technologies, what was once a very bland world could change completely. Especially now that the whole world is going virtual, Apple's product may open the door to a major trend change. In the meantime, investing in metaverse-oriented projects will be as risky as ever.