We've been discussing mostly negative developments for the last two weeks due to the SEC's dark cloud hovering over crypto. Investor risk appetite has plummeted, and there's 10 months left until the halving. What does this mean? Historically, we may have approached, or even reached, the bottom, especially for altcoins.
BlackRock Spot Bitcoin ETF
BlackRock has applied for a Bitcoin spot exchange-traded fund (ETF). The investment firm is the world's largest, and if approved, it will be the first crypto spot ETF in the United States. According to the application submitted to the U.S. Securities and Exchange Commission (SEC) via the Nasdaq exchange, the Coinbase Custody Trust Company will be the custodian of the fund's Bitcoin assets, while the Bank of New York Mellon will hold the fiat assets. BlackRock's iShares Bitcoin Trust will trade as Commodity-Based Trust Shares.
The document indicates that products traded on the spot market in commodities and foreign exchange, which the Commission has approved in the past, generally "are unregulated and (…) the Commission has historically based its approval of trust shares primarily on the underlying futures market."
"Therefore, the substantial regulated market test does not require regulation of the spot Bitcoin market for the Commission to approve this proposal."
Despite numerous applications, the SEC has yet to approve a spot Bitcoin ETF. After the SEC rejected its application to create a spot Bitcoin ETF, Grayscale sued the SEC. The world's first spot-traded Bitcoin ETF was Purpose Bitcoin ETF, established in Canada in early 2021.
What Happens If a Spot Bitcoin ETF Is Approved?
If a spot ETF traded on U.S. exchanges is approved, it will imply a skyrocketing Bitcoin price, as we have learned from the example of gold. The NYSE listed the first gold ETF in 2004. Since then, the gold price never saw the November 2004 level again. Gold, with a market value of 1 trillion dollars at the time, has now reached 11 trillion dollars. Many economic factors influenced the price of gold, but the listing of the ETF played a significant role in the entry of global institutional funds.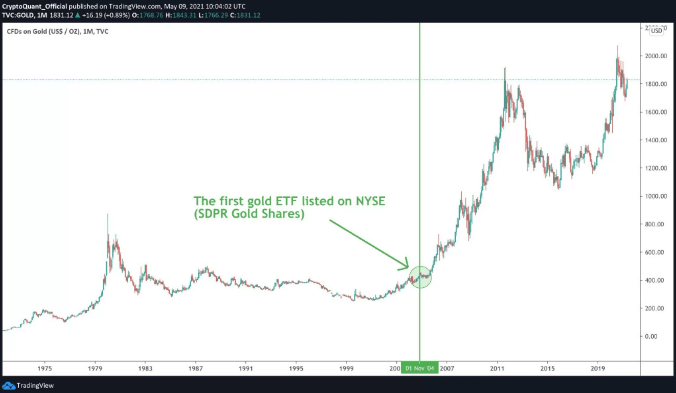 Now, on June 16, 2023, the world's largest asset management firm, BlackRock, could repeat the same story for Bitcoin. If BTC follows gold's lead, approval could kick off a rise that could last for years.
Until the approval of a spot Bitcoin ETF, companies (for themselves or their customers) have been buying shares of Microstrategy (MSTR), which they believe serves the same function.
Below are the top 10 investors, with familiar names…