The cryptocurrency and stock markets might be affected by the US Treasury Department refilling the Treasury General Account (TGA) through the issuance of Treasury bonds, drawing US dollar liquidity from the financial markets. However, Arthur Hayes, co-founder and former CEO of the giant cryptocurrency exchange BitMEX, believes the impact isn't as significant as anticipated and risky assets like Bitcoin (BTC) will soon start to rise. 
Arthur Hayes Expects a Rally in Bitcoin
BitMEX co-founder Arthur Hayes, in a statement on his personal Twitter account today, claimed that the TGA refilling hasn't affected the risky markets because the net liquidity of the US dollar is $77 billion. Hayes is of the belief that the TGA refill by the US Treasury Department is nothing to worry about. 
As long as the net US dollar liquidity index continues to remain positive, he plans to continue purchasing cryptocurrency. If the index turns negative, he said he would slow or stop his purchases. Hayes expects the US Treasury to slow down bond or debt issuance when the TGA balance exceeds $450 billion. During the debt ceiling agreement, the TGA balance was below $40 billion, but it now stands at $250 billion and is rapidly moving towards the level Hayes indicated. The US Treasury appears to be expanding its account without impacting the financial markets and US dollar liquidity. 
Hayes has created a special US dollar liquidity index to track the impact of the TGA refilling on US dollar liquidity. He added, "I'm looking at the last print values of RRP and TGA before the debt ceiling bill was signed on June 3rd. If RRP is going down, it means +ve for US dollar liquidity; if TGA is going up, it means -ve for US dollar liquidity. I am looking at the net output value given by both metrics."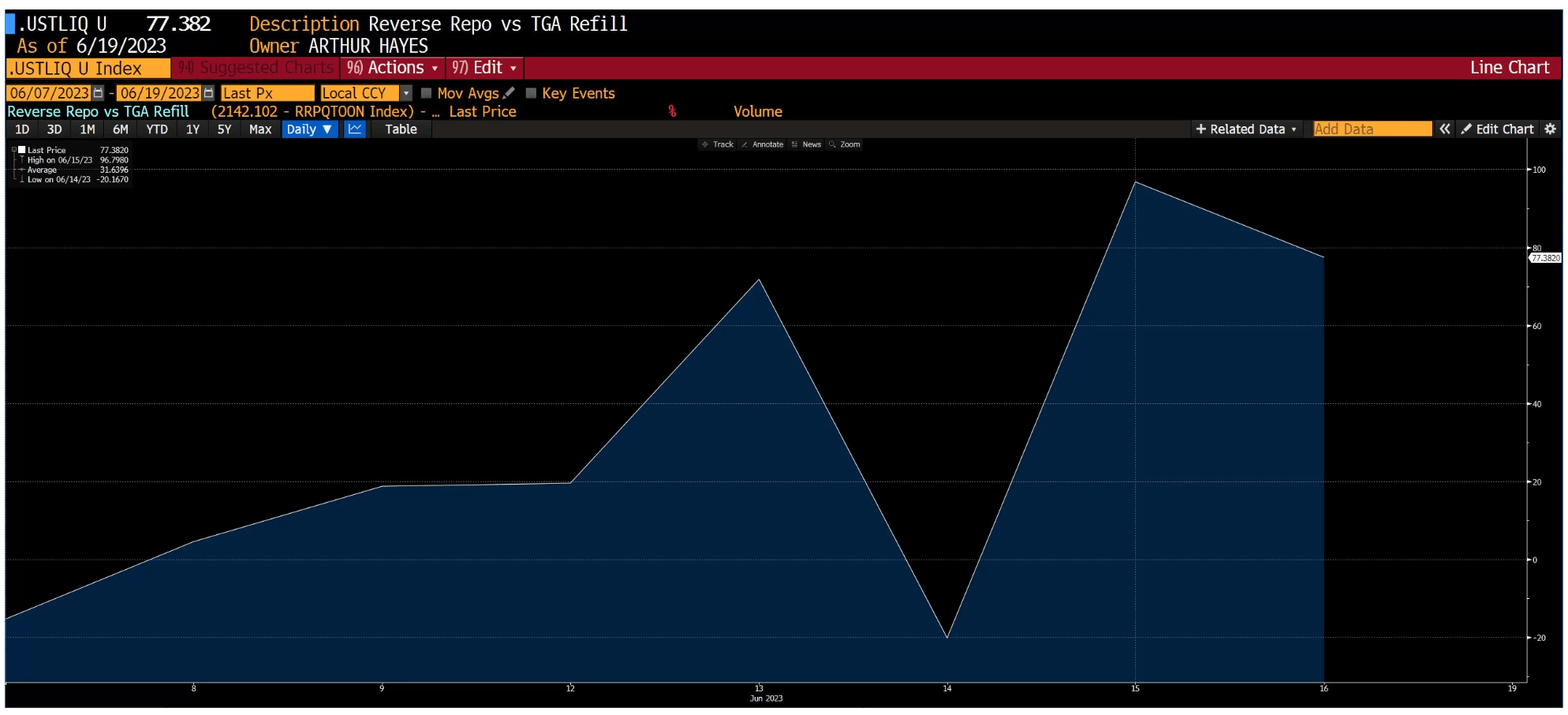 The Cryptocurrency Market is Trying to Recover After the SEC
The crypto market is moving upward as the uncertainty created by lawsuits filed by the US Securities and Exchange Commission (SEC) against Binance and Coinbase begins to disperse. Bitcoin, the largest cryptocurrency, continues to move upward after bouncing back from the anticipated $24,800 support level. As a result of new purchases from whales, Bitcoin's price rose above $27,000 today but quickly reverted. BTC is currently trading at $26,796, up 2% in the last 24 hours. 
The price of the king of altcoins, Ethereum (ETH), continues to remain steady around $1,750, with a 0.50% increase in the last 24 hours. The lowest and highest levels of the largest altcoin in the last 24 hours were $1,705 and $1,750, respectively.