Research firm Messari's Q1 2023 report reveals Ethereum's (ETH) continued dominance in terms of revenue generation among Layer 1 Blockchains. Notably, Hedera Hashgraph (HBAR) marked a significant revenue increase, supported by its Consensus Service. 
"Ethereum's Clear Leadership in Revenue Generation"
Ethereum, in the first quarter of the year, once again solidified its leadership among Layer 1 Blockchains in terms of revenue generation. Thanks to widespread adoption and high gas fees, Ethereum network generated an impressive $457 million in the first quarter. This figure is approximately 2.8 times higher than the total revenue produced by other leading Layer 1 Blockchains.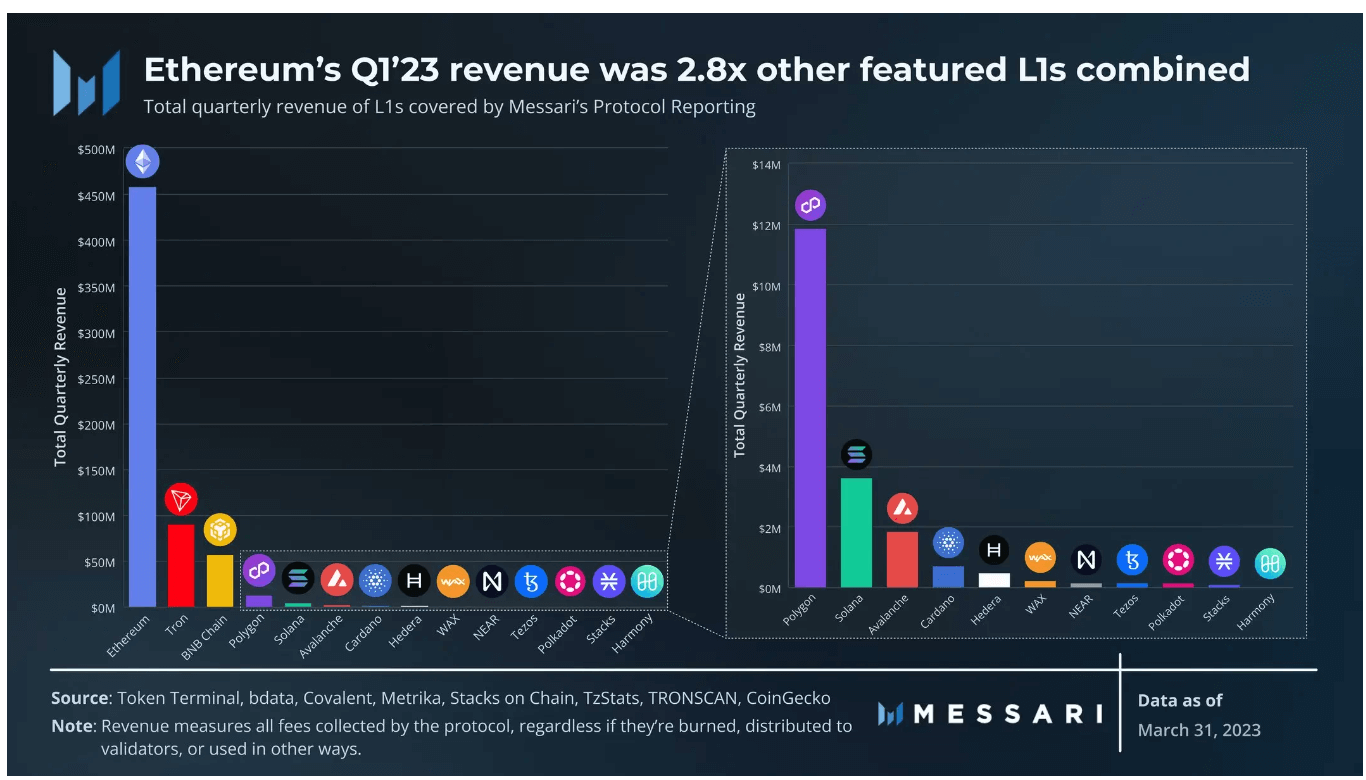 Ethereum continues to maintain its leadership in several significant financial and ecosystem measures, including market capitalization, generated revenue, DeFi (Decentralized Finance) TVL, volume, NFT volume, and the number of full-time developers. Ethereum scored 22 points in DeFi diversity, followed by Polygon (MATIC) with 19 points, Solana (SOL) with 18, and BNB Chain with 16. 
"The Notable Detail of Hedera Hashgraph in Quarterly Revenue"
Although the Ethereum network continues to dominate in total generated revenue, the Hedera Hashgraph network made a surprise leap in the first quarter. According to the report, Hedera Hashgraph saw an extraordinary 489% QoQ revenue increase. This significant growth is attributed to the adoption and usage of Hedera Hashgraph's Consensus Service. 
Hedera Hashgraph's Consensus Service offers a unique approach to distributed consensus, ensuring secure and scalable transactions. This service is attracting attention among businesses and developers seeking a robust and efficient Blockchain solution. 
The number of full-time developers working on prominent crypto networks declined by 4% compared to the previous quarter. Ethereum, with 1,976 full-time developers, practically equals the total of nearly all other crypto networks. However, Hedera Hashgraph, with a 28% increase to 64 full-time developers from the previous quarter, marked the highest growth among prominent networks.