Twitter, one of the world's largest social media platforms, has been in the spotlight over the past week as current Chief Executive Officer (CEO) Elon Musk hinted that he has found a successor for the top job at the company.
Twitter's New CEO Confirmed
Shortly after the initial hint, Elon Musk confirmed all rumors that Linda Yaccarino would be taking over the firm's business in the next six weeks, while he himself would move into the position of Chairman and CTO.
Speaking on the social media platform for the first time since the confirmation of her new role, Linda said she is in tune with Musk's determination to create a brighter future and is excited to help rebrand the company.
Since Elon Musk's purchase of the company, much has changed in terms of management and promotion of the company. Aside from regular layoffs and product improvements at Twitter, the billionaire investor has also done a lot to show that he has big plans for Web3.0 and the digital currency ecosystem.
In one of the most notable moves, Elon Musk changed the Twitter logo to show the Dogecoin logo for a few days earlier this year. Now, rumors are swirling about whether things will change for Dogecoin and the broader crypto industry under the leadership of Linda Yaccarino.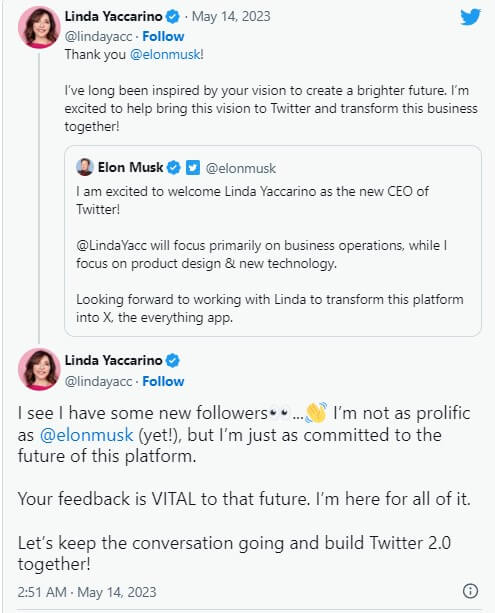 The Future of Dogecoin in Twitter 2.0
According to Linda, he plans to seek feedback from the community in his new desire to help launch Twitter 2.0. While details on what Twitter 2.0 is have yet to be revealed, the key goals may align with previous visions shared by Musk to integrate payment services into the company's primary product.
If these payment plans are realized, there is a possibility that Dogecoin and other cryptocurrencies will be promoted by Linda's management. As Director of the World Economic Forum (WEF), there was no prior evidence of her being pro-crypto.
But by taking a role in a Musk initiative, she immediately followed the Dogecoin (DOGE) and Shiba Inu (SHIB) account, showing that she is positively aligned with the communities.The fact that Musk is still with the company, both in an oversight capacity and in product development, could increase the chances of Dogecoin and other cryptos being consistently recognized on the platform.