Polygon Labs, the organization powering the MATIC token, has made the coveted TIME's "100 Most Influential Companies" list for 2023, according to an exciting announcement on their official Twitter handle. 
Entering the Global Scene: Polygon Makes the "TIME 100" List
The prestigious annual "TIME 100" list, renowned for highlighting globally influential figures, broadened its scope to feature companies contributing significantly to diverse sectors. In the 2023 edition, Polygon Labs finds its place among transformative entities within the cryptocurrency industry.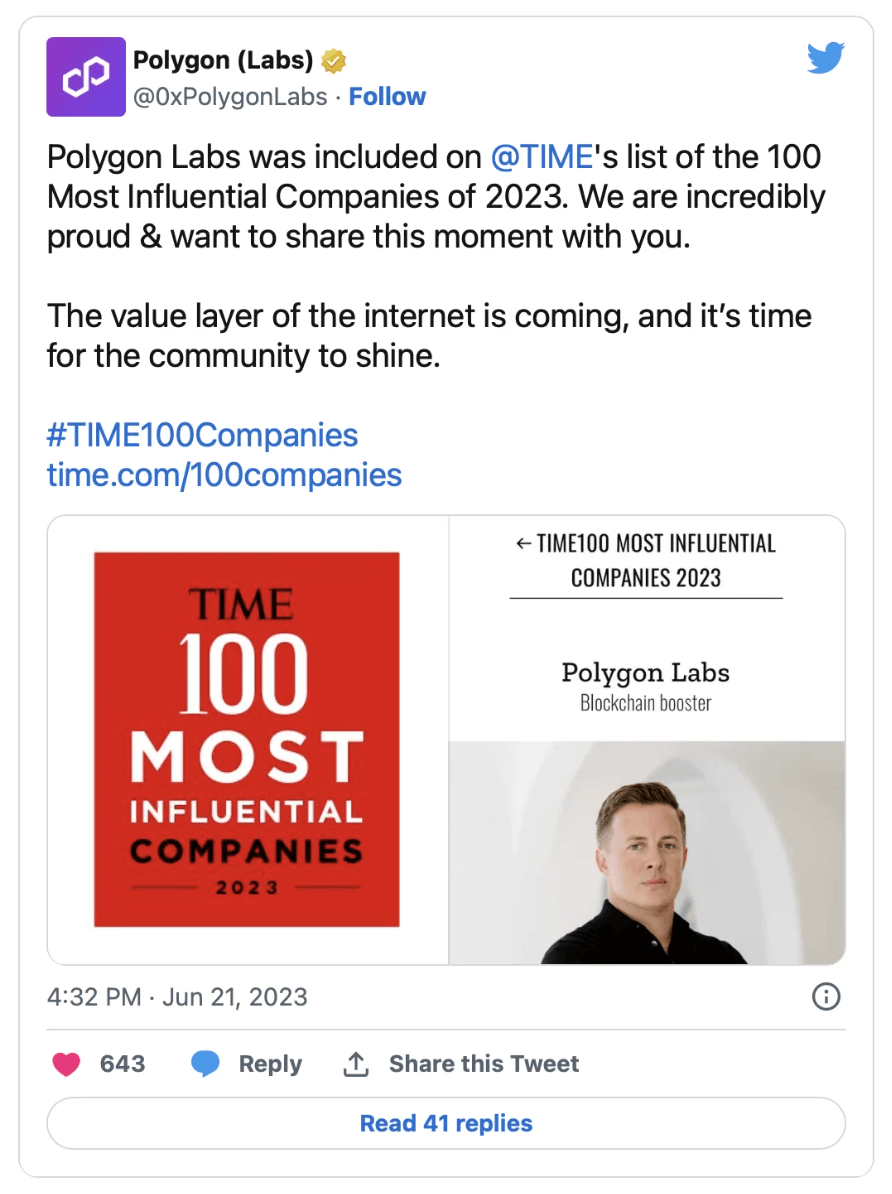 Recognition on the TIME 100 list serves as evidence of Polygon Labs' burgeoning growth and profound impact on the Blockchain sector. This acknowledgement by TIME directly results from the successful launch of the industry's fastest Zero Knowledge Proof (ZK) system in the past 18 months, and the initiation of zkEVM, the sole EVM equivalent on the main network. 
Last week marked the unveiling of Polygon 2.0, backed by ZK technology and representing a giant stride towards a vision of unlimited scalability and unified liquidity for the Polygon ecosystem. The core premise of the Polygon 2.0 vision rests on the necessity for each Polygon chain to be a ZK L2. 
Polygon Proposes Upgrade to Polygon PoS
Polygon Labs proposed a key upgrade to Polygon PoS, transforming it into a decentralized ZK Layer 2, known as zkEVM Validium – a first of its kind. This significant milestone for the Polygon ecosystem ensures the pivotal role of Polygon PoS within the Polygon 2.0 ecosystem. 
As a zkEVM Validium, Polygon PoS will inherit Ethereum's unparalleled security while maintaining low transaction fees and high scalability. 
If the development proposal is accepted, a transition to this technology, facilitated by an upgrade scheduled for deployment on the main network by the end of Q1 2024, will be seen for Polygon PoS. This move will impact 2 billion dollars in assets, millions of users, and thousands of applications.