Vitalik Buterin transferred nearly half a million Ethereum (ETH) to the colossal cryptocurrency exchange Kraken, as reported by Lookonchain, a data analytics platform that monitors substantial cryptocurrency transactions and transactions conducted by prominent wallet addresses, termed "smart money." Following Buterin's transaction, the Ethereum Foundation, the organization underpinning Ethereum, followed suit and transferred an even more considerable sum of ETH to Kraken, amounting to $30 million. ETH, the preeminent altcoin by market capitalization, is trading at $1,960, while on-chain data company Santiment disclosed that the altcoin is on the brink of breaching $2,000.
Vitalik Buterin and the Ethereum Foundation Liquidate ETH
Lookonchain announced that 200 ETH, valued at approximately $400,000, were transferred from Ethereum co-founder Vitalik Buterin's vitalik.eth wallet address to Kraken, the prominent US-based cryptocurrency exchange. Subsequent to Buterin's transaction, the Ethereum Foundation likewise transferred 15,000 ETH, valued at approximately $30 million, to the cryptocurrency exchange. Consequently, Buterin and the Ethereum Foundation have transferred in excess of $30 million worth of ETH to the cryptocurrency exchange.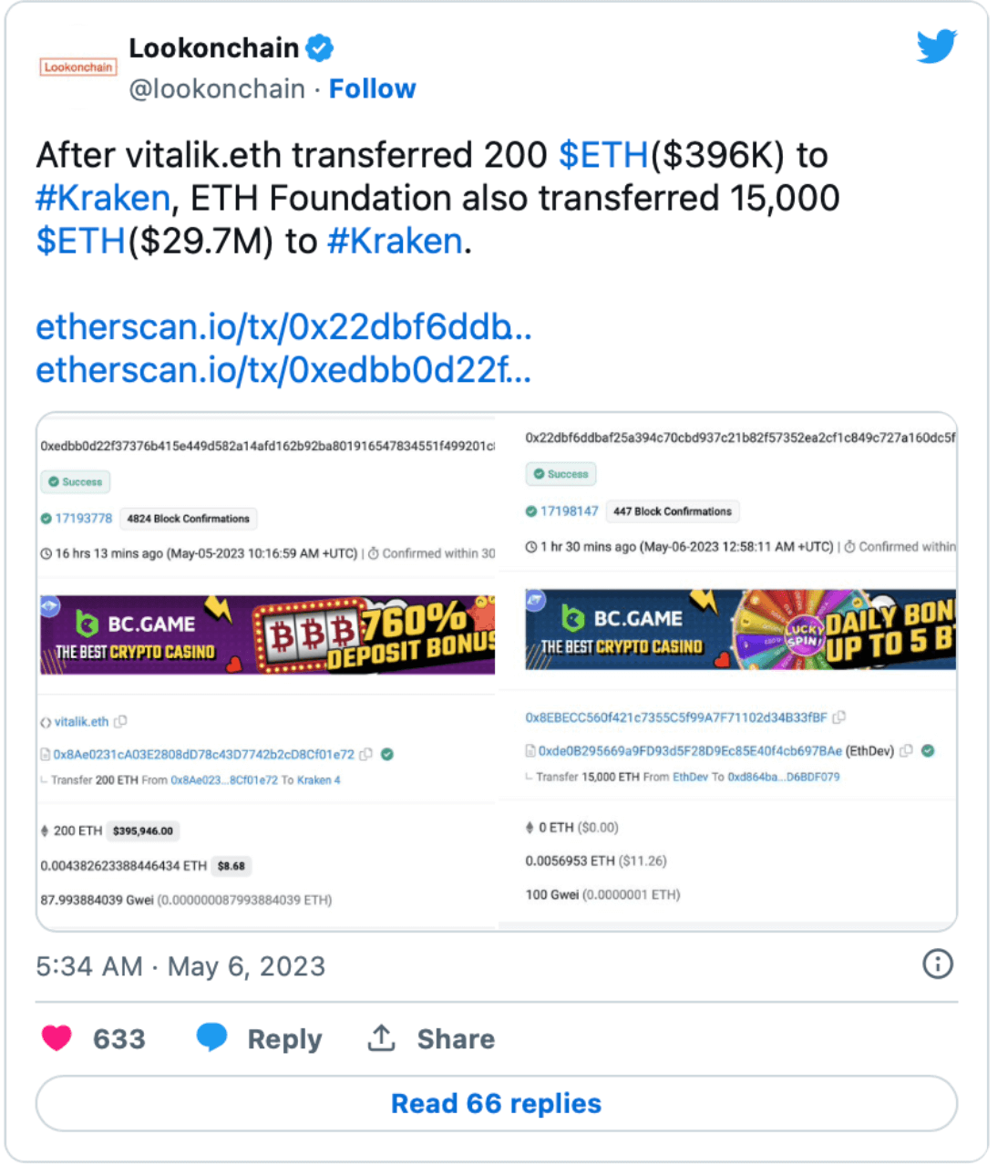 The data divulges that Buterin has been liquidating more or less equivalent amounts of ETH periodically. In mid-February, the Ethereum co-founder sold 210 ETH for the stablecoin USDC, amounting to roughly $325,000, which he executed on Kraken. At the time, ETH was trading at $1,545. Directly after this sale, on March 13, he transferred another 200 ETH to Kraken and sold it at $1,656 per coin.
Ethereum Poised to Eclipse $2,000
On-chain data platform Santiment revealed that ETH flows to cryptocurrency exchanges have attained their apex in eight months. According to the data platform's analytics team, this indicates heightened volatility, akin to the FTX crash in early November 2022 and the aftermath of The Merge update in mid-September.
The Santiment team further noted that the foremost altcoin is presently exhibiting signs of divergence from BTC and could be on the cusp of surmounting $2K, with ETH flows to cryptocurrency exchanges at their zenith since November of the previous year.
Concurrently, a record quantity of ETH has been incinerated of late. This is a consequence of the prevailing memecoin season captivating the cryptocurrency realm, spearheaded by coins like PEPE, and the fact that most memecoins operate on the Ethereum network is causing the volume of ETH burned to escalate. Market observers perceive this as an opportunity to diminish the amount of ETH in circulation.