Preeminent memecoins, such as PEPE and WOJAK, have undoubtedly experienced a surge in popularity recently. The fact that recent price increases are memecoin-centric has heightened expectations surrounding them. Ethereum (ETH), the second-largest cryptocurrency by market capitalization, appears to have reaped significant benefits from the memecoin craze.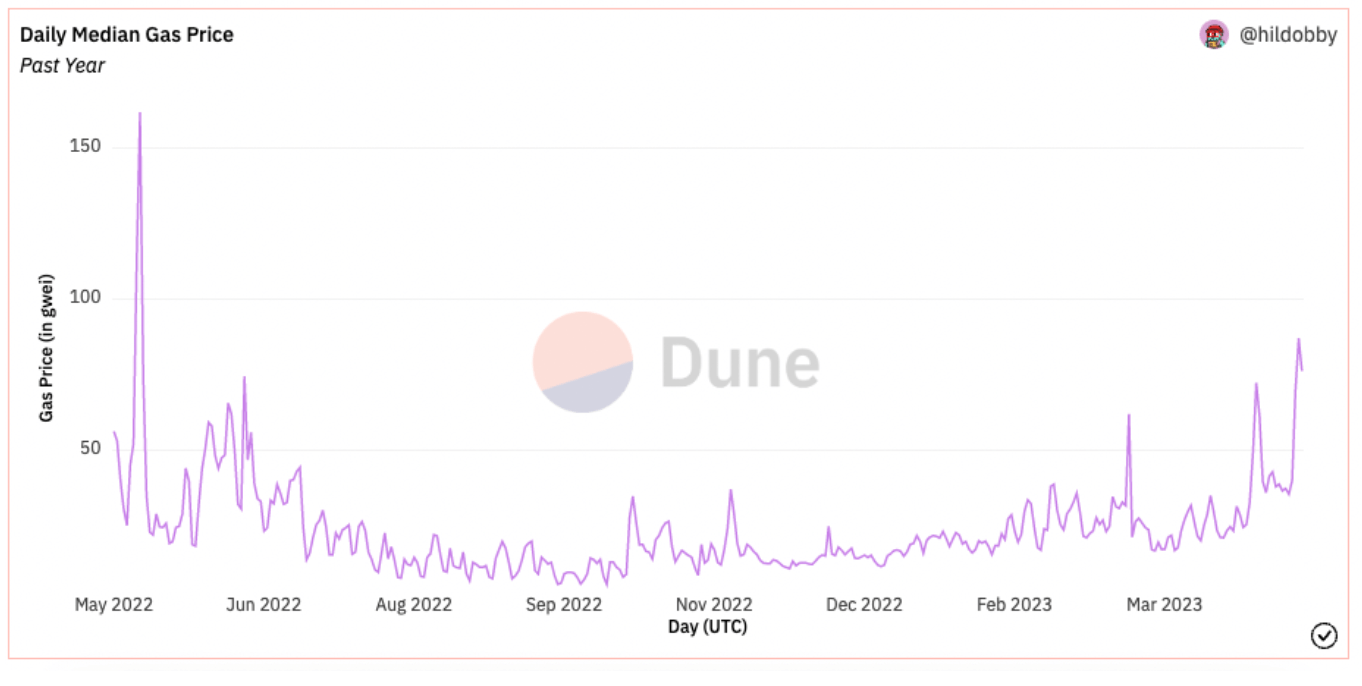 Memecoins Breathe New Life into the Ethereum Network
The average transaction fee on the Ethereum network has climbed to its highest point since May 2022, illustrating burgeoning interest. Data provided by Dune Analytics reveals that, as of May 2, the average transaction fee on the Ethereum network reached 87 gwei.
The ascent is primarily attributed to frog-themed memecoins, such as "pepe." In the past four months alone, PEPE's value has skyrocketed 266-fold. With a total market capitalization exceeding $500 million, PEPE appears to be emulating Dogecoin's (DOGE) historic performance. Although listed on some centralized exchanges, PEPE garners the most attention on decentralized platforms. In April alone, decentralized cryptocurrency exchanges on the Ethereum network hosted 72,000 unique traders daily.
PEPE Frenzy Persists
Over the past 24 hours, PEPE's trade volume reached $296 million. The memecoin, having risen 74% within this time frame, has likely astonished investors with its resurgence following a previous correction. However, those opting for memecoins—with PEPE's total supply standing at 420,690,690,000,000,000—should exercise caution. In a recent statement, Altcoin Sherpa stressed that, while memecoins can yield substantial returns, investors must tread carefully. Sherpa reminded traders that low-liquidity memecoins are susceptible to unexpected fluctuations and cautioned those seeking rapid profits.
Rival networks to Ethereum lag significantly concerning memecoin utilization and trading. BNB Chain, Polygon, and Avalanche, which are particularly favored options, are EVM-compatible and feature reduced transaction fees. Nevertheless, memecoin popularity seems firmly rooted in the Ethereum network.