Bitcoin (BTC) price reached the pinnacle of 2023 and now the cumulative value of cryptocurrencies seems focused on a new annual peak.
Why Did Bitcoin Fall?
 The percentage of Bitcoin supply that hasn't moved for over a year has reached an all-time high, despite the price being at its highest of the year. This shows the faith of BTC owners who do not wish to profit during this rally. 
Last week, Bitcoin's price formed a significant rising candle on the weekly timeframe. This led to a new annual peak of $31,500. BTC subsequently experienced a slight drop and is currently trading within the $30,000 long-term resistance area. This movement could support a strong rally towards $47,000.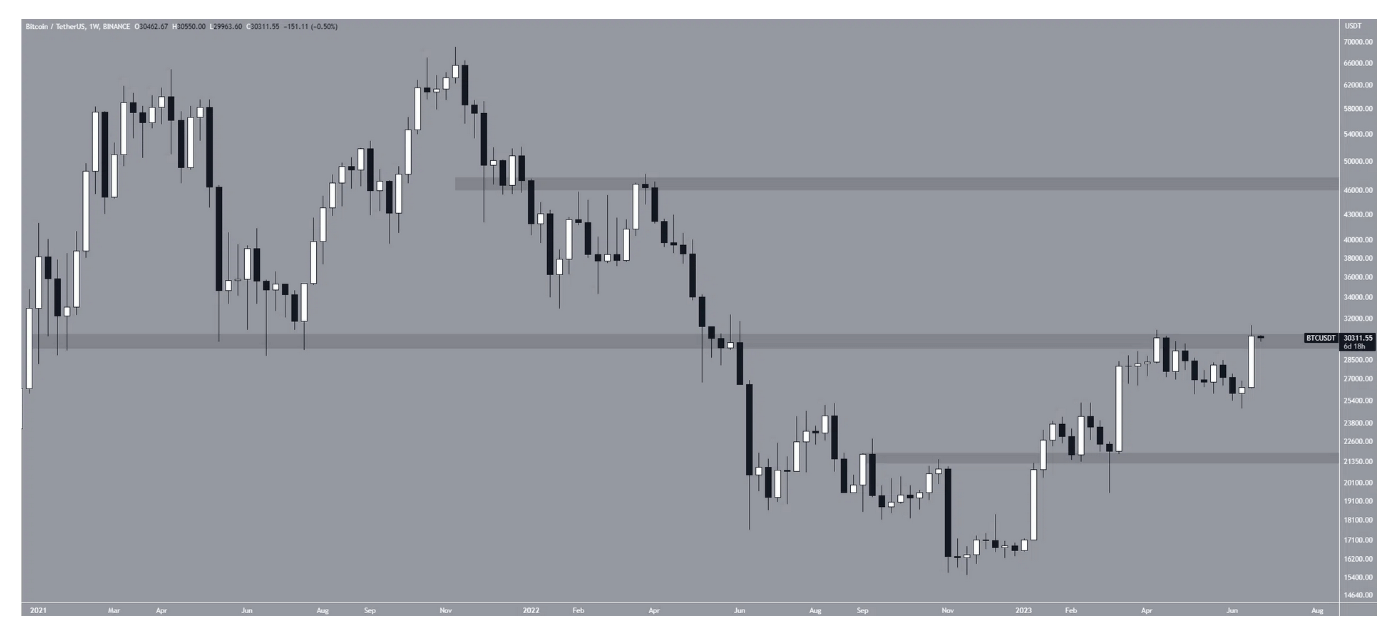 In the short term, if we do not see closures above $31,000, this situation could also trigger a medium-term drop to $21,500. 
Will Cryptocurrencies Rise?
The cumulative value of cryptocurrencies significantly increased last week after bouncing from the $970 billion support zone. This increase has carried it to the next important resistance at $1.15 trillion. If TOTALCAP breaks, it could reach an all-time high and possibly climb to $1.70 trillion. However, if rejection and decline continue, a drop to the $970 billion support could occur. 
In an optimistic scenario, a $1.7 trillion move could bring substantial gains in altcoins. For example, the price of AAVE fell below a declining resistance line since the beginning of June. This line was confirmed several times, most recently on February 16. This decline set a new low for the year at $47.30 on June 10. However, the price immediately rebounded, confirming the $52 horizontal area as support. This led to nearly reaching the declining resistance line at $76.90 on June 25. If AAVE can surpass this line, it could climb above $100. Similar setups in many altcoins are noteworthy. The outlook on cumulative value and the uptrend in altcoins are boosting investors' hope. 
However, critical developments this week, such as Fed announcements and PCE data, could cause the price to move in the opposite direction.