Despite the increased pressure by the US Securities and Exchange Commission (SEC), Bitcoin (BTC), the largest cryptocurrency, has managed to relatively maintain its stability. Currently, BTC is trading above the critical 200-day Exponential Moving Average (EMA) on the daily price chart, in addition to a support level above $25,000. 
Bitcoin's Market Dominance Increases
According to Chinese Blockchain journalist Wu Blockchain, the recent fall of altcoins and the relative stability of Bitcoin have brought the market dominance rate of the largest cryptocurrency close to 50%, a level not seen since April 2021. 
Past data reveals that during the bear markets of 2018 and 2022, BTC's market dominance soared to 69%, staying above 50% for an extended period. This stable outlook, though commendable for a volatile asset class, could lead to an increase in volatility, especially if the current support at $25,000 weakens. 
Altcoins Stagger as SEC Pressure Intensifies
The US regulator, SEC, has amplified its market-wide pressure by chasing after Binance and Coinbase in separate lawsuits. The resolution of these lawsuits, which crypto experts suggest are politically motivated, could take years. SEC aims to establish its influence in the sector by alleging that Binance has committed unauthorized securities sales and mixed client funds with company funds. 
Furthermore, the SEC's accusations against Binance and Coinbase in the lawsuits that numerous altcoins traded on both exchanges are unregistered securities, have severely rattled the altcoin market. The US regulator has classified major altcoins such as Solana (SOL), Polygon (MATIC), and Algorand (ALGO) as securities. Bitcoin, however, commendably retains its stability as most altcoins classified as securities by the US regulator, including Cardano (ADA) and Filecoin (FIL), struggle to find a new footing in the market. 
Bitcoin Investors Should Closely Watch These Levels
Bitcoin price has been struggling to surpass $26,000 in the last 24 hours. The immediate downward price movement is supported by the ascending trend line and the 200-day EMA.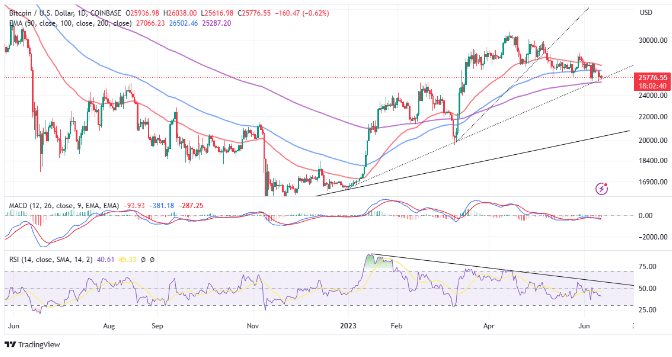 Protecting the united support will be crucial for Bitcoin bulls; however, if this support is lost, the largest cryptocurrency could potentially see its price moving towards lower levels like $24,000, $22,000, and $20,000. 
According to the Moving Average Convergence Divergence (MACD), the bears are currently dominant, requiring the bulls to adopt a more aggressive approach. The Relative Strength Index (RSI), another technical analysis tool, confirms the downtrend for BTC and predicts the continuation of the decline throughout the new week. However, investors should not overlook the possibility of Bitcoin's price recovering from the 200-day EMA and closing the gap at $30,000.