Uncertainty continues to rule the markets as Bitcoin (BTC) struggles to reclaim the $26,000 mark. What movements are expected in the leading cryptocurrency in the coming days? 
Expectations from the U.S!
The BTC/USDT pair made an unexpectedly quiet start to the week despite the ongoing implications of legal proceedings in the United States and the market's preparation for a series of macroeconomic data releases. Furthermore, Bitcoin remained in a narrow range since midweekend. 
In a segment of his day's Twitter analysis, popular investor Crypto Tony, considering the possibility of upward momentum if support reverses, used the phrase "risky day for any deep trades." Other analysts, including the founder and CEO of Moustache and trading firm Eight, Michaël van de Poppe, pointed out that BTC/USD still maintained trend lines that could lead to optimism. 
Just one day before the Federal Reserve announces changes in interest rates, macro data will be released for the week centering on the Consumer Price Index (CPI) on June 13. It is expected that the Fed will signal a long-awaited turning point in policy by deciding to pause interest rate hikes after ten consecutive increases.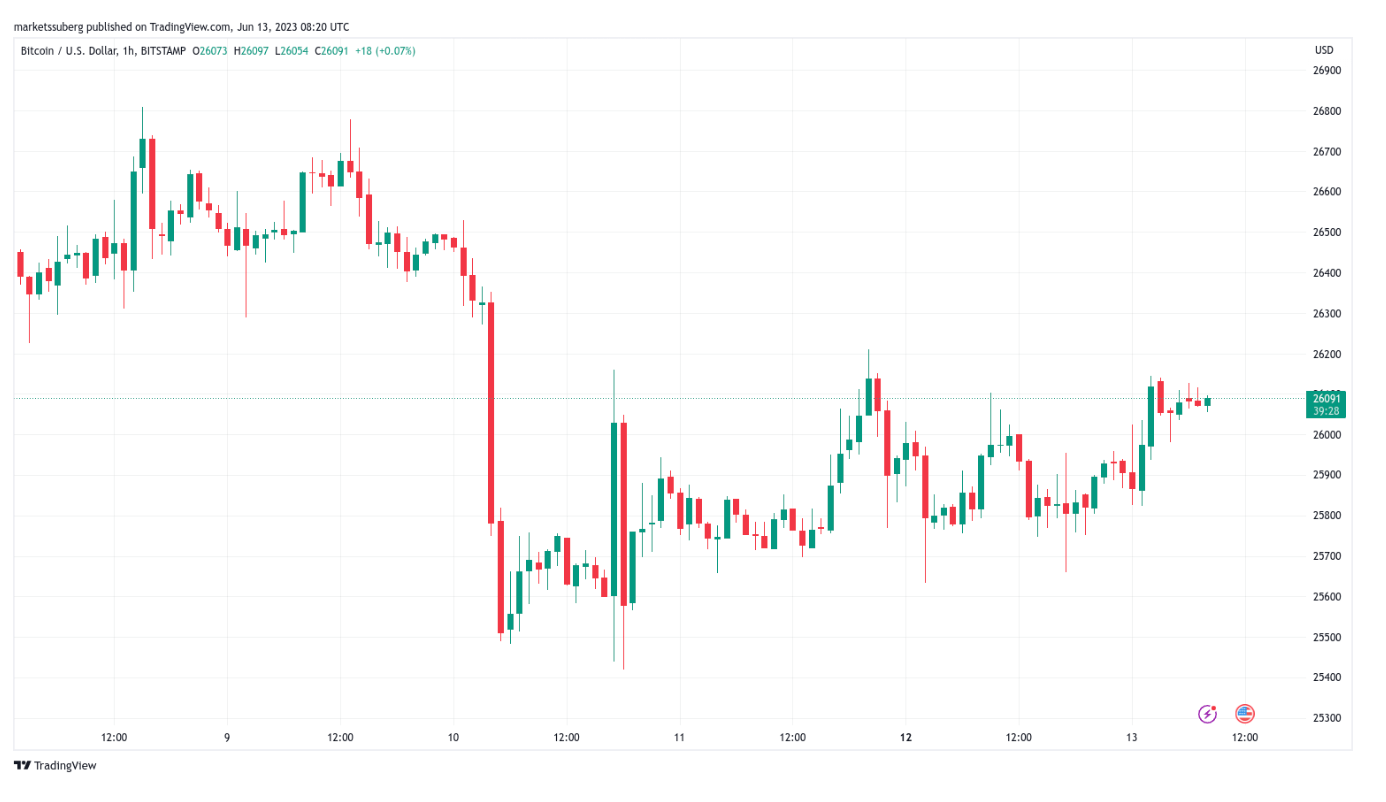 Comments from the Fed!
While this could be a potential boon for risk assets, including crypto, not everyone was optimistic about the effect of freezing rates. Analytical account The Long View stated in a section of its latest Twitter comment: 
The Fed will likely still look hawkish, but the more important question is whether they will keep interest rates where they are (effectively a tightening policy) if inflation continues to fall. 
In the statements made by CME Group's FedWatch, it was stated: 
If they start to discount as in past cycles, I think they will do so because they have adapted extremely well to the fact that they will help revive rate-sensitive sectors by effectively axing the job they are doing.