Crypto analytic platform Santiment has highlighted that whales have held a significant amount of a particular class of digital assets during market corrections. Here are the detailed Santiment reports! 
Activity in Stablecoins!
The market intelligence firm proposed that many whales and sharks did not completely cash out of their digital assets during the crisis. Instead, they parked their fortunes in stablecoins. Stablecoins are digital assets with values pegged to a specific commodity or currency like the US dollar. 
Santiment analyzed what sharks and whales, with wallets ranging from $100,000 to $10 million, did with their crypto assets at any given time. The data shows that sharks and whales accumulated relatively high amounts of the stablecoins Tether (USDT), US Dollar Coin (USDC), and Dai (DAI). In its statements, Santiment included the following remarks: 
Sharks and whales holding Tether surpassed 40% of the supply held since November 2021, which is the highest amount. Sharks and whales holding USD Coin have more than 37% of the supply held since February 2023, which is the highest amount. Sharks and whales holding Dai are just below 40% of the supply held since December 2020, which is the highest amount. These are rather surprising figures that show big holders are not exactly cashing out of crypto. They are holding most of their assets in the form of stable coins while waiting for the ideal time to return.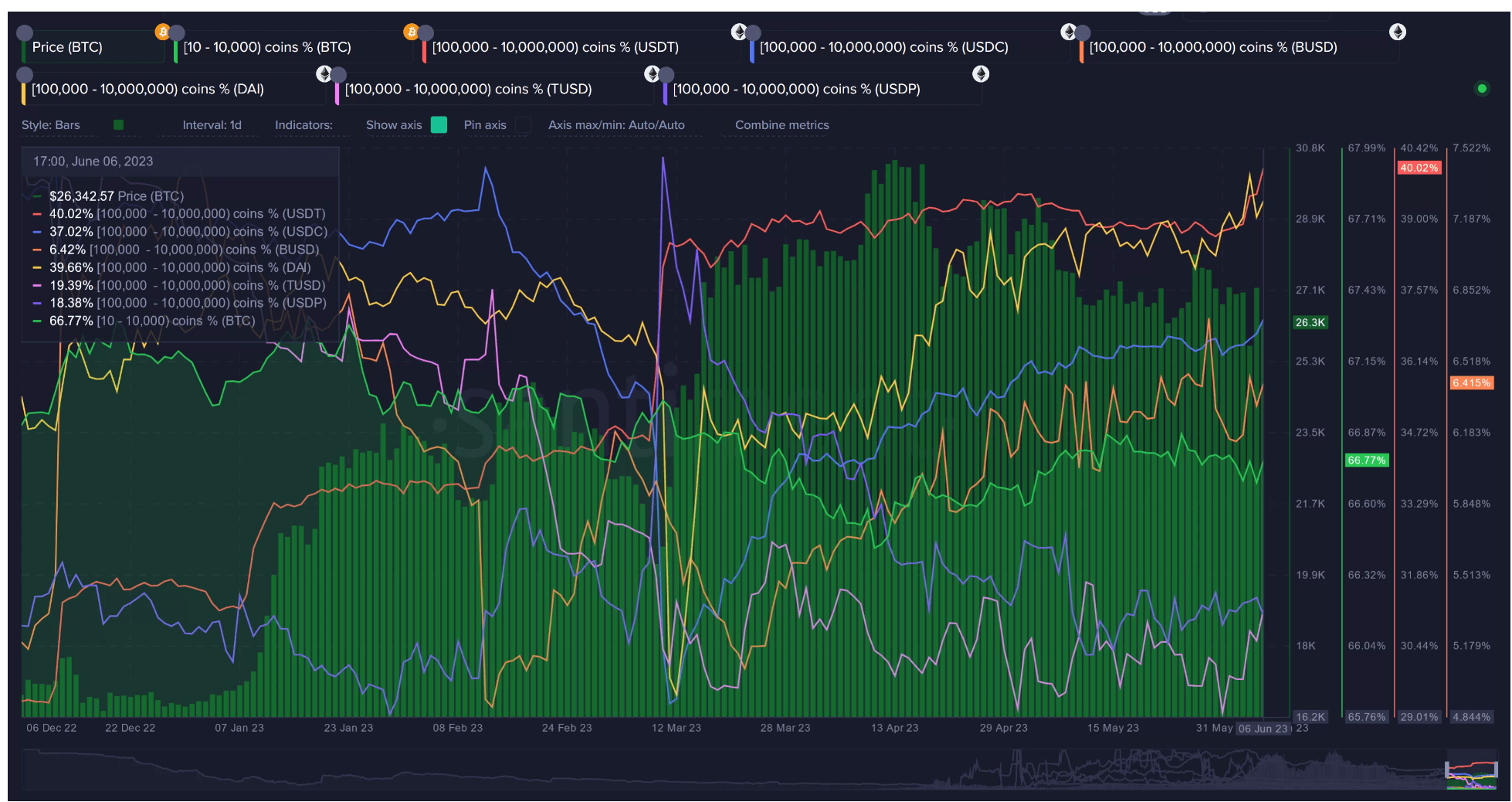 Stablecoin Statements!
The popular crypto analytics firm pointed out that stablecoin market values have fallen slightly, but not because of liquidation by sharks and whales. The analytic company emphasized in its statements: 
Stablecoin market values might have been falling slightly recently. But apparently, those sinking them are not sharks and whales. Therefore, we have encouraging signs that key stakeholders with the most power in the markets are still ready to increase cryptocurrency when the time is right for them.