The South Korean technology giant is making a rapid entry into cryptocurrencies. The latest patent application was remarkable. There is a growing interest in cryptocurrencies in the Asian market. This could go even further with Hong Kong legitimizing cryptocurrencies in June. So why was the latest patent application important for cryptocurrency investors?
LG Crypto Good News
Tech giant LG has filed for a patent that would allow users to buy and sell NFTs. This will allow owners of new model LG televisions to buy NFTs while sitting on their couches. According to the paperwork at the World Intellectual Property Organization (WIPO), the device will connect itself to an NFT marketplace server, display various artworks and allow purchases through the user's cryptocurrency wallet connected to the TV set.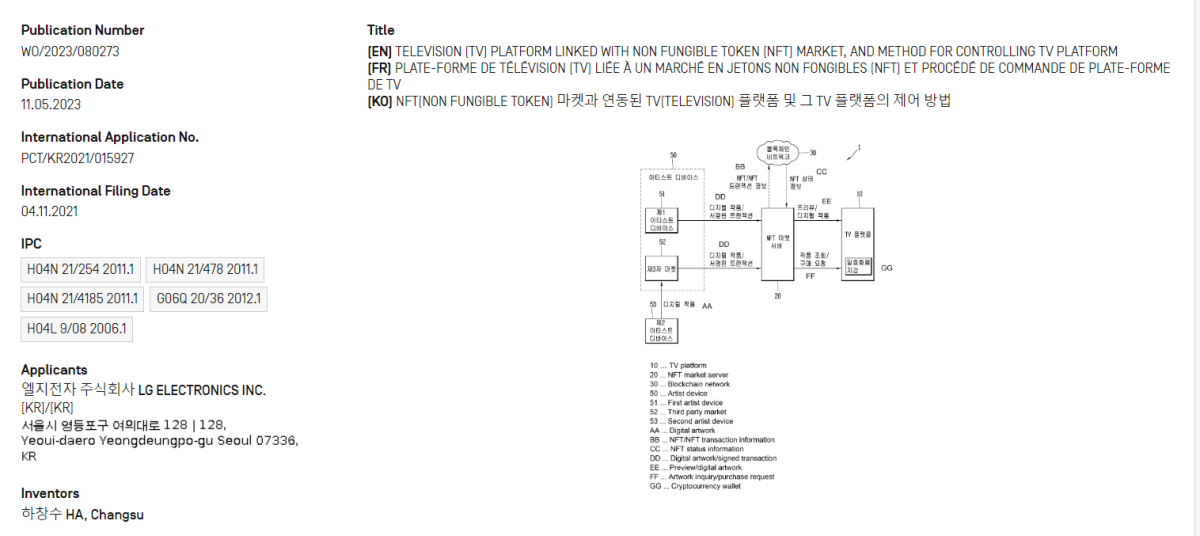 This patent is the latest in a series of ambitious metaverse and NFT plans the Southeast Asian giant announced last year. In September 2022, LG launched its own NFT marketplace called "LG Art Labs," which allows users to trade NFTs through US LG televisions running the webOS 5.0 operating system.
To trade NFTs, users will need to have a cryptocurrency wallet and cryptocurrency. This could have significant benefits for cryptocurrency adoption on a global scale.
Metaverse Year
At the beginning of 2023, the company doubled down on its metaverse ambitions. It launched Blade Wallet, which connects to LG Art Labs to enable NFT trading. To expand into the cryptocurrency market, LG Electronics partnered in 2022 with Hedera Hashgraph, a distributed ledger technology company touted as an alternative to blockchains. Hedera is also working with Google, IBM and Ubisoft. But despite the latest filing, the HBAR price continues the day with a 5% loss.
The move comes amid the cooling of 2022, which is expected to be the "Year of the Metaverse". At the time, there was a huge commercial interest in both research and development. The Oxford Dictionary even included "metaverse" as one of the words of the year.
Samsung, one of the company's strongest competitors, also announced plans last year to create an NFT market by partnering with Nifty.
Although interest in the NFT market is not at 2021 levels, tech giants are already preparing for the enthusiasm that will reignite in the future. This paints a positive picture for the future of cryptocurrencies.