DonAlt, a closely followed anonymous cryptocurrency analyst, warned investors that the largest cryptocurrency Bitcoin (BTC) continues to trade between $30,000 and $20,000, which he described as the "indecision level". 
A Hard Fall Warning for Bitcoin
Anonymous cryptocurrency analyst DonAlt warned investors that Bitcoin retested the resistance zone of the indecision level, which could be interpreted as an indication of a larger price correction in BTC. 
The analyst said, "We had a pretty good week, unfortunately the retest of the indecision zone from the resistance level suggests a big move to the downside. There is a maximum risk/reward ratio for short sellers here, but I prefer to trade only when the price goes up again, and I don't care if it's at a higher or lower price."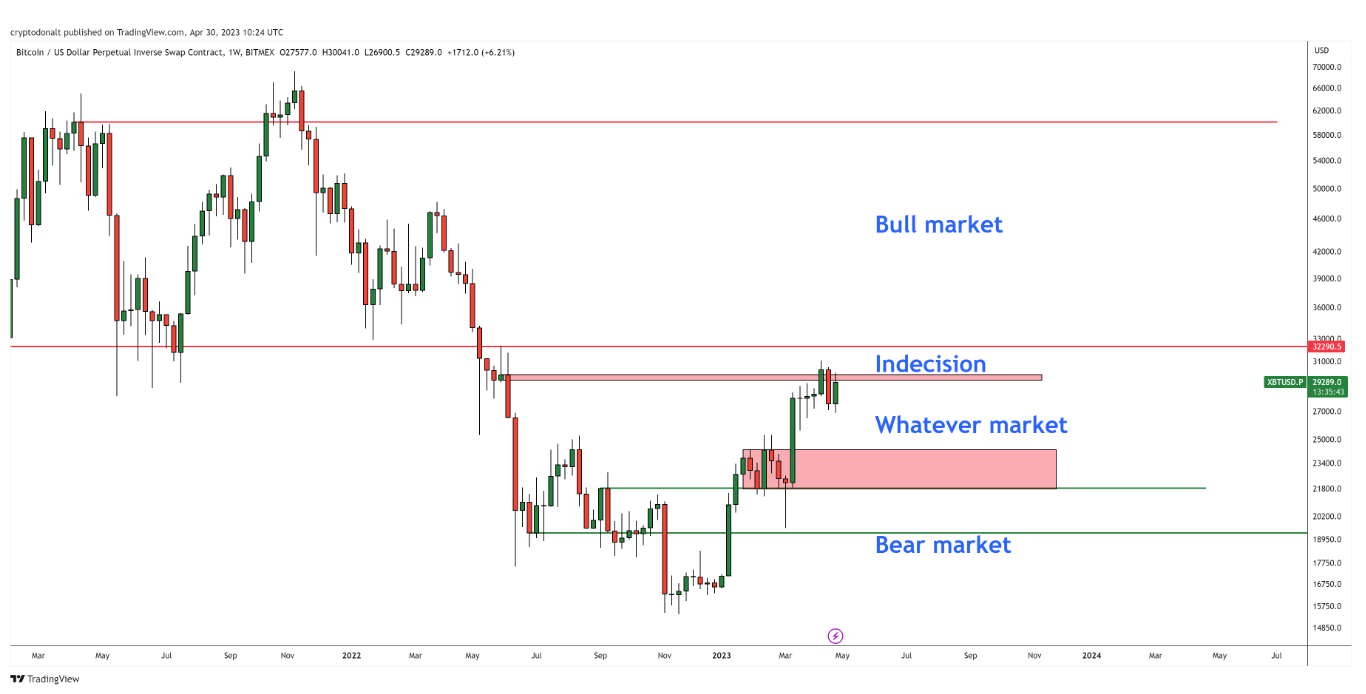 According to DonAlt, the biggest cryptocurrency could fall as low as $20,000 but will still remain in a bull market in macro: 
Even on the monthly chart, the market will remain bullish even if the Bitcoin price is at the $20k level. Therefore, there's no point in selling if the drop doesn't worry you.
Leveraged Traders Warned
DonAlt also warned investors, stating that as long as Bitcoin is trading above $20k and below $30k, the market could penalize leveraged traders. "Everything below $30k and above $20k is a lie. We are now at the stage where the market is cleaning out over-leveraged traders and it will make upward or downward movements between these two limits to destroy them." 
Bitcoin, the largest cryptocurrency, is changing hands at $ 28,140, down 1.74 percent in the last 24 hours at the time of this writing. BTC is seen to have risen 2.74 percent in the last 7 days.