Investors are in a state of alarm, and their panic is well-founded, considering the serious nature of the accusations being leveled. We've been suggesting for the past few weeks that the horizontal movements in Bitcoin's price would soon be replaced by a clear direction. This has come to pass, with the volatility giving way to a definitive trend, unfortunately, in the wrong direction. 
Securities Trading: The Altcoin Issue
The SEC has accused Binance US of facilitating trade for securities like BNB, BUSD, SOL, ADA, MATIC, FIL, ATOM, SAND, MANA, ALGO, AXS, and COTI. According to a federal lawsuit filed on Monday, the SEC is charging Binance, the world's largest crypto exchange, its CEO Changpeng Zhao, BAM Trading, and BAM Management with misleading regulators about their operations. The regulatory body has leveled 13 charges against the defendants. 
The SEC stated that Binance and BAM Trading, under Zhao's leadership and control, operated without registering with the SEC. 
"Zhao and Binance established BAM Management and BAM Trading in the United States, and falsely asserted to the public that these organizations independently controlled the operations of the Binance.US platform." 
However, according to the case file, it's alleged that behind the scenes, Zhao and Binance have been "closely involved" in directing the trading institution's commercial activities and providing crypto-related services to the Binance US platform, which claims to be an independent exchange. 
Cryptocurrencies on a Downslide
At the time of writing, the price of Bitcoin had dropped to $25,660, with $25,500 looking like the last support. Should the selling continue, we may see the price drop to $25,500. What's concerning is that most altcoins have been bottoming out for the last month. If the price of Bitcoin falls further, numerous altcoins could hit new lows.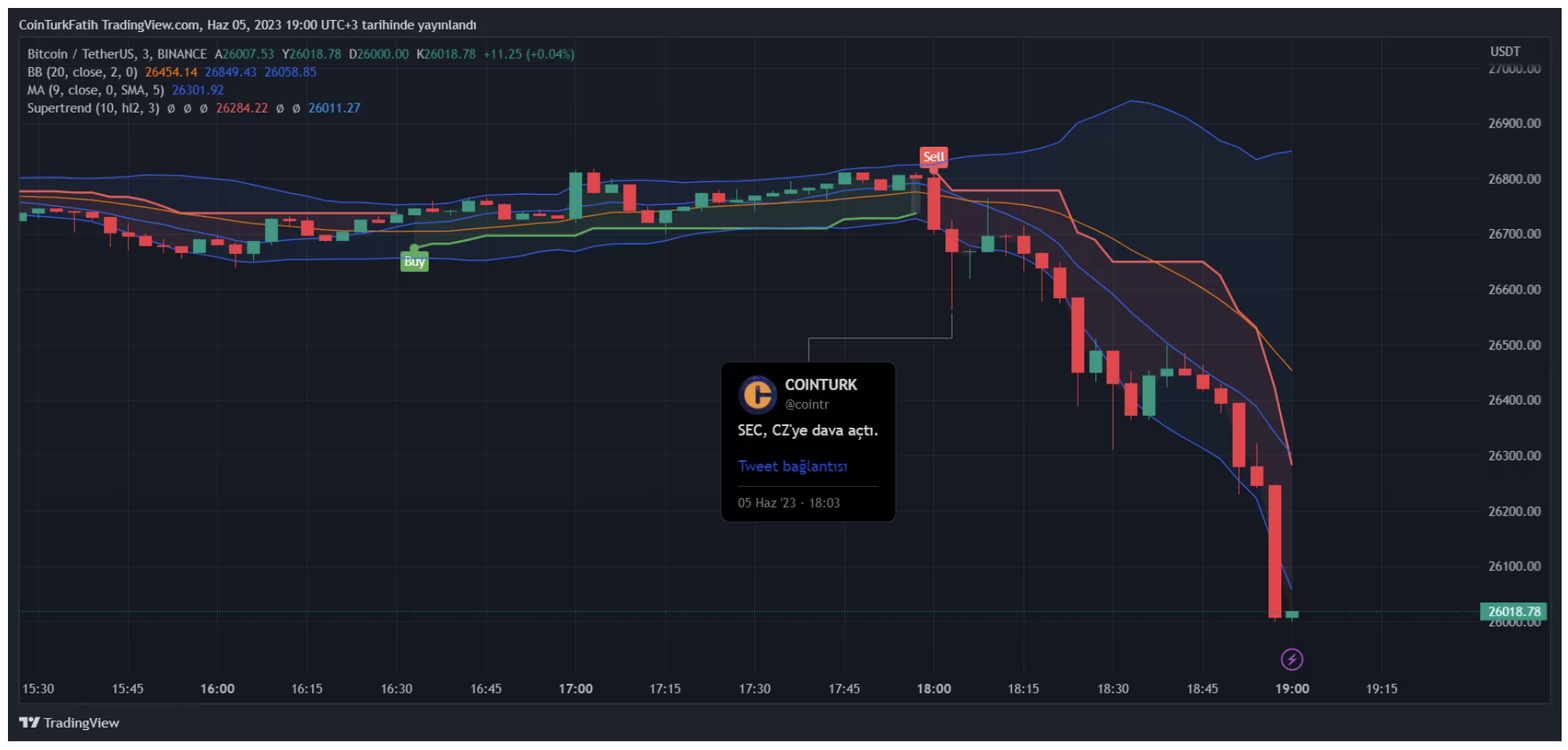 We may see excessive selling in altcoins depending on Bitcoin's performance in the coming hours. If there are delays in withdrawals from the Binance exchange, it's likely that prices will fall even more rapidly. 
As of 19:06, Bitcoin lost the $25,500 support.