When it comes to meme coins, the waves of hype and decline are often significantly large. A prime example is Pepe Coin, which made its investors rich within a few days before experiencing a drastic fall from its peak. 
Pepe Coin Analysis
Pepe (PEPE), despite its recent arrival in the crypto market, has won over many meme crypto enthusiasts. As a result, it threatened to overshadow coins like Dogecoin (DOGE) and Shiba Inu (SHIB). However, machine algorithm predictions suggest that its future price movements might not be as impressive. 
Indeed, machine learning algorithms used by the crypto monitoring and forecasting platform PricePredictions anticipate, as of the information accessed on June 26, that Pepe's price could fall to $0.000001585 by July 1, 2023. 
If these predictions, formulated using indicators such as the Moving Average Convergence Divergence (MACD), Relative Strength Index (RSI), Bollinger Bands (BB), and others, prove correct, this will mean a 1.06% decrease from Pepe's current price of $0.000001602 as of the time of writing.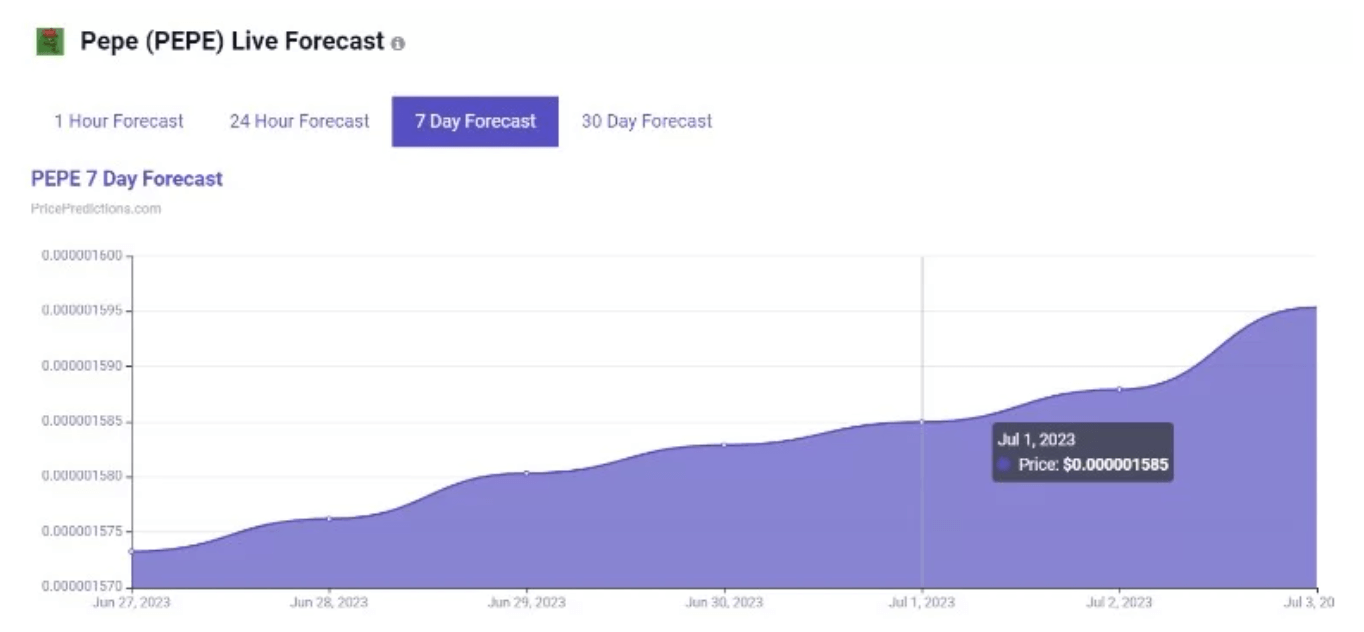 Pepe Price Analysis
As of the latest price data obtained on June 26, the above price represents a 0.91% increase on the day, a substantial 71.30% gain over the past week, and a 10.67% advance in Pepe's monthly chart. 
Meanwhile, 1-day technical analysis (TA) indicators on finance and crypto analysis platforms suggest a bullish shift for this asset, recommending a buy with 8 neutral standing oscillators and 9 showing strong buy in moving averages (MA) in their summaries. 
In conclusion, whether the above predictions for Pepe's future price will come to pass depends on several factors, including the coin's recent delisting as a credit asset by the crypto trading platform Binance, which could be one factor potentially driving down its price.