According to data published on the Solana (SOL) network on May 13, overall DEX volumes have increased significantly over the past week. There are multiple reasons for this increase.
Solana Beats Its Competitors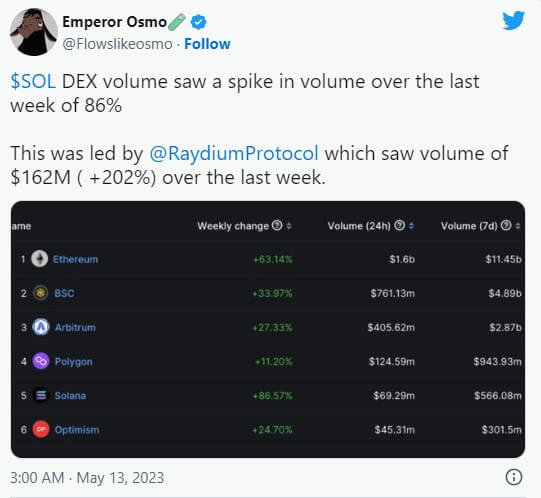 Solana has outpaced competitors such as Ethereum (ETH), Arbitrum (ARB) and Polygon (MATIC) with the growth in DEX volumes. While the protocol has lagged behind its competitors in terms of daily activity, the increase in DEX volumes could mean that Solana will soon be able to compete with other protocols in this sector.
Much of the increase in DEX volumes can be attributed to the growth of Raydium. Raydium is described as an on-chain order book AMM. An on-chain order book AMM facilitates trading by matching buy and sell orders across the network without the need for an off-chain order book.
According to data from Dapp Radar, the number of unique active wallets on Raydium increased by 84.9% last week. The number of transactions on the network also increased by 147.9%. Other dApps on the Solana network, such as Saber, also showed growth. Data from Dapp Radar showed that volume and activity on the protocol has increased significantly on the network over the past month.
Due to the strong performance of these DEXs, the total number of unique DEX wallets across all Solana platforms has also increased.
DEXs Impact Solana
High DEX volumes also seem to have affected Solana's standing in the DeFi sector. According to data provided by DeFi Llama, TVL on smart contracts has been steadily increasing over the past few months. However, the total fees generated have also increased as a result of the high activity on the network.
A high TVL for Solana could indicate a strong demand for DeFi protocols and services. This, in turn, could lead to further adoption and growth of the Solana ecosystem. However, even though Solana's performance in the DeFi sector has been bullish, its price has continued to decline over the past month.
During the same period, its volume also shared the same situation, falling from 1.36 billion to 366 million.