Renowned cryptocurrency analyst TechDev claimed that the biggest cryptocurrency Bitcoin (BTC) may be gearing up for a "parabolic rise" towards its all-time high (ATH). Here is the analyst's prediction for BTC.
Happened 5 Times in the Past
Anonymous cryptocurrency analyst TechDev noted that Bitcoin tends to follow global liquidity cycles and illustrated this in a chart comparing China's 10-year bonds (CN10Y) to the US Dollar Index (DXY).
According to the analyst, the CN10Y/DXY chart is currently giving an important signal in historical data that signals the start of new Bitcoin bull runs:
The yellow arrows are not block reward halving dates. These are liquidity signals that precede every parabolic advance in Bitcoin towards new highs.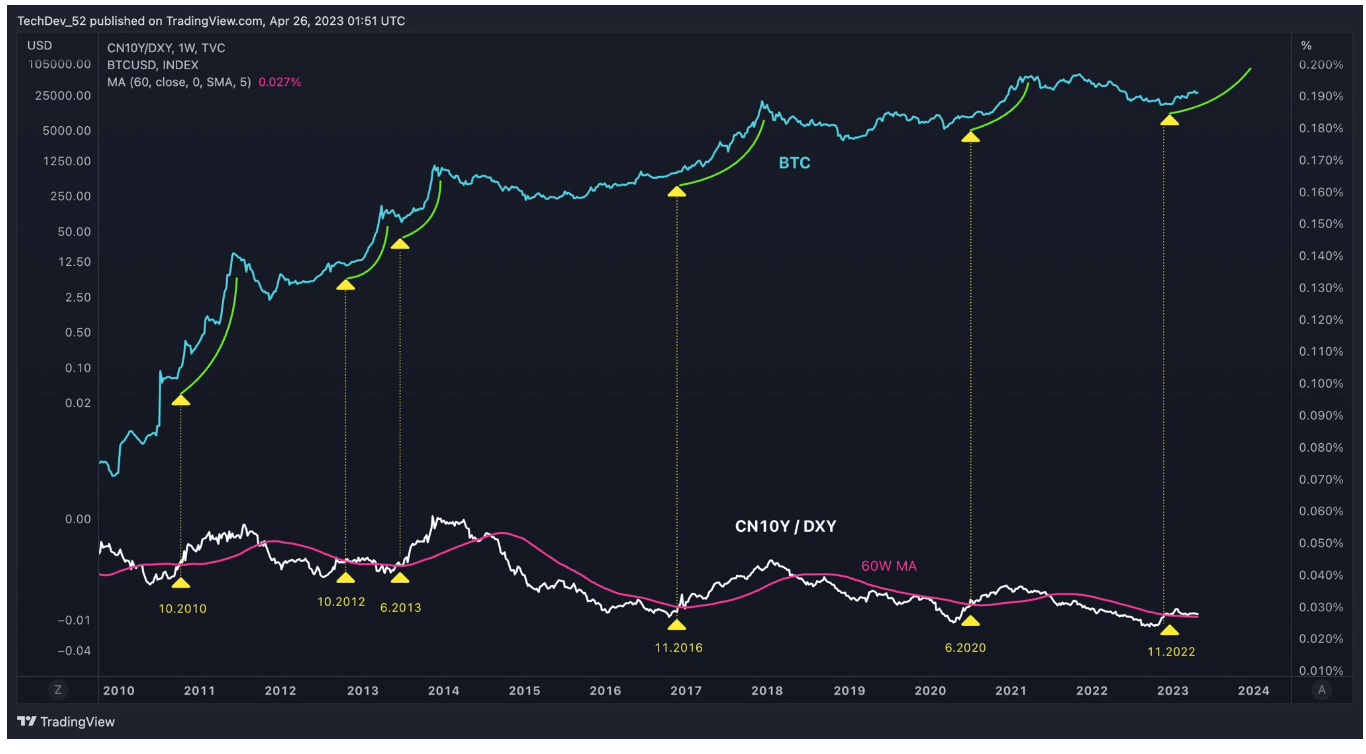 TechDev stated that the specific liquidity event was the CN10Y/DXY rising above its 60-week moving average (MA), "which is related to China's credit impulse and has led to about 3.5 global liquidity cycles based on historical data. This ratio looks like a rotated version of BTC's chart."
The analyst also warned investors that he is keeping a close eye on the CN10Y/DXY chart as it is likely to fall below the 60-week moving average, which would invalidate the signal.
Last Situation in Bitcoin
BTC, the largest cryptocurrency, is trading at $28,509 at the time of writing. Massive Bull Signal in Bitcoin, the largest by market capitalization! It Happened 5 Times in the Past! While it has fallen 0.55 in the last 24 hours, it has risen about 2.4 percent in the past week.
TechDev said earlier this month that multiple technical indicators showed that Bitcoin could mimic the 2015 bull market, reminding that as a result of this cycle, BTC rose from under $ 200 to $ 20,000 in about two years.