The month of May presented investors with a frustrating level of low volatility. Altcoins were severely battered during this period, with some even plummeting below their January lows. Despite Bitcoin managing to maintain relative strength, the losses suffered by altcoins left investors hoping for further growth disheartened. As the impact of the sales in the first week of May weakens, what are the expectations for June? 
Bitcoin June Predictions
June 1st should be a good day with topics like Hong Kong and the Debt Ceiling expected to spur investors towards a bull market. However, currently, no one seems to be buying into this expectation, and it doesn't appear to be a good sign. After rising consecutively for four months, Bitcoin seems on track to close May with a loss of about 7%. Another noteworthy observation from May is that Bitcoin's 30-day volatility dropped to 1.52%, significantly below the annual average of 4% and higher. 
Glassnode analyst James Check anticipates Bitcoin to rise up to its "real cost basis" of $32,000. Following this period of tight volatility, seeing a genuine bull market wouldn't be surprising. 
In the short term, Bitcoin needs to close above $27,273. On the upside, the bulls will have to overcome the declining trend line to mark the beginning of a new bullish movement. The pair could first reach $30,000 and then $31,000. However, current closures below the 20-day EMA weakens this expectation. 
Ethereum June Comments and Predictions
Bulls are struggling to keep Ethereum (ETH) above the 50-day SMA ($1,883). This signifies a lack of demand at higher levels. Bears are trying to force the price back into the falling wedge pattern and trap aggressive bulls. If successful, the ETH/USDT pair could move towards $1,762 and potentially lower lows.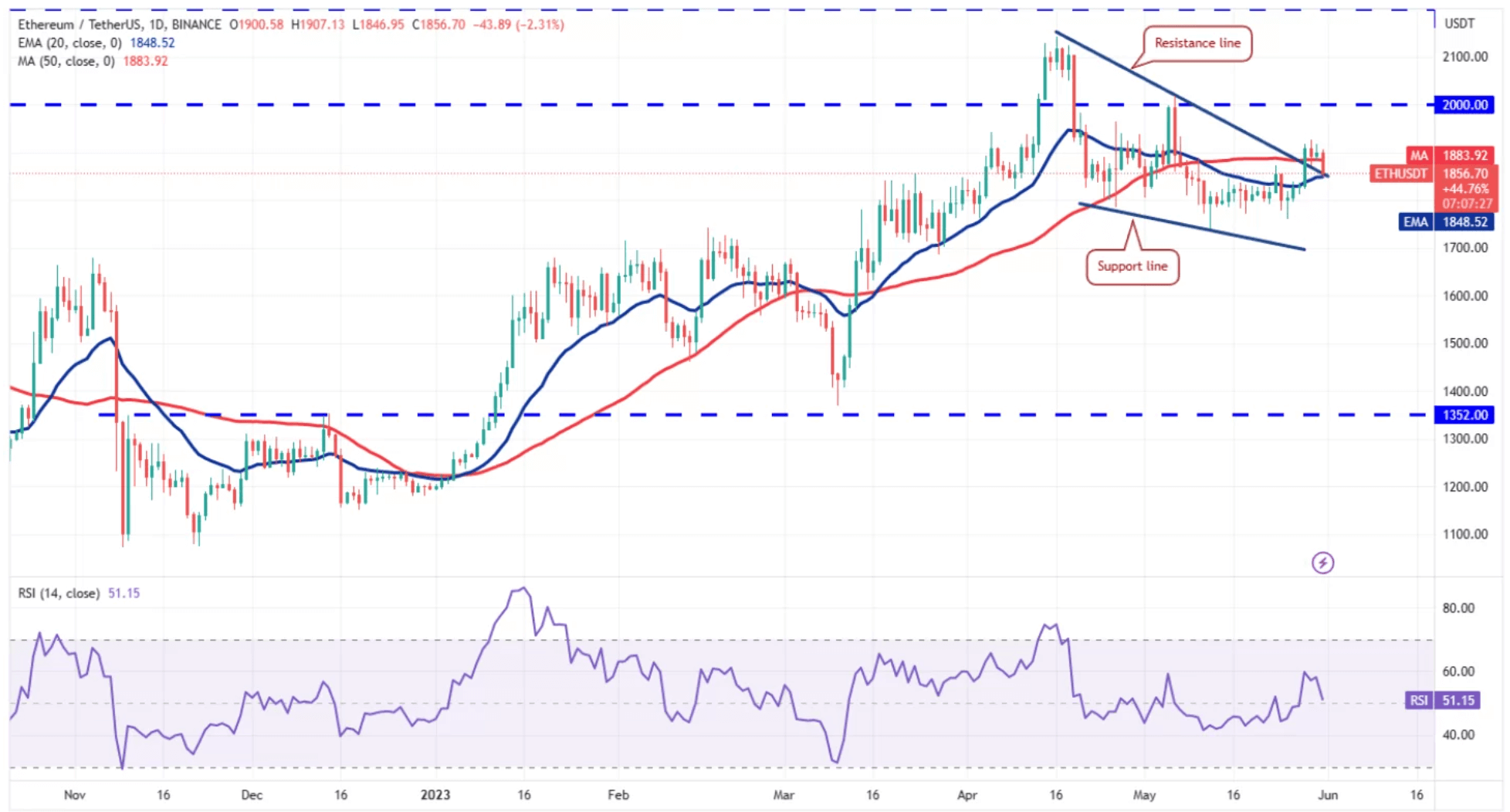 However, if the price moves above the wedge resistance line, the psychological resistance of $2,000 can be overcome, with $2,142 as the subsequent target. 
Developments in the upcoming hours may perhaps ignite the fuse of the aforementioned bullish scenarios. For now, the vote on the debt ceiling law at 03:30 and news from the Hong Kong front will be closely monitored by investors.