The cryptocurrency industry is still recovering from the shock of lawsuits opened by the Securities and Exchange Commission (SEC) against the Binance and Coinbase cryptocurrency exchanges. Despite being severely affected, Bitcoin (BTC) and other cryptocurrencies bounced back swiftly. However, there are now serious claims about which exchange could be the SEC's next "target" within the crypto market. One such claim was put forward by Crypto Tea. 
So, Which Crypto Exchange Could Be SEC's Next Target?
Crypto Tea, a Twitter user with nearly 100,000 followers, shared their speculation about who could be the next victim. Crypto Tea believes that Crypto.com is most likely to be in the SEC's crosshairs. The analyst's claims include: 
SEC will most likely sue Crypto.com. They sued Coinbase and Binance for selling securities, highlighting especially Solana, Cardano, Sandbox, Matic, CHZ, BNB, Mana, Algo, and the like. Crypto.com is selling ALL of these and, additionally, they have launched their own CRO coins and are also offering a staking service. 

I'm not trying to spread FUD, this is just a warning.
In the lawsuit against Binance, accusations of securities sales and market fraud were made, while in the Coinbase case, both securities sales and staking services were underlined. Coinbase was previously warned by the SEC regarding these issues. Crypto Tea, by pointing out these related subjects, suggests that an exchange in a similar situation could be in the spotlight. Moreover, Binance was criticized over BNB, and a bracket was opened on this matter in the lawsuit. Crypto.com could potentially face a similar situation with CRO. 
Crypto.com and Similarities with Binance and Coinbase
However, an important detail here is that Crypto.com does not have a U.S. office and is not seen as a U.S.-based company. In this context, the SEC may have to act quite differently towards Crypto.com. Looking at Twitter and other social media platforms, multiple users appear to share a similar expectation.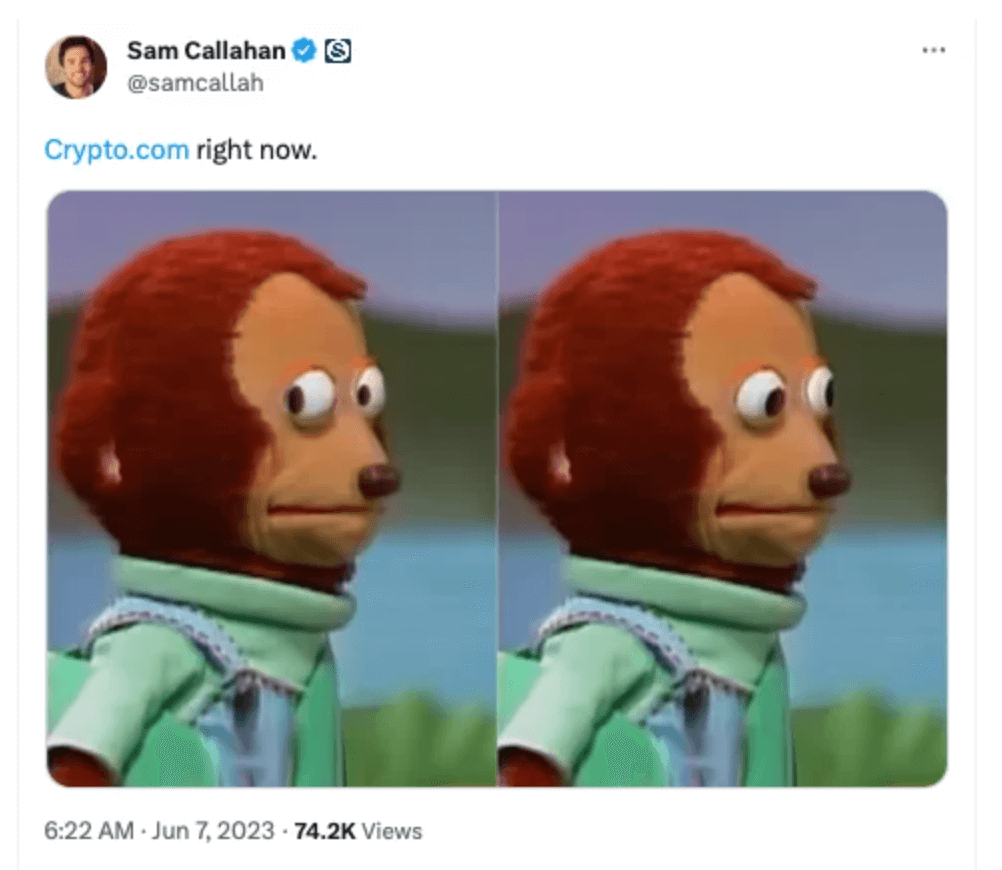 Names like Swan Bitcoin analyst Sam Callahan and Crypto Rover, with more than 500,000 followers, have strengthened the Crypto.com claims with similar visuals.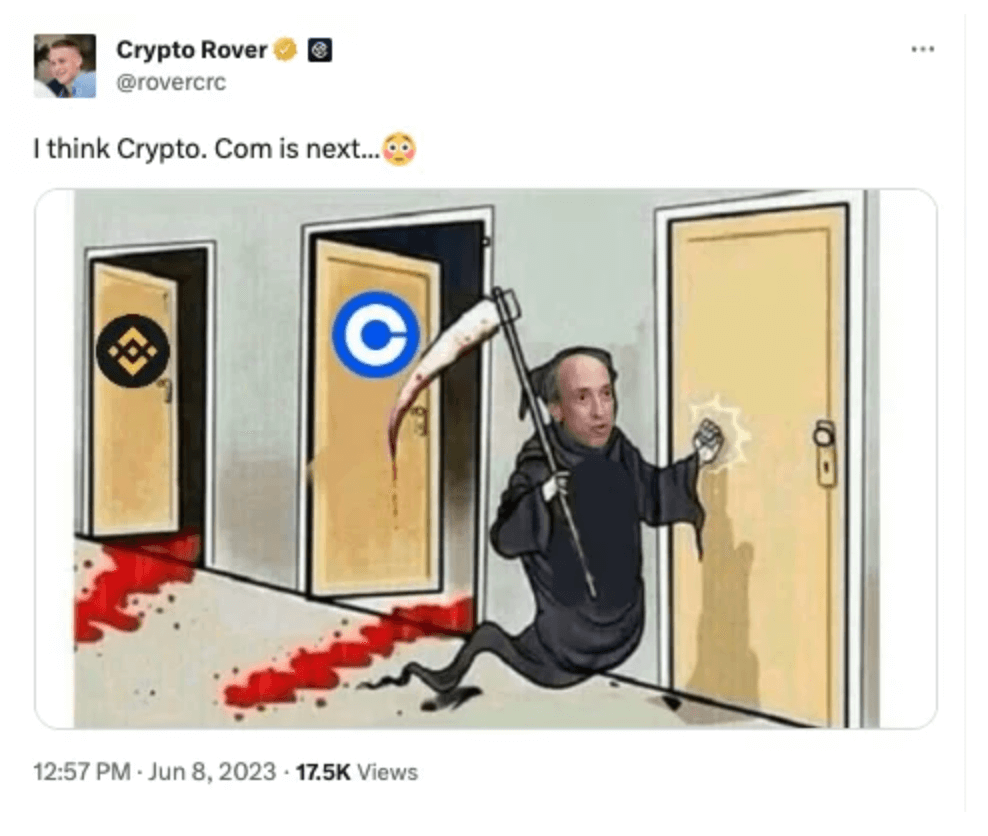 Nevertheless, these should be viewed as allegations for now, and making any predictions could be misleading until the SEC makes an official announcement.