The short-term outlook for Bitcoin (BTC) presents an extremely constructive picture as on-chain data indicates short-term investors have started moving their BTC for profit. But what does this imply? Let's delve deeper. 
The STH-SOPR Value Has Surpassed 1 Again
Cryptocurrency data company Glassnode recently reported that the seven-day moving average of the Spent Output Profit Ratio (SOPR) of short-term investors (STH) in Bitcoin has just risen back above 1. The weekly bulletin published by the analysts at Blockware Solutions discussing this topic noted, "After a brief period of moving BTC at a loss, the STH-SOPR value has risen back above 1. This signals a short-term uptrend because it indicates the capitulation of short-term investors."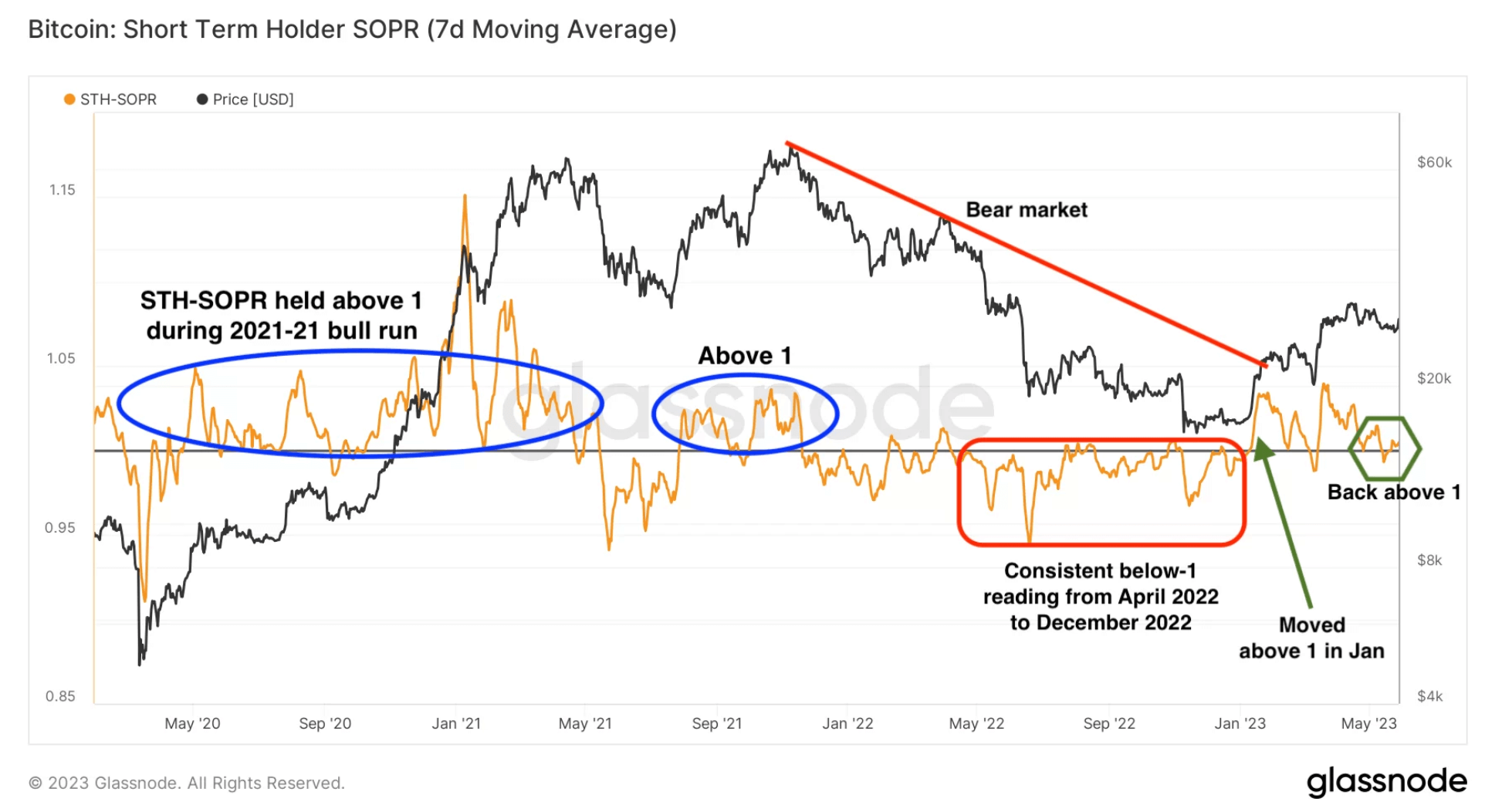 When the SOPR value of short-term investors is above 1, it means that the average short-term investor in the market is selling their BTC for a profit. A value below 1 is considered a sign of capitulation, while a value of 1 reflects that the average short-term investor is neither at a loss nor at a profit, hence, breaking even. 
SOPR is calculated by dividing the realized USD value of the spent output (UTXO) by the value at the time of output creation, reflecting the degree of realized profit of all BTC that have moved on-chain. The SOPR of short-term investors focuses on all wallets that have held their BTC for less than 155 days. 
Historically, the STH SOPR has always remained above 1 during bull markets because rallies allow short-term investors (mostly new investors) to liquidate their assets at a higher price than their purchase cost. Moreover, the area around 1 tends to act as support for bull runs, as ongoing price rallies are seen as profitable buying opportunities on investors' cost bases. Conversely, the 1 level also serves as resistance during downtrends. 
Bitcoin's STH SOPR Rose Above 1 in January
Bitcoin's STH SOPR last rose above 1 in January, providing the first and leading signal of the bearish trend transitioning into a bullish trend. Since then, it has tested the support twice. Indeed, the largest cryptocurrency has increased its value by over 68% since the beginning of the year. 
In addition, long-term BTC investors also became profitable a month ago, signaling an impending large bullish period.