While cryptocurrency investors saw new highs in the first 4 months of the year, May did not start well for cryptocurrencies. There are too many problems and shallow liquidity is one of them. The Fed is now approaching a turning point and incoming data is sending an important signal to investors. Cryptocurrencies may move after today's data. 
Will the Fed Cut Interest Rates?
Although inflation remains stubbornly above the Federal Reserve's 2% target range, the steady decline continues. This suggests that the Fed's rate hikes are having an impact and further rate hikes may not be necessary. FedWatch Tool's current forecast is that rates will not be raised at the June meeting. More importantly, a cut is expected for the rest of the year. 
Even though Fed members and Chairman Powell say no rate cuts, inflation has now moved below interest rates. This shows that an important threshold has been crossed. Considering that the year-end inflation expectation is 3.5%, the current interest rate may be exaggerated to reach the 2% target. This should bring about a reduction. 
May 11th Cryptocurrencies
Producer Inflation will be released today at 15:30 and it is critical that this data also comes in low. This data, which directly affects consumer inflation, is considered as one of its leading indicators. Later on, Core PPI is expected to come in at 0.2% mom. The annual rate is targeted at 4.3%. Annual PPI is expected to come in at 2.4%, lower than the previous 2.7%. 
Unemployment Claims figures will also be released at 15:30. So we are likely to see volatility in cryptocurrencies today. 
Bitcoin Price Prediction
Bitcoin broke below the moving averages on May 7 and fell back to the support line of the symmetrical triangle pattern on May 8. The bulls are trying to defend this level strongly, but the recovery may face difficulties at higher levels.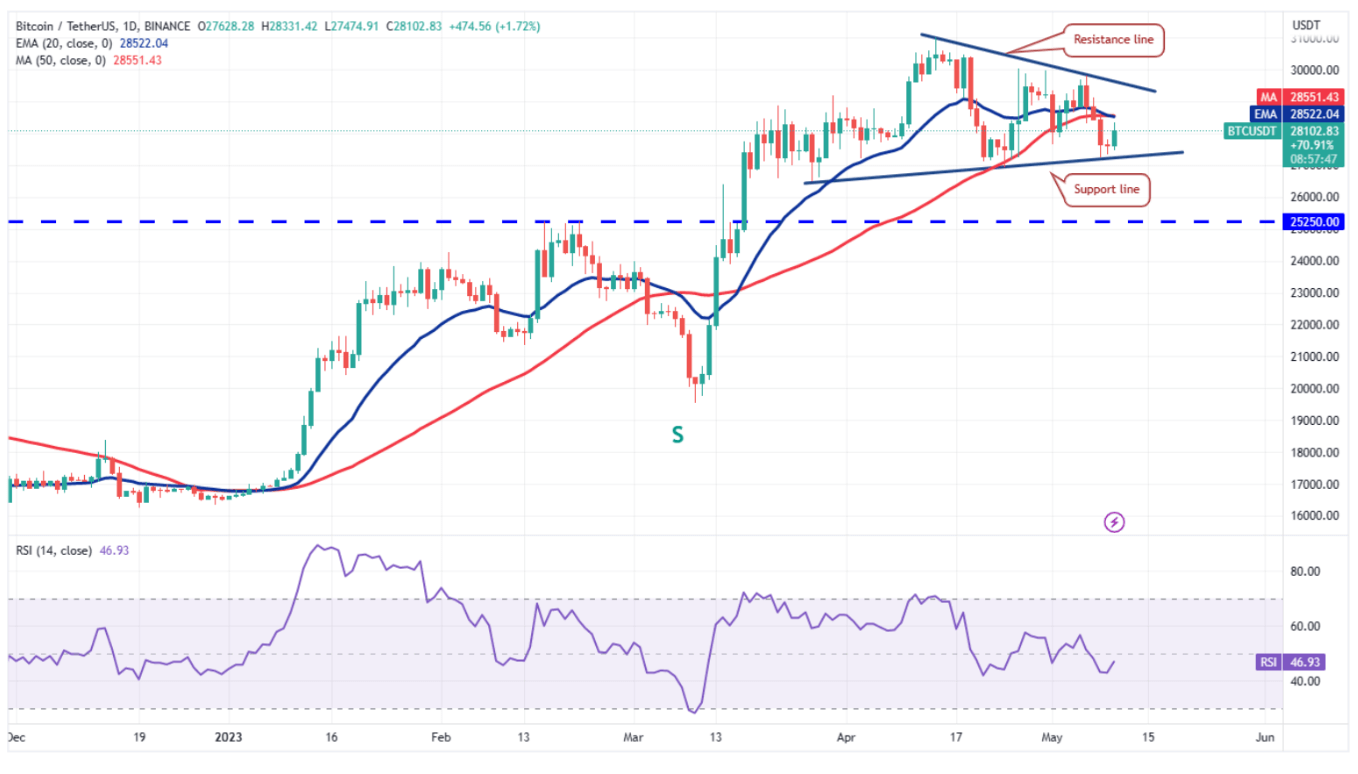 The bears will try to aggressively defend the zone between the moving averages and the resistance line. If the price falls and breaks below the support line, we could see a drop towards $25,200. This is an important level to keep an eye on because if it is broken, the selling could intensify and BTC price could fall to the psychologically important $20,000 threshold as it did in March. 
Closes above resistance will bring the $30,000 and $32,400 levels to the agenda.