Cryptocurrencies are experiencing a phase reminiscent of their 2020 lows, with most altcoins hitting three-year bottoms. However, history has shown investors capitalizing on these lows during bull seasons with the right projects can achieve significant gains. So, what are the top altcoins to consider in 2023? 
XRP Coin
Despite the bearish sentiment gripping the crypto market, XRP price has managed to maintain its high level, signaling an overall uptick in market sentiment. This suggests the altcoin could witness a bull run if market conditions improve, especially if the pending lawsuit ends soon, which could bolster bullish motivation. 
At the time of writing, XRP Coin price traded around $0.5, resonating within a narrow range varying between $0.55 resistance and $0.486. Both levels stand firm amidst the recent volatile market, with an imminent break likely to shape the mid-term roadmap.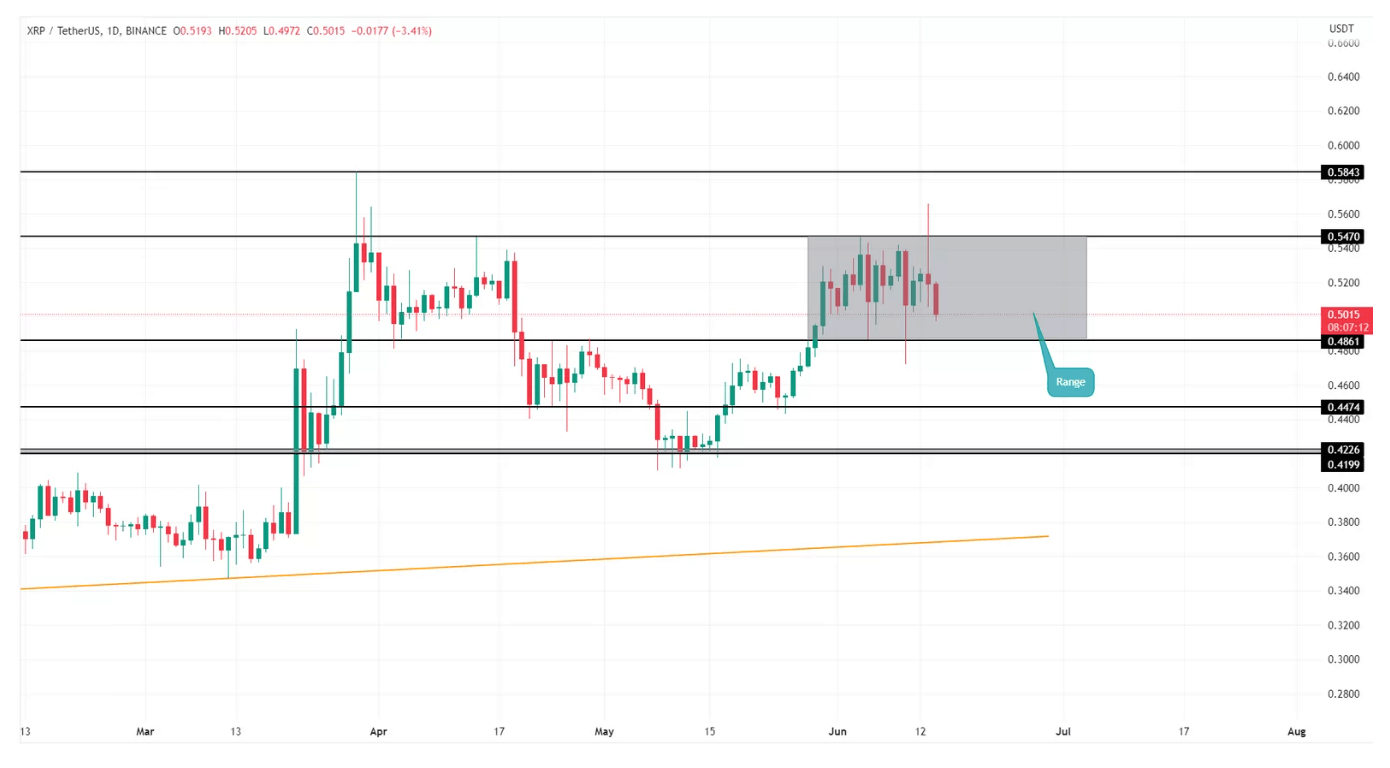 A daily close above $0.55 could see the price reach between $0.6 and $0.8, particularly if the lawsuit concludes in Ripple's favor. It's worth noting that XRP Coin's current position is comparatively better than others due to the lawsuit. 
Polygon (MATIC)
On June 10, MATIC Coin price exhibited a sharp turnaround from $0.51. This rebound elevated the price by 26% to its current price of $0.62. With continued purchases, the price could surge a further 18%, challenging the long-standing resistance trendline. This resistance line has carried a bearish trend in MATIC price for the past four months. A bullish break from the overall trendline could intensify the uptrend momentum, pushing prices up to $1.55.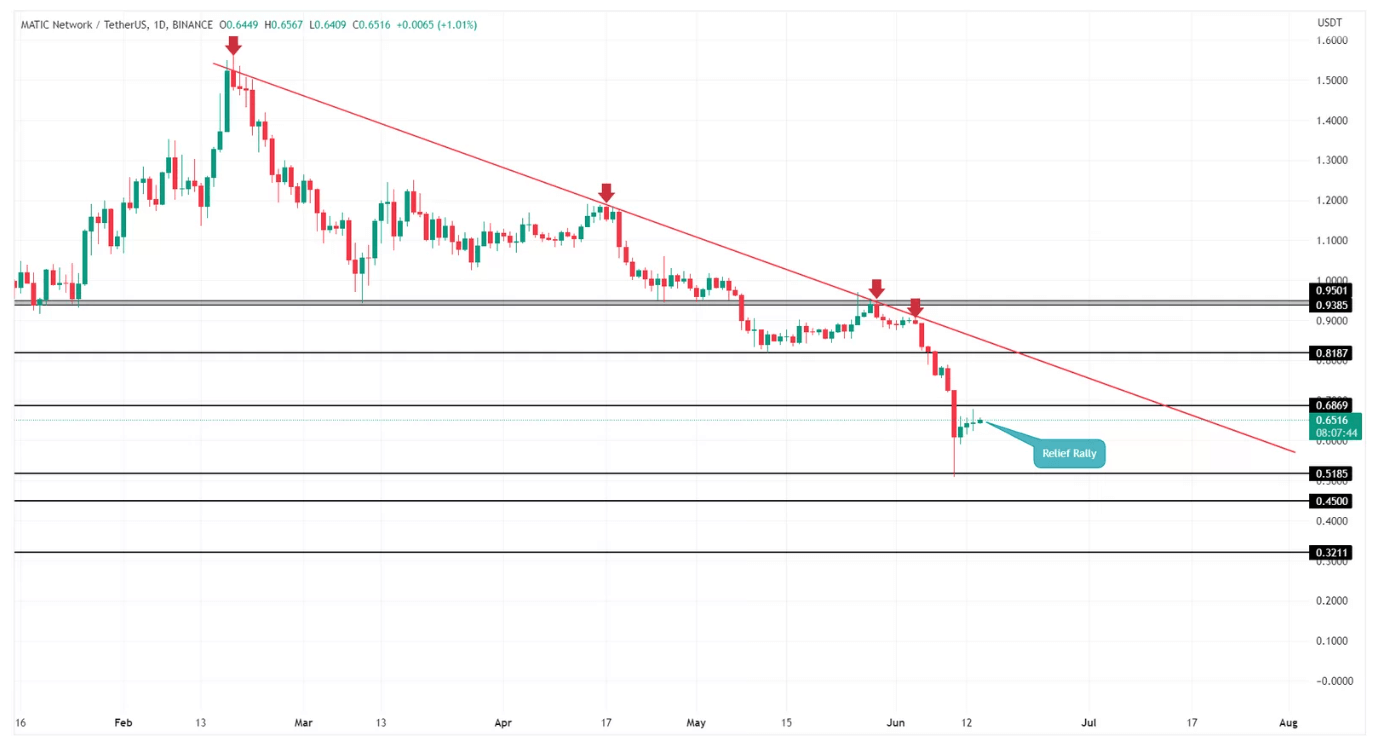 In the medium term, the Polygon 2.0 narrative could attract more buyers, particularly a keen interest in ZK-based applications. Solutions like MINA and Polygon are preparing for this future. 
Polkadot (DOT)
DOT Coin lost its momentum since February. It tries to gain strength from the $4.22 horizontal support. The overall trendline transformed into a significant resistance for bulls. Two scenarios could play out: either DOT Coin will break the resistance, rewarding those who bought at the bottom, or the $4.22 level will lose its strength, indicating a more attractive buying opportunity phase for DOT Coin. 
Investors can watch the response in these two areas. An upward break could trigger a rally up to $9.7.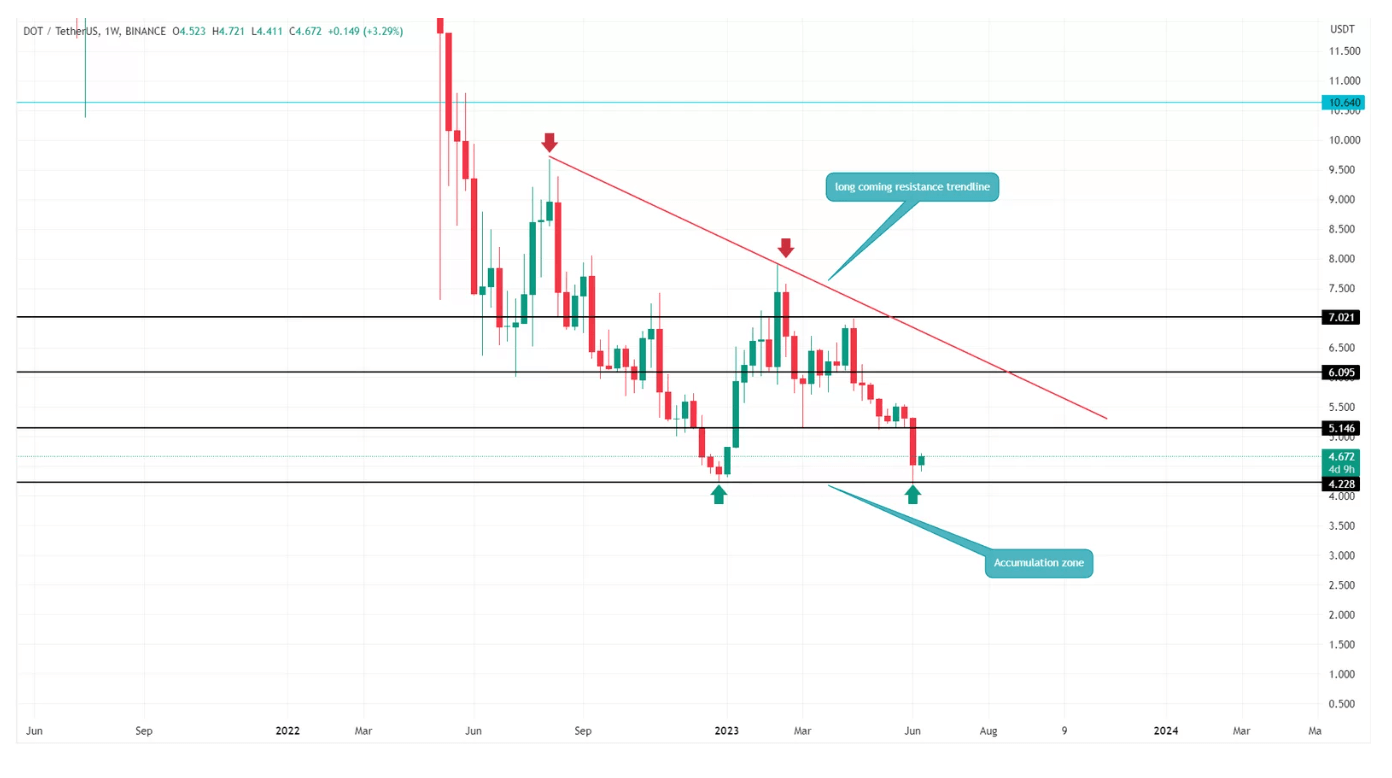 One commonality among these three altcoins is their large base of long-term investors. Especially XRP aside, others continue to stay close to their annual lows.