Bitcoin's price continues to trade in a tight range, with a small segment of altcoins deviating positively. If the US debt ceiling is not raised by June 15, the country may default, a scenario that could result in significant declines in the stock market. This possibility is largely the pressure suppressing cryptocurrencies today. So, what does Davis say? Will Bitcoin ascend? 
Will Cryptocurrencies Rise?
According to a chart recently shared by Davis, the Bitcoin price could experience a rapid rise. Many experts state that closings above 27,200 dollars are positive for the continuation of the rise. Still, the 27,600-dollar resistance has not yet been permanently overcome. If the past movement repeats itself, according to Davis's theory, exciting days could start in BTC and altcoins. 
Lark Davis wrote; "Bullish crossover in Bitcoin's daily MACD! The last time we had a similar cross-over, Bitcoin climbed from 22,000 dollars to 31,000 dollars. Will history repeat itself?" If Davis is correct, the king cryptocurrency could climb above its 32,400-dollar target.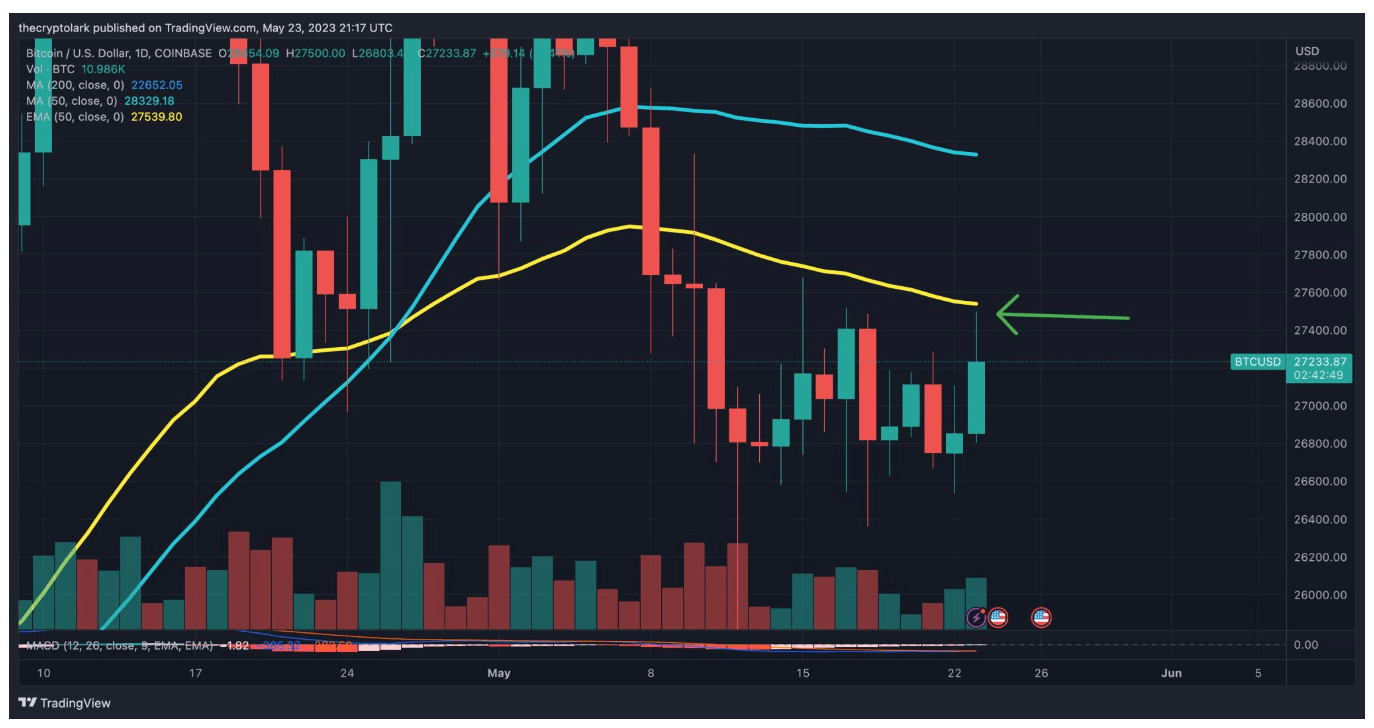 Cryptocurrencies may become more volatile today, with the Fed minutes being released in the evening and US Treasury Secretary Yellen speaking at 17:05. Her statements on the debt ceiling could stir cryptocurrency markets. The nervousness of investors is increasing as the date is postponed, even though an agreement is almost certain. On Thursday, we will see the unemployment and GDP data. While these two data have no significant impact on crypto, abnormal numbers could sway the dollar index and indirectly affect Bitcoin. 
Cryptocurrencies Will Move
On the macro front, the US Core Personal Consumption Expenditures Price Index will come on Friday. The market will likely determine its direction after today's minutes, barring extreme anomalies in new data. As Bitcoin attempts this, the simultaneous resolution of the debt ceiling issue could increase the momentum of the rise. 
With minutes to the daily close, BTC is finding buyers at 27,230 dollars. There is a slight recovery in volumes compared to last week.