In an unforeseen turn of events, Cardano (ADA) suffered a 7.64% loss in value over the last 24 hours. This was not something Cardano owners anticipated during an otherwise good season for the token. However, the U.S. Securities and Exchange Commission (SEC) had other plans. 
In the latest round of regulatory clampdowns, the agency has labeled ADA, Solana (SOL), Polygon (MATIC), Binance Coin (BNB), and other cryptocurrencies as securities. Despite the lawsuit primarily targeting Binance, ADA found its place on the list of assets causing the allegations. 
Current Status of Cardano (ADA)
ADA responded to the mentioned value drop. The token's value had also increased by 121%. Typically, volume takes into account the number of tokens or coins involved in transactions over a period of time. 
However, with ADA's price movement, it became clear that the increase in transactions primarily stemmed from an increase in sales. Thus, the volume created strength for the downward trend. 
Charles Hoskinsion, co-founder of Cardano, commented on the regulatory action on June 5. In his tweet, Hoskinson stated that complaints against Binance and the assets seemed like a political witch-hunt.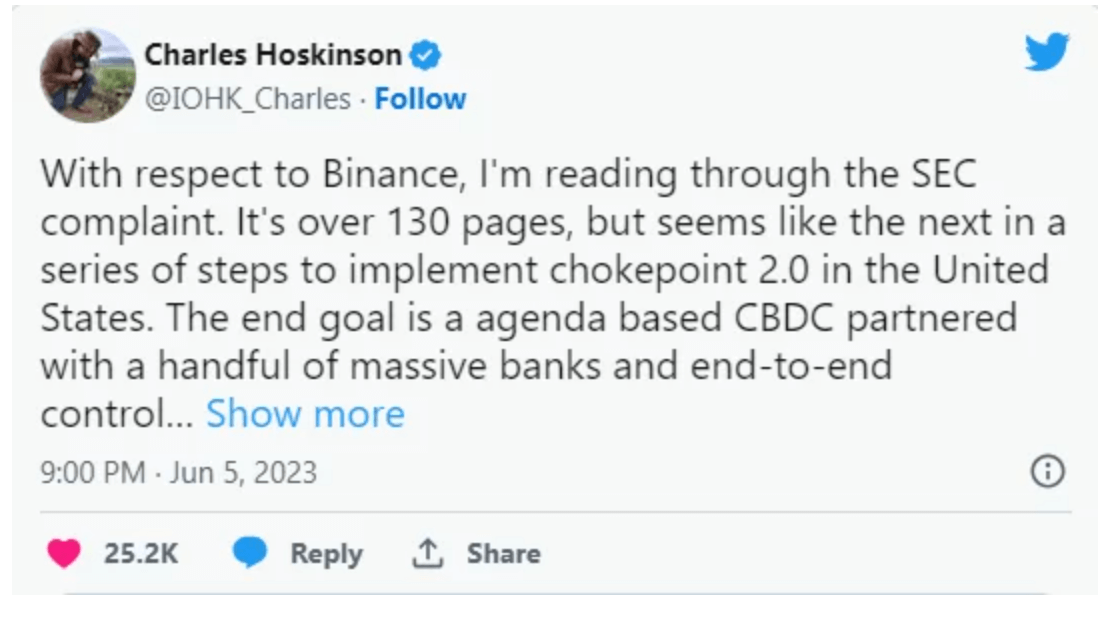 While calling for unity around the crypto sector and explaining why SEC behaved like an authoritarian institution, he stated: 
The struggle between freedom and authoritarianism is always the same, only different players, technologies, and words exist. This event seems like an excellent opportunity for the fragmented nature of the entire industry to set aside and unite for a sensible set of rules and guidelines that can prevent the U.S. from sliding into a dystopia that will make 1984 look like a holiday. 
What's the Price of ADA?
As of writing time, the Moving Average Convergence Divergence (MACD) indicated that sellers have now taken control. As a technical indicator, the MACD measures the momentum of an asset. At the time of writing this article, the indicator was negative and the 12-day EMA was below the 26-day EMA. 
Positive values suggest that momentum may be in an upward direction, while a negative MACD indicates a downward momentum. Therefore, ADA's price could continue to drop down to $0.35. 
Additionally, the Chaikin Money Flow (CMF) had dropped to -0.08. As a measure of accumulation and distribution, a negative CMF indicates more outflows occurred than accumulation based on a 21-day closing price. 
In its current state, ADA may continue to feel the impact of its name being involved in Binance FUD. However, time will show when the token will recover from its bearish outlook. At the time of writing, Cardano is trading at $0.035.