Cryptocurrency traders are eagerly awaiting tomorrow night's interest rate decision. But many economists are worried that the Fed is on the wrong track. Famous billionaires also share their views on this issue.
Elon Musk Fed Commentary
Twitter CEO Musk, who has said several times in the past that the Fed is on the wrong track and could cause big problems, shared his views on his social media account before tomorrow's meeting. He has the same opinion as many economists and warns about what will happen. Elon Musk said the following;
The Fed is making decisions using old data. This is like driving a car by looking out the back window. When the road is straight, it's fine, but when the road is winding, it's bound to crash.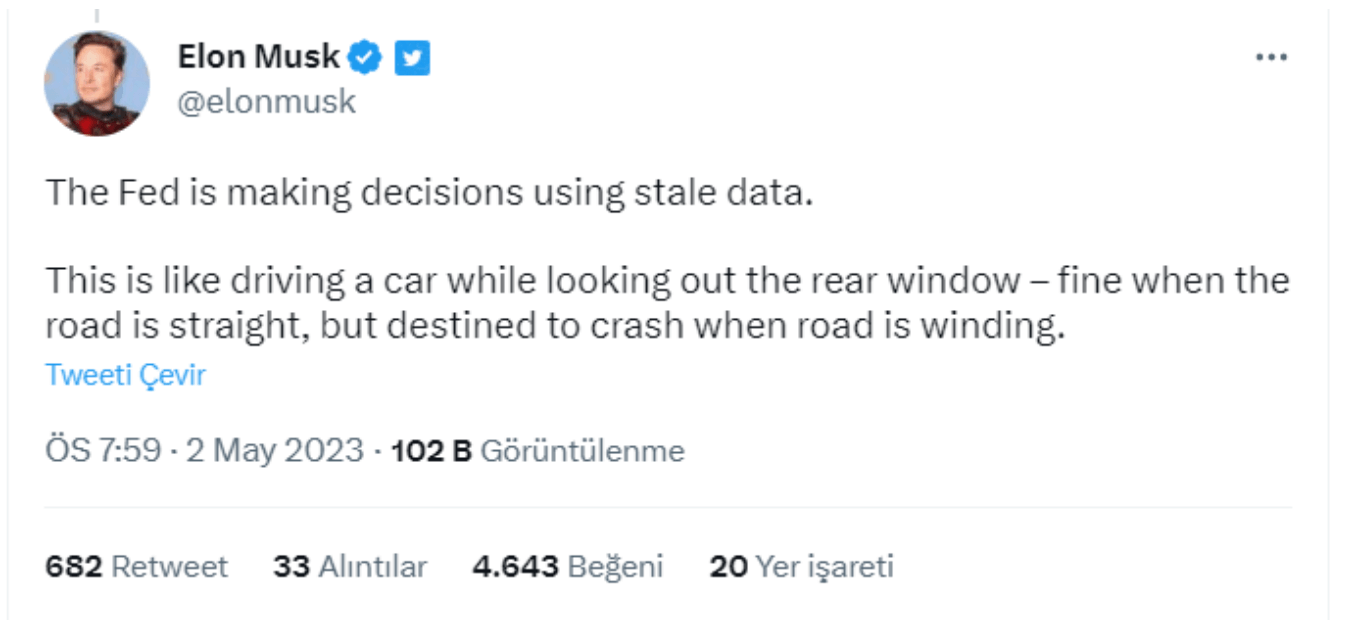 Many experts argue that the Fed's focus on fighting inflation has already been largely successful, but it has not taken its foot off the gas because it cares less about the risk of over-tightening. The mischievous billionaire also shared his concerns that the Fed is not measuring the risk it is taking well, especially before the meetings in 2023.
Fed Meeting and Crypto
Headline inflation is falling, albeit not as fast as before, and the Fed's tight monetary policy is showing its effects. The Fed, which has been making front-loaded rate hikes, was already arguing that we would start to see the effects of the hikes in this period. And it was right, and interest rates continued to fall in 2023. Moreover, we are moving towards the 3.5% target set by members for the end of the year. However, Powell and his team are not willing to take their foot off the gas. The market expectation is that a 25bp hike will most likely be made tomorrow evening.
Bitcoin and altcoins were waiting for the announcement of the interest rate ceiling due to the banking crisis before the meeting in March. Now, it is being discussed whether the last 25bp increase will come at the June Fed meeting.
If the Fed wants to move rates to 5.75%, interest rate decisions will be made in the next 3 meetings, including tomorrow. This is a serious problem for risk markets, including cryptocurrencies. Moreover, while inflation continues to decline, the Fed's decisions based on today's delayed data will cause us to see the consequences of excessive tightening towards the end of the year.
Fed Chairman Powell has said several times that "we care less about the risk of excessive tightening" than the possibility of early easing. Will the fact that the biggest US banks are going bankrupt one by one stop him? Only time will tell. But when the Fed says that the interest rate ceiling has been reached, risk markets will be in a festive mood. And that date is getting closer and closer.