In the market evaluations we shared on Friday, we had mentioned the possibility of a notable increase over the weekend. The reason for this was the debt ceiling agreement that was expected to be concluded. Indeed, after Bitcoin price rose to $28,447, sales began again. This was no surprise. 
Crypto Market Comment
The debt ceiling agreement is nearing its conclusion, and as expected, this development has pulled the Bitcoin price up. However, there's more to it. Volumes have significantly increased, and this rise has not reflected on altcoins yet. Therefore, the recent surge did not cause a significant increase in motivation from the investor side. There are many reasons for this. At the time of writing, the BTC price had dropped to $27,660.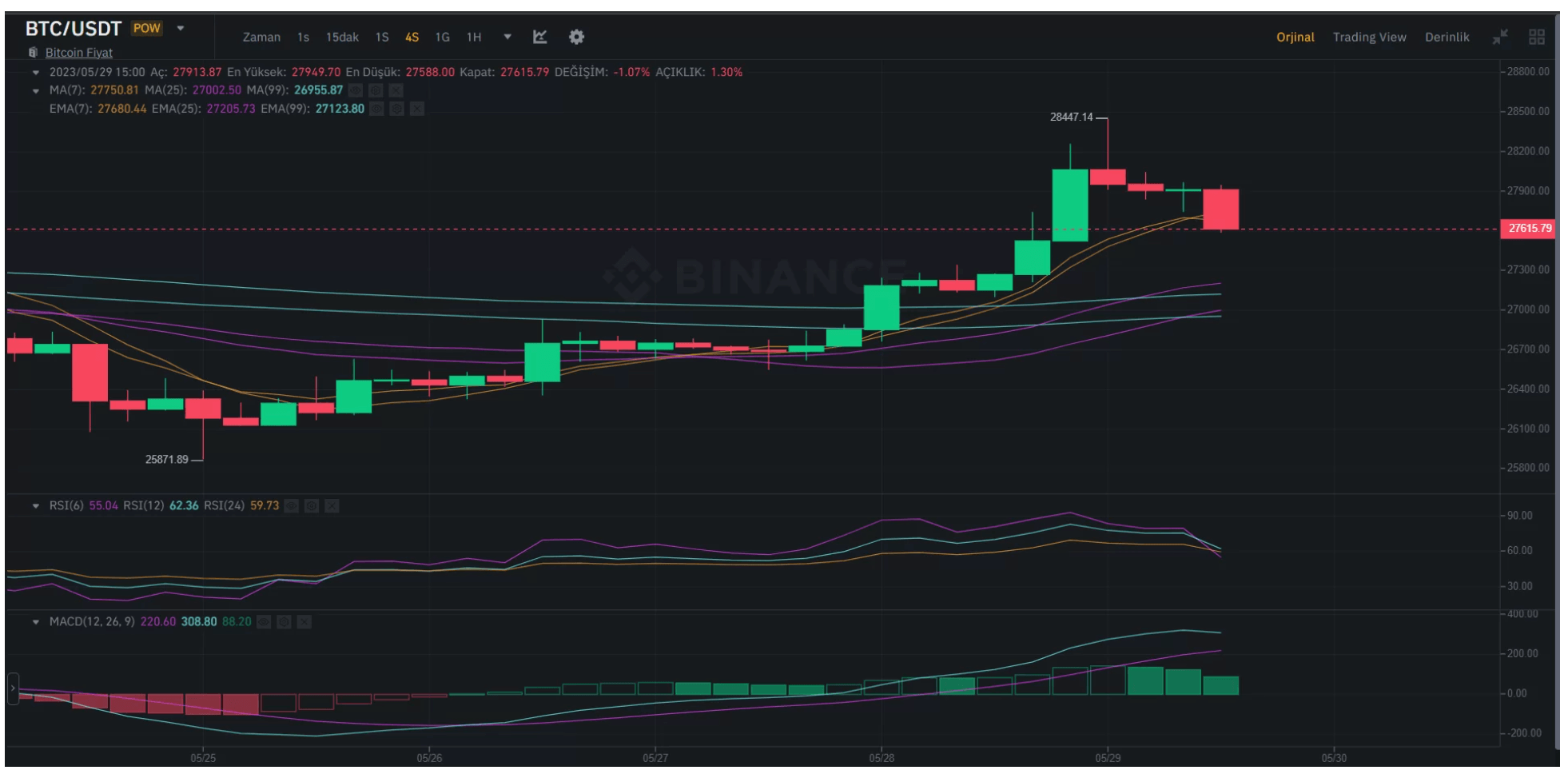 The increase that would come with the debt ceiling agreement was an anticipated development by many. However, the busy agenda of the week was also telling us that this rise would be a good selling opportunity. The first of the two issues we especially highlighted in our market comments on Friday and Sunday morning has occurred. Now, we need to focus on the second leg of the movement. 
Bitcoin and Altcoins: Time to Buy?
Saying it's time to buy outright is not correct for now. There are critical data to be announced until Friday, such as employment, wage increases. Moreover, the outlook for the Fed meeting to be held in mid-June has turned negative. PCE data indicates that another 25bp rate hike could be made. Considering the Fed is very cautious, the chances of them choosing not to increase after recent data and prefer to monitor the market are unfortunately weak. 
Therefore, the pressure on investors will continue until the June interest rate decision. The advantage of Monday and Tuesday was that there would be no significant developments on the macro side. The expectation that the rise in the last 24 hours will be temporary also comes from this. Significant data will start to be announced as of Wednesday, and if there are no significant movements in data such as Non-Farm Payrolls, Unemployment, Wage Increases, investors may continue to sell their profits. 
In the coming hours, Bitcoin's price is likely to move towards the $27,000 base. Investors are not convinced of the rise, and everyone is aware that it is bringing sell-off waves. It is likely that the excessively decreased volatility will recover after the data to come this week. 
In summary, the data to come within the next two weeks indicates the possibility of triggering a deeper bottom in the Bitcoin price towards $25,000, saying it's risky to buy these days. Of course, cryptocurrency markets are extremely risky, and prices can make surprise movements. It is in the interest of investors to act according to their risk profiles and to make their decisions as a result of their research.